World
Chinese tennis star Peng Shuai is missing. Here is what you need to know.
Peng Shuai has accused a former high-level Chinese government official of sexual assault, an allegation that the Chinese government has attempted to cover up.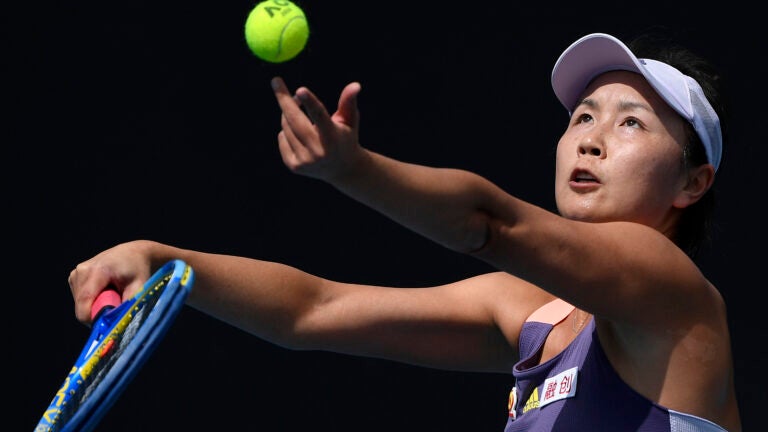 Professional tennis player Peng Shuai has accused a former high-level Chinese government official of sexual assault, an allegation that the Chinese government has attempted to cover up. Here's what you need to know about the story:
Who is Peng Shuai?
Peng Shuai, 35, is a female professional tennis player from China and one of the most popular athletes in that country. She became the first Chinese woman to be ranked No. 1 in doubles; has two Grand Slam titles in women's doubles, winning at Wimbledon in 2013 and the French Open in 2014; and became the third Chinese tennis player to make a major singles semifinal at the 2014 U.S. Open. She last competed at a Grand Slam event at the 2020 Australian Open, losing in the first round of both the singles and doubles competitions, and she is currently ranked No. 306 in the world.
Who did Peng Shuai accuse?
In a message posted Nov. 2 on her verified Weibo microblog, Peng alleged that former Chinese vice premier Zhang Gaoli had sexually assaulted her before she agreed to begin a years-long affair with him. Zhang, 75, held that position between 2013 and 2018 and has served in numerous other Communist Party roles since the 1980s, though he retired in 2018.
What did Peng Shuai say in her accusation?
In her post, Peng said that around three years ago, following Zhang's retirement, he and his wife invited Peng over for a meal. Zhang then pressured Peng to have sex, the post said.
"That afternoon I didn't agree at first and kept crying," the post said.
The post said Peng eventually agreed to an affair with Zhang, but that she was angered about his insistence on keeping their relationship secret. It added that he canceled a meeting with her earlier in the day the post circulated to discuss her grievances.
"I know I can't say it all clearly, and that there's no use in saying it," the post said. "But I still want to say it."
What happened in China after Peng Shuai's accusation?
Peng's accusatory Weibo post was taken down and no longer can be found through Weibo's search engine, though her microblog account still exists and the message in question can be viewed as a screenshot. The story has not been covered by Chinese news media, and Internet searches for "Peng Shuai," "Zhang Gaoli" and even the word "tennis" bring up no hits.
Peng has not been seen in public for more than two weeks, though a statement purportedly written by her was released by the state-run China Global Television Network on Wednesday,
"I'm not missing, nor am I unsafe. I've just been resting at home and everything is fine," read the message, which the network said was sent by email to Steve Simon, chairman and CEO of the Women's Tennis Association. The WTA issued a statement in response, with Simon saying that he had a "hard time believing that Peng actually wrote the email" or "believes what is being attributed to her."
Observers say Peng's statement should not be taken at face value because in previous cases, disappeared residents re-emerged on camera to say that they were fine.
"The Chinese government has a long history of arbitrarily detaining people involved in controversial cases, controlling their ability to speak freely, and making them give forced statements," said William Nee, research and advocacy coordinator for the nonprofit Chinese Human Rights Defenders.
Chinese government officials have not commented on her accusations. On Friday, Chinese Foreign Ministry spokesman Zhao Lijian said he was "not aware" of the case during a briefing with reporters, according to the Associated Press. The exchange was not included in the ministry's official summary of the briefing released later.
How has the sports world reacted to Peng Shuai's accusation?
On Thursday, Simon said the WTA is willing to pull out of China, potentially losing hundreds of millions of dollars, if the Chinese government does not properly investigate Peng's accusations.
"We're definitely willing to pull our business and deal with all the complications that come with it," he told CNN.
China hosted nine WTA tournaments in the 2019 season, worth $30.4 million in prize money. Among the tournaments was the season-ending WTA Finals, which was played in Shenzhen for the first time.
On Friday, the editor of a newspaper published by the ruling Communist Party's official People's Daily warned Simon not to use a "coercive tone" when expressing any concern to China.
"Perhaps you did it out of goodwill. But you should understand China, including understanding how the system you dislike has promoted the actual rights of the 1.4 billion Chinese," Hu Xijin said on Twitter.
The United Nations Human Rights Office has called for "an investigation with full transparency." Tennis stars including Naomi Osaka, Serena Williams, and Billie Jean King have been posting under the hashtag #WhereIsPengShuai, pleading for Peng's whereabouts to be accounted for.
How does Peng Shuai's accusation affect the upcoming Winter Olympics?
Beijing will host the Winter Olympics in February. Even before Peng's accusation, there had been numerous calls to boycott the Games because of China's human rights record. The U.S. government has accused China of genocide for its treatment of Uyghur Muslims in Xinjiang and for cracking down on democracy advocates in Hong Kong. On Thursday, President Joe Biden said his administration is "considering" a diplomatic boycott, in which government officials would abstain from attending the Games but athletes would still compete.
On Friday, Zhao called U.S. allegations of mass repression of minorities in Xinjiang, the main impetus behind calls for the boycott, "a joke to Chinese people."
"Politicizing sports is against the Olympic spirit and harms the interests of athletes from all countries," he said.
The International Olympic Committee said in a statement Thursday that it had "seen the latest reports" regarding Peng and was "encouraged by assurances that she is safe."
How does Peng Shuai's accusation affect the #MeToo movement in China?
Peng's allegation is the most high-profile #MeToo allegation in China, a country where the movement has failed to gain much traction despite a growing number of allegations against individuals in academia, the corporate sector, entertainment, and tech, thanks mainly to government silencing of accusers.
Public sexual assault and adultery allegations against senior Chinese officials are extremely rare in a country where officials keep their personal lives under wraps. Officials who have been publicly accused of such actions have been removed from office and even imprisoned for corruption, though their female accusers also have faced repercussions.