OMG
'Octogoat' Born in Croatia, Looks As Weird As You'd Expect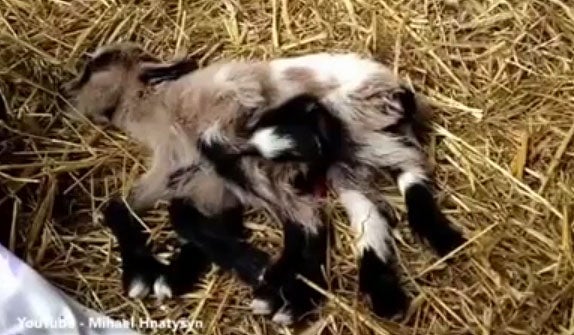 A baby goat with eight legs was born on a farm in Croatia, earning the nickname "octogoat'' and immediately becoming the biggest story in the country. Seriously.
And it's not like this "kid,'' as baby goats are known, isn't deserving. The animal is a pretty amazing sight, to be sure. Just check out this picture from the ABC News report on its birth.
[fragment number=0]
But no one is going to blame you if the "aww'' moment quickly passes and is immediately replaced by some concern about the hellish world from which this thing came.
There are a few running theories, and your money should probably be on the scientific one that ABC News reported: that octogoat is the result of an underdeveloped twin being consumed by a fully developed fetus. After all, octogoat has both male and female reproductive organs in addition to the four bonus legs.
But it's hard not to notice some coincidences that make octogoat's existence a bit suspect.
First of all, the new Spider-Man movie came out last weekend and banked over $91 million in its opening three days. That's a solid showing, but not as impressive as the original Spider-Man (nearly $115 million in 2002) or Spider-Man 3 (the last film in the Tobey Maguire trilogy that raked in over $151 million in 2007). So what's a film studio to do? Viral marketing, obviously. And nothing screams viral more than a beast that could easily be the byproduct of a spider and goat forced to reproduce. Maybe Andrew Garfield will get a "sidekid'' in the next Spidey installment.
Or perhaps this creature was sent by the Devil himself as a sign of support for the new Satanic statue being erected outside the Oklahoma State House.
[fragment number=1]
Satanism is a pretty obscure religion so it's hard to say for certain, but that statue totally looks like it could use an eight-legged goat minion to do its bidding.
Either way, it's probably a good thing that the local vet doesn't think the goat will live. It's just not worth taking a chance that it's actually an evil Spider-Goat or Devil-creature.