OMG
Mystery viral wedding photos identified as Boston couple's
"We actually never needed the pictures, but we're very grateful that everyone reached out to us,'' the groom said.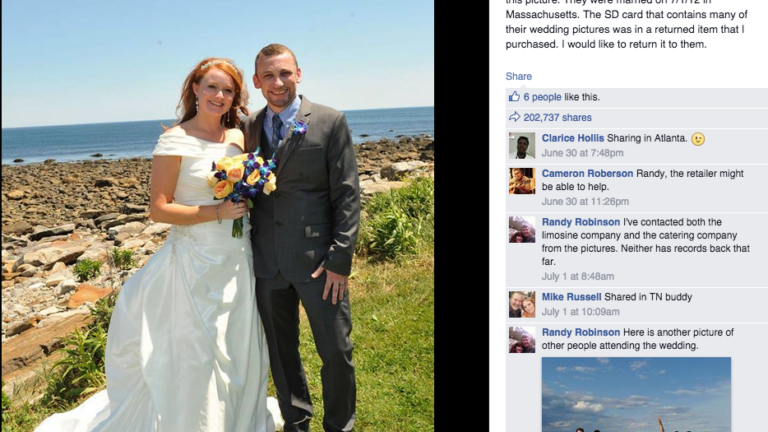 After a week of searching, the mystery couple whose wedding photos have been shared on Facebook over 200,000 times have been identified as Boston's own Bill and Kristi Wilson, the couple said.
Back in 2012, the newlyweds purchased a digital photo frame and uploaded a series of their wedding photos to it, intending to gift it to Bill's mother. But the pictures, some of which were taken at New Hampshire's Rye Harbor State Park, never showed up on the digital photo frame, so they returned it, Bill Wilson said.
Last week, on the eve of the Wilson's third wedding anniversary, a man in Alabama posted a series of photos from an SD card to his Facebook page. He'd found the mystery images in a digital photo frame he bought at a local resale store.
"Hey Facebook friends, I need help finding the couple in this picture,'' Randy Robinson posted on his Facebook. "They were married on 7/1/12 in Massachusetts. The SD card that contains many of their wedding pictures was in a returned item that I purchased. I would like to return it to them.''
Thanks to other photos on the SD card, Robinson knew that the couple was from Massachusetts, but couldn't identify them. Robinson's post was shared thousands of times over the next few days as eager followers tried to get the word out.
Meanwhile, Bill and Kristi Wilson were enjoying their anniversary at a lake house in the Berkshires. They didn't have phone service or Internet, and Bill said he broke his phone during a hike.
When they did eventually get reception this past weekend, they were inundated with messages from friends telling them about the photos. They tried to respond to the post saying, essentially, thanks but no thanks — they had digital backups of the images — when it had "only'' 25,000 shares.
"We actually never needed the pictures, but we're very grateful that everyone reached out to us,'' Wilson said. "It's very nice to know there are some very nice people in the world still left.''
That still hasn't stopped the virality of the photos, though, and it has now been shared over 200,000 times. Wilson and Robinson finally spoke on Tuesday about just how viral they went.
"He was just laughing,'' Wilson said. "He said he got so many people reaching out to him that it was crazy. He was never expecting the amount of people that got in touch with him.''
Robinson did not respond to a request for comment.
The Wilsons have jointly run Pinnacle Event Partners, a local event planning service, since 2009. They recently added a third member to the family, a now-2-month-old baby.
"We're very grateful and honored that so many people were looking out for us,'' Bill Wilson said. "It was overwhelming in many ways.''
Gallery: The best places to kiss in Boston.
[bdc-gallery id="118713″]