Parenting
Controversial water survival class for babies gaining in popularity
There are 40 kids waiting to take the class at the Beverly YMCA.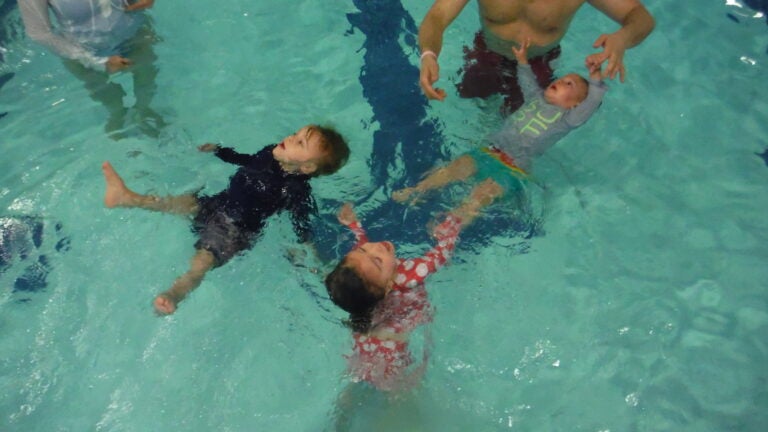 This spring, 17-month-old Greyson Collins was placed in a swimming pool. And he promptly turned on his back and floated that way.
His mom, Kristen Collins of Lynnfield, was beaming with pride. Greyson's accomplishment was the culmination of a 6-week self-rescue swim class offered at YMCA of the North Shore in Beverly.
"It definitely pulled at my heart strings that first week," said Collins, who admits that she nearly walked out of the classes when her family first signed up. "By, I think, the third day of tears and screams, we said, 'We're just not sure we can do this. It's killing us.'"
The classes are designed to teach babies who fall into water how to turn their bodies and float calmly on their backs until help arrives. But some are calling the technique too extreme, responding negatively to videos posted online of babies floating on their backsides unassisted.
6 seconds can make all the difference… #InfantSwimmingResource https://t.co/eoVxREZqCw

— InfantSwim (@InfantSwim) January 12, 2015
But proponents say the technique can give adults precious time to find and pull an infant out of the water to prevent a tragedy. Drownings are responsible for more deaths among children age 1 to 4 than any other cause, except birth defects, reports the Centers for Disease Control and Prevention.
Kira Cullen, Greyson's instructor and the aquatics director at the Beverly YMCA, said parental supervision, pool gates, and locks are essential layers of defense against drowning. But so is her class, which kicks in when traditional lines of defense break down, giving kids "this ability that they can be able to help rescue themselves," she said.
The survival skills would buy them more time. How could anyone say that it wouldn't be worth it?
Cullen, a swim instructor for 18 years, is one of just a handful of Infant Swimming Resource instructors in New England. She said her classes are gaining in popularity—parents are driving their kids from Maine, New Hampshire, and Vermont to bring their kids to daily lessons. The waiting list for her self-rescue class has grown to 40 kids.
"When I came here, there was something missing," said Cullen, who met with Y executives about it. "It's not a Y program, but this is something our Y feels is a necessary program, with the vision of the Y being that no child should drown."
Yet, the American Academy of Pediatrics does not recommend water programs for children under a year old, writing in a statement, "The water-survival skills programs for infants may make compelling videos for the Internet, but no scientific study has yet demonstrated these classes are effective." The AAP says kids should learn to swim at age 4, and some kids age 1 to 3 may be ready for swim classes depending on their maturity, interest, and exposure to water.
Dr. Peter Masiaskos, director of pediatric trauma services at Massachusetts General Hospital, says "I'm not sold on the infant self-rescue program yet. There's nothing there to tell us that it's safe."
"I fear that what we generate with these kinds of programs is a little bit of false sense of security on behalf of the child and on behalf of the parent," said Masiaskos. "The best prevention method would be to keep kids at arm's length and keep attention to them at all times."
It's harder on the parents than it is for the child — Kira Cullen, an instructor for the infant self-rescue class
The six-week class, geared for children age 6 months to 6 years old, meets every weekday for a one-on-one lesson with a certified instructor that lasts no more than 10 minutes. Children age 6 to 12 months old learn the "roll-back-to-float" sequence, where they enter the water face first, then roll onto their backs where they float, rest, and breathe. Children 1 year and older learn to "swim-float-swim," where they learn to rotate from floating on their backs to getting air and swimming until they reach the safety of pool steps or a shoreline.
Cullen said the water is between 79 and 86 degrees and she constantly monitors the child's temperature throughout. Parents are not allowed in the water until the last day of class, when kids perform their skills in clothes.
Kids often cry during the process, which makes some parents squirm.
"It's harder on the parents than it is for the child," said Cullen. "Crying is normal. It's OK. We have to make our kids do the things we know is best for them."
The first thing little ones learn to do in ISR lessons is to float on their backs. http://t.co/nQsqYrcQMl. pic.twitter.com/GnOCnXuEMB

— InfantSwim (@InfantSwim) August 27, 2014
Collins said she wanted her kids (3-year-old twins Vivienne and Cash completed the class before Greyson) to learn the self-rescue technique before the family installed a swimming pool in the yard, which is currently under construction. She said she plans to have a special fence around the pool, but believes the classes provide even more protection. She was also strongly influenced by stories of child drownings in her town, she said.
"The survival skills would buy them more time," Collins said. "How could anyone say that it wouldn't be worth it?"
The former first grade teacher and self-described "helicopter parent" said she's not worried the classes will make her less diligent.
"With three little ones, I never let them out of my eyesight," said Collins. "Little kids can do anything in a split second. I know what they're capable of doing."
I fear that what we generate with these kinds of programs is a little bit of false sense of security on behalf of the child and on behalf of the parent
Tarin McAdoo Comer, 42, of Hamilton, signed her 3-year-old daughter Jacksanna up for the class with Cullen when she was 13 months old because the family has a 36-foot sailboat and spends a lot of time on the water.
"It's not 'if' she goes in, it's 'when' she goes in," said McAdoo Comer. "I saw this class and I said, 'We have to do this.'"
McAdoo Comer said she'd do it again in a heartbeat, even though her daughter "screamed through the entire 10-minute class" for the first five weeks.
She said she'll never forget a disapproving woman who approached her at the pool.
"What are you trying to prove to yourself?" McAdoo Comer recalled the woman saying to her.
"I'm trying to give her an advantage," she answered.
Accidents are unplanned, so all ISR students practice their skills in both summer and winter clothes. pic.twitter.com/4f13ZEJPgH

— InfantSwim (@InfantSwim) June 2, 2014
It took Jacksanna seven weeks to master the skills, said McAdoo Comer. And the last two weeks were tear free.
"I definitely do feel like, 'OK, if something happens, you have some tools to help yourself,'" said McAdoo Comer. "But by no means do I think, 'Oh, OK, we're covered here.' I still have to parent."
"None of the programs guarantee saving a life," said Cullen. "We're just giving the necessary skills that they can use so they don't drown."