Policy
Steps to address light pollution to be considered by Mass. Legislature
Experts say the changes will help human, animal, and environmental health.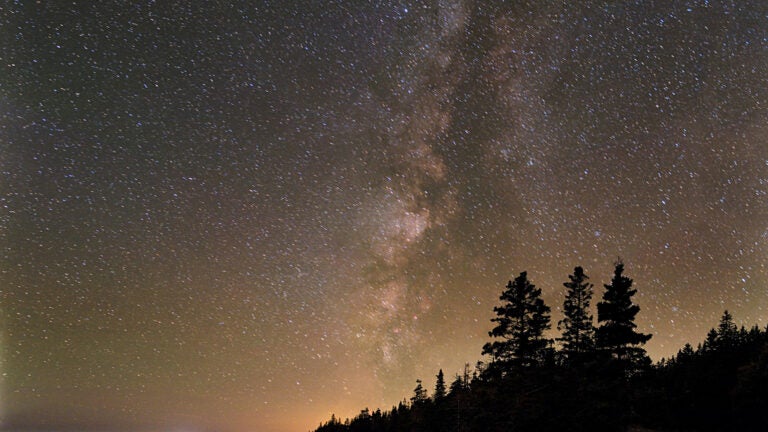 Massachusetts lawmakers will consider changes to state law that would help combat light pollution and increase dark-sky visibility in the Bay State.
It's not the first time the Legislature has weighed measures to combat light pollution. In fact, a similar bill failed to move forward on Beacon Hill last year, but dark-sky advocates are hopeful that 2019 — with a revised, bipartisan bill — will be different.
"We're feeling fairly optimistic about it," Tim Brothers, vice president of the Massachusetts chapter of the International Dark Sky Association, told Boston.com.
Brothers, who also serves as manager of MIT's Wallace Astrophysical Observatory, said astronomers have long been concerned about the brightening of the night sky, since it prevents researchers from viewing objects near and far in the heavens. The MIT observatory picked Westford in 1971 for its home, he said, because of how dark it was at night.
"When it was installed we could readily see any of the objects we needed to see — whether it be science or teaching the students the science of astronomy," he said. "We have classes out there several times a week, and what we've noticed is that we've gone from the sky always being a little bit brighter towards the east — when you're looking say towards Boston or Lowell or Chelmsford — and always sort of taking that as there's not much you can do being 40 miles from the city. What we've seen just in the past five years is a significant brightening of the overall sky, even in directions that didn't used to be bright."
One of the goals of the recently-minted chapter of the International Dark Sky Association, which is dedicated to combating light pollution, was to focus on public policy at the local level.
"This is not the first time that it's been before the Mass. Legislature, but we have an improved version that I think will appeal to all sides," Brothers said.
So far, around 24 lawmakers have signed on to co-sponsor the legislation, which is more than double the support seen in the last session, according to Brothers.
State Senate Majority Leader Cynthia Creem and Rep. Sean Garballey are the chief sponsors for the identical bills being proposed in the state Senate and House of Representatives.
"My bill will require that when light fixtures on public roadways need to be replaced, new fixtures will be fully shielded and the appropriate lumens for good night-vision driving," Creem said in a statement to Boston.com. "This legislation will also preserve habitat for a great variety of animals including bats, birds, fish and insects which rely on day/night light variations for survival. And, whether we live in the city or the woods, we all deserve the opportunity to see the full majesty of the night sky."
The changes in the bill would apply only to state and municipally-funded projects, and would leave towns and cities with the authority to decide what would be required on private properties, according to Brothers.
"It's not going to make every community change every light that we don't like or we feel is environmentally bad," he said. "What it does do is say that any new light, so if you're going to change all of the street lights in your town or change all of the municipal lights on the side of your building going forward after this bill takes effect, it would say you have to adhere to more environmentally-friendly standards."
Under the proposed changes, new lights would have to be fully-shielded and the Department of Public Transportation would be required to do a study to review and update the state's criteria for roadway lighting in order to conform to best practices.
The new lights would also be required to have a color correlated temperature —  measured in Kelvin — of no more blue than 3000K.
"Any time you buy a light at the hardware store, there's a number in the thousands that's followed by the letter 'K,' and that just specifies the color of the light," Brothers said. "So we're saying no bluer than 3000K. I think our group would officially prefer that people choose 2700K or below, but this gives a little bit of room for communities to have a little bit more flexibility."  
Light in general at night contributes to light pollution, but blue-rich bulbs and LEDs in particular disrupt human and animal circadian rhythms through the suppression of melatonin.
"People have really zeroed-in on the fact that the particular color of many of these blue lights, even if they appear white to the eye they have a very strong blue component, fits perfectly with a receptor in our brain that tells your body what time it is," Brothers said. "And that has been linked [by] the American Medical Association in a 2016 report to everything from breast cancer to sleep disorders, depression, diabetes, and many, many other disorders."
Dr. Mario Motta, a Salem cardiologist who was an author of the 2016 AMA report, told Boston.com the negative effects of blue-rich lights are "pretty well established science" these days.
"Bad lighting affects birds, animals, reproduction of insects, animals, all the way down the line," he said. "And it's horrible for the environment. The lower the blue the better it is. So if you care about the environment, if you care about human health, if you care about disability glare and human accidents, all the science says use less blue."
Because of physics, blue light scatters more than more yellow or red light — for the same reason that the sky is blue. And not only has more light been introduced into the state with growing development, but the color of the light, with the use of LEDs, tends to be very blue rich, scattering through the night sky.
"This means that this light is going everywhere you don't want it to be and it gets into places — the human eye or the animal's eye — or bouncing around in the sky, making the sky brighter, making it harder to see stars," Brothers said.
The impact from the far-scattering blue illumination and light pollution on animals ranges from causing birds to migrate in the wrong direction to impacting the reproduction of fireflies.
"The blue is bad anyway you look at it," Motta said. "It doesn't help you light, it harms health, it harms the animals, it harms the environment. There's really no good reason to have any blue in the lighting."
While Brothers described light pollution as an issue that astronomers have been worried about because of the research they do, he said it is also considered in the scientific community as "the canary in the coal mine" for a larger environmental and animal and human health problem.
"The actual brightness of the night sky nationally is rising 2.2 percent a year," Brothers said. "Some of our studies, some of our numbers at MIT, are showing that [in] Massachusetts and our area it's growing by six or seven percent a year. So we're losing our night sky faster than the national average in our area because of development."
Right now, because of light pollution only about 15 percent of people in the United States can see the the Milky Way from their homes, a number that Brothers said is "swiftly decreasing."
"I think there's something to that, that we're losing that natural connection with the night sky," he said.