Policy
Boston City Council mixed over proposal creating resident parking permit fee
"We need to step up, because the traffic is getting worse day by day by day," said Councilor Michelle Wu, the proposal's lead sponsor.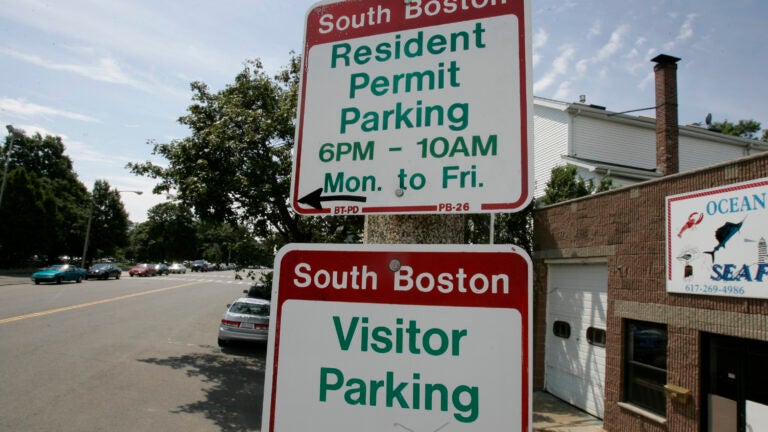 Those resident parking permits doled out across Boston would no longer be free of charge under a proposed ordinance filed with the City Council this week.
Introducing what could be the first changes to the system in three decades, Councilor Michelle Wu Wednesday called for imposing annual fees — starting at $25 — for each registered vehicle amid a crunch for parking spots and a rise in issued permits over the past 10 years.
Many residents already pay a price for the status quo: time spent circling the block, frustrated and angered, as they search for a spot after work each day, she said.
"The long and short of it is our resident parking system isn't working with a lot of residents," Wu said.
But other councilors were skeptical of what impact the fee would actually have on the city's traffic congestion and vehicle pollution, arguing instead that the charge would only punish middle class residents for owning vehicles.
Some have already heard an earful from permit holders opposed to the charge.
"With residents of the city already paying so much of their hard earned money for rent or for a mortgage and for property taxes and high excise tax, this ordinance places an unnecessary kind of burden on our residents that is inappropriate," Councilor Althea Garrison said.
Over the past decade, the number of permits has grown by 25 percent, with the city's population rising by nearly 100,000 residents since officials last reformed the system in the 1980's, according to Wu.
Meanwhile, over 300 households have five or more vehicles with registered permits.
There is no cap on how many permits the city hands out each year. The program only requires applicants to provide some form of proof of residency — such as a recent bill, apartment lease, or mortgage payment — and their state-issued motor vehicle registration.
Wu's proposal argues that the current system has failed to manage curbside space "in a manner that is fair and accessible" to anyone who needs to find a place to park overnight.
Among other aspects, Wu says the city should charge $25 a year for the first permit issued to a household, with each permit for additional vehicles increasing by $25 over the price of the previous permit, according to the ordinance. (A second vehicle, for example, would cost $50, the third, $75, and so on.)
Certain residents would be exempt, namely seniors, low-income residents, home healthcare aides visiting patients, and Boston Public Schools staff visiting students.
A visitor parking permit — valid for up to 72 hours — would cost $10, under the law, if passed. The proposal would also usher in a city-wide review of how many permits the city hands out and how many parking spaces are available.
Wu acknowledged the fees would add to the growing expenses of living in Boston, but said the discussion, in tandem with other efforts to curb congestion and pollution, is worth having.
She highlighted a MassINC Polling Group survey released Wednesday that found traffic back-ups have become so dire for some of the 1,200 registered voters polled last month that 30 percent of them have considered changing jobs simply to change the length of their commute.
"We need to have that conversation as tough as it is, we need to step up, because the traffic is getting worse day by day by day," Wu said.
While several councilors agree there needs to be a larger discussion on how to tackle congestion and parking issues, they said the focus on charging city residents is misplaced and would especially punish those who don't live near public transit.
Instead, the city should consider how to better crack down on out-of-town drivers who violate existing parking regulations as well as ways to potentially charge ride-sharing companies whose vehicles have increasingly flooded Boston's streets.
In 2017 alone, there were nearly 35 million Uber and Lyft rides — a daily average of about 96,000. Those companies currently pay a 20-cent fee per ride, with 10 cents going to the municipalities where the ride started, under existing state law.
"If you want to surcharge people, surcharge the people who are taking Uber and Lyft everywhere," Councilor Tim McCarthy said. "Surcharge the people who are going from City Hall to the Bostonia (Public House) across the street in an Uber because it's raining out."
Councilor Michael Flaherty warned he thinks that imposing a cost on permits could fuel a rise in cases of handicapped-parking fraud, and said that under the proposed fee structure, he would pay $375 annually for the five vehicles registered to his address.
He joined other councilors in calling for a wide discussion with ride sharing companies and other agencies.
"The MBTA needs a seat at the table. It's 2019, we do not need a bus stop on every single street corner and they don't need to be a football field in length. They don't," Flaherty said. "We could talk about bump outs … that right there would free up hundreds, hundreds, of parking spaces in every single neighborhood."
Flaherty, McCarthy, and Councilor Josh Zakim also re-filed a separate proposal Wednesday aimed at making it easier for home health care providers to park in resident parking zones while visiting their patients.
Many often receive tickets or see their vehicles towed while tending to the residents they assist, they said.
"I think we can do better than that," Flaherty said.
Wu's proposal will head to the Committee on Government Operations for review. Although the council's initial reception was mixed, some said the ordinance has at least jump started a much-needed conversation.
"While there are people who are opposed to this particular tool in the toolbox, ultimately … what is not going to be on the table and what can no longer stay is maintaining the status quo," Councilor Lydia Edwards said. "We need to change. The question is how are we going to change together?"