Policy
A new 'Trust Act' laying out how Boston police interact with ICE agents was just signed into law. Here's what to know.
The law builds upon the initial 2014 act that made Boston a "Sanctuary City."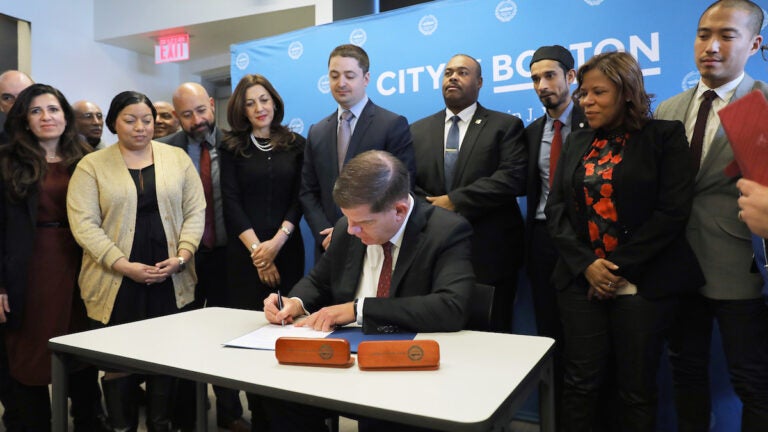 Mayor Marty Walsh inked a new "Trust Act" Thursday, officially prohibiting city police from assisting federal immigration authorities in non-criminal deportation cases.
The amendments to the original 2014 law, officials say, will better clarify the role of Boston police when it comes to working with their federal counterparts.
At a signing ceremony in East Boston, Walsh said a strength of the update — a matter he worked on with City Councilor Josh Zakim — is the clear distinction between civil immigration violations and criminal activity, WBUR reports.
"I think that there are obviously some concerns within the immigrant community over the last year or so, and I think having an updated Trust Act with kind of everyone paying attention to it, a renewed emphasis on it, is key," Walsh said.
Specifically, the newly bolstered law states that city and police department personnel and funds are not to be used to detain, interrogate, or arrest people solely for a non-criminal immigration matter.
Furthermore, the act distinguishes Immigration and Customs Enforcement's Enforcement and Removal Operations division from its Homeland Security Investigations division.
"While the Boston Police Department would not be able to work with ICE-HSI solely for civil immigration enforcement purposes, work would continue on matters of significant public safety importance such as combatting human trafficking, child exploitation, drug and weapons trafficking, and cyber-crimes," officials wrote in an overview of the law earlier this month. "Under the updated ordinance, the Boston Police Department would train all officers on new requirements."
The original Trust Act, also penned by Zakim, established Boston as a "Sanctuary City," where local law enforcement was barred from detaining individuals based only on a civil immigration detainer request or an administrative warrant.
Officers, under the initial law, are also prohibited from transferring a person to immigration authorities unless they are ordered by judicial authorities.
The driving force behind the measure is to encourage trust within the city's immigrant communities and improve public safety by making sure undocumented immigrants can report crimes and help police in other matters without fear of deportation.
"We are coming at this with the same policy goals as we did in 2014," Zakim said Thursday, The Boston Globe reports.
The original act came under sharp review earlier this year after WBUR reported about a federal court complaint that alleged a local company, Tara Construction, retaliated against an injured employee.
The man, Jose Martin Paz Flores, an undocumented immigrant from Honduras who was wanted for deportation, was seeking worker's compensation but was arrested after the company called authorities instead.
Boston police alerted ICE, providing information about where he would be and when. The case was ongoing in April when Paz shared his story at a City Council hearing. 
In October, documents obtained by the American Civil Liberties Union showed Boston police were in frequent contact with ICE involving deportation cases through a detective who was deputized as an ICE agent. He was later reassigned, The Globe reports.
Boston Police Commissioner William Gross, who had defended police involvement in the Paz case, said Thursday the new law makes clear that "we are nobody's agents," the newspaper reports.
"No matter where you hail from, if there is a crime committed against you, that you should feel comfortable enough to come to the police," Gross said, according to WBUR.