Policy
Debate has erupted over an initiative petition that would let more Mass. stores sell wine and beer. Here's what to know.
"You will be potentially adding 3,100 convenience stores, 2,000 markets, and Walmarts and Targets and any other type of store that sells food."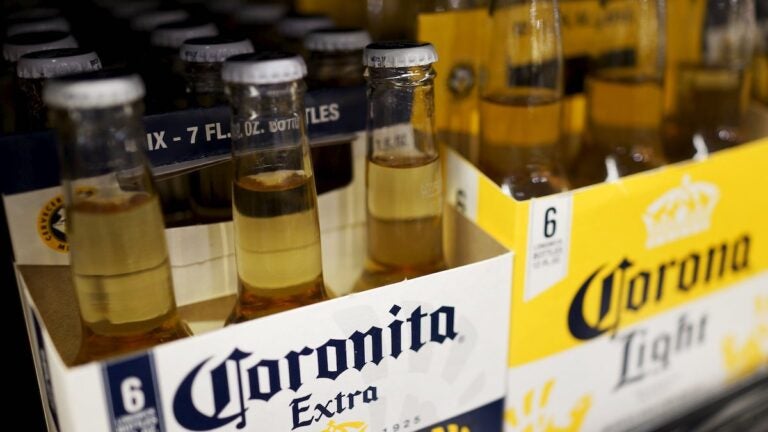 A battle is brewing.
A proposal to increase the number of places where beer and wine are sold in Massachusetts is sparking outrage from package store owners and fueling concerns among public health experts.
Gathering for a hearing on Beacon Hill Monday, opponents of the Cumberland Farms-backed ballot initiative threw down their reasons why the state should refrain from creating a new kind of liquor license: one that will allow more food stores to sell the adult beverages.
Essentially the ballot initiative, if passed, would lift restrictions on the number of alcohol licenses retailers — like Cumberland Farms, the Westborough-based gas and convenience store chain — that sell alcohol for off-site consumption can own.
Cumberland Farms says the changes are long overdue. But local package store owners say the measure would put the market control in the hands of large corporations, while public health researchers contend increased access to alcohol could also mean an uptick in violence and underage drinking.
"We were taken completely by surprise when this came about," said Robert Mellion, executive director of the Massachusetts Package Stores Association, according to Boston 25 News. "You will be potentially adding 3,100 convenience stores, 2,000 markets, and Walmarts and Targets and any other type of store that sells food on top of that to the existing 2,500 licenses."
Here's what to know:
The initiative
Right now, retailers like Cumberland Farms, which operates over 200 locations in Massachusetts, can own up to nine licenses to sell alcohol for consumers to drink elsewhere.
But that would significantly change under the ballot initiative the convenience store company filed last August.
According to the official summary of the proposal from the attorney general's office, the law, if passed, would create "a license allowing food stores to sell wine and beer for off-premises consumption" and would "progressively increase and then eliminate the limit on the number of licenses for the sale of alcoholic beverages consumed off the premises that any one retailer could own or control."
The state limit on licenses of that type would raise to 12 next year, then 15 in 2022, followed by 18 in 2023, if approved, according to the summary. Come the dawn of 2024, the limit would be eliminated.
Local licensing authorities, however, would be able to manage the number of food store licenses they issue.
The law would also require retailers to use a barcode scanner or similar technology to verify the age of customers purchasing alcohol starting in 2022, and require the Alcoholic Beverages Control Commission to employ one investigator per every 250 licenses granted.
The lead petitioner behind the ballot question is Cumberland Farms' head of public policy, The State House News Service reports.
In August, Matt Durand, the company's government affairs manager, told The Boston Globe he is open to a compromise that the Legislature could reach this year before the initiative would even make it to the November ballot box. But, if needed, Cumberland Farms is ready to go the distance, he said.
The opposition
The Joint Committee on Consumer Protection and Professional Licensure met Monday for a hearing on the legislative version of the ballot initiative. The meeting drew many opponents of the measure, including R. Ryan Maloney, of Julio's Liquors.
Local business owners like Maloney said the initiative would thrust the industry into the hands of international corporations. Cumberland Farms was bought by EG Group, a British company, last year.
"The Mom and Pops are being eaten away one at a time," Maloney told Boston 25 News. "And this is just another way for a big corporation to come in and get as many licenses as they can."
Past president of the Package Stores Association's board Benjamin Weiner, of Sav-Mor Spirits, said the act is "an overseas corporation … trying to disrupt and destroy the very laws and regulations that have kept this industry the way it has been since Prohibition," the News Service reports.
"I think that (current laws) have been effective in controlling the way liquor is distributed throughout the state. It has kept competition within reason, and I don't believe there is anybody in this room or in this state who has lacked for availability of purchasing of alcohol under the proper conditions," Weiner said.
Last fall, the association asked the Supreme Judicial Court to appeal state Attorney General Maura Healey's certification of the initiative petition, according to the news outlet.
The plaintiffs contend it's a "Frankenstein-like" question because should it make it to the ballot, the question would ask voters to decide on what is essentially four unrelated questions. The argument follows a similar one put forth by the court that upended the so-called "millionaire tax" ballot question in 2018.
According to the News Service, the association argues in its lawsuit that the license petition is asking voters these four questions: whether beer and wine sales should be allowed at an unlimited number of businesses if they also sell food; whether one company should be allowed to own an unrestricted number of liquor licenses; whether money generated by certain alcohol excise taxes should be put into a fund for the Alcoholic Beverages Control Commission; and whether customers must present identification to buy alcohol regardless of how old they appear to be.
On Monday, David Jernigan, a Boston University professor who studies connections between public health and alcohol policies, testified that the initiative is a matter of public safety.
"There's a close relationship between the number and concentration of alcohol outlets and violent crime," Jernigan said, the News Service reports. "CDC estimates about 47 percent of homicides would not have happened if alcohol had not been in the picture. In Massachusetts, that translates to about 82 deaths a year. Largely because Massachusetts, and Boston by extension, has limits on the number of outlets, the relationship between alcohol outlets and violent crime is currently much weaker here than it is in many other cities."
Elizabeth Parsons, a Mystic Valley Public Health Coalition substance abuse prevention coordinator, told the committee that increasing alcohol availability will spur greater alcohol consumption, including for minors, according to the News Service.
Pricing competition would play a role in that, she said.
"The public health science supports maintaining strong controls for outlet density and preventing rock-bottom prices that go hand-in-hand with increasing density," Parsons said.
No one testified in favor of the initiative. A representative for Cumberland Farms was not present because of "unforeseen travel issues," Durand said, The Boston Herald reports.
The company will instead submit written testimony.
"As our forthcoming testimony will address in greater detail, retailers large and small — from ubiquitous international brands like Walmart, to local single-store operators like Sherborn Market — have joined with consumers and registered voters across the commonwealth to support this initiative," Durand said. "That growing coalition believes reforms to the current system are both necessary and long overdue."
'It's very nuanced'
State Sen. Paul Feeney, a committee co-chairman, said lawmakers should consider this initiative as they would with any other legislation pertaining to alcohol licenses, according to the News Service.
"When it comes down to liquor licenses and deciding the future of the way alcohol is dealt with in the commonwealth of Massachusetts, we need to make sure that we fully understand what is the objective, right? What is the goal and does it benefit the consumers of Massachusetts and can we balance it with public safety?" he said. "That's what we do with every single liquor bill that we consider. This is the same."
Co-chairman state Rep. Tackey Chan and Feeney both said they will consider the proposal outside of the pending lawsuit. Oral arguments are slated for April 6.
"It's very nuanced, there's a lot to consider, it's a complicated issue," Feeney said. "We are going to undertake our vetting of the bill and consideration of the bill independent of what's going on with the ballot initiative. We'll dig deep into the issue, but ultimately there is a ballot initiative process that's ongoing and we'll continue to monitor that and make a decision when it's necessary."