Policy
Joe Kennedy proposes direct payments of at least $4,000 to most American adults
"We can — and should — strengthen critical safety net programs, but only working families will know where their needs are greatest."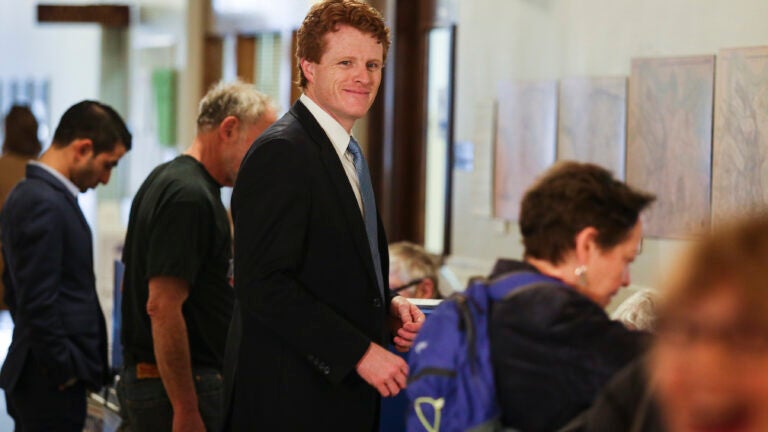 Rep. Joe Kennedy III has seen Sen. Mitt Romney's proposal to send $1,000 checks to every American adult in response to the effects of the coronavirus pandemic — and he wants to quadruple it for nearly 90 percent of the population.
The Massachusetts congressman says he is introducing legislation that includes $4,000 in direct cash payments to every adult earning less than $100,000 a year — plus $2,000 for each of their children — to blunt the "financial devastation" wrought by the global outbreak. For those making more than $100,000 in annual income, the assistance would be $2,000 per adult, plus $1,000 a child.
"Guaranteeing payments to American workers gives them the freedom to choose how to navigate economic challenges that millions will face in the coming days, weeks, and months," Kennedy said in a press conference Tuesday. "We can — and should — strengthen critical safety net programs, but only working families will know where their needs are greatest."
As local and federal officials implement aggressive social distancing rules to slow the spread of the potentially deadly disease, Kennedy said the outbreak had morphed "from a public health crisis to also a financial crisis as well." His bill also includes provisions to boost unemployment insurance (by both eliminating the one-week waiting period and extending benefits — which last 26 weeks in most states — by an additional 13 weeks) and to increase federal reimbursement rates for Medicaid so that providers are not "left holding the bag for providing treatment that will help us bring this pandemic to an end."
However, the provision to send each American adult a check adds to the growing momentum around the concept of universal direct payments to address the fallout from the pandemic.
According to Kennedy, his bill would separate the assistance into two separate payments spaced out by about a month. Those on Social Security and disability insurance would also be eligible. And the checks would continue each year "until the crippling economic aftershocks end."
While federal officials move to strengthen other aspects of the country's safety net, the general concept of direct payments as part of a larger, subsequent stimulus package has attracted bipartisan support. President Donald Trump's administration has expressed support for Romney's proposal, while Senate Democrats have proposed cash payments totaling up to $18,000 for the average family of four. Kennedy's bill, which quickly gained at least two House co-sponsors Tuesday, would send $12,000 annually in relief to most families that size.
The congressman held a virtual town hall Tuesday night with former President Barack Obama's top economic advisor, Jason Furman, who wrote a recent Wall Street Journal opinion piece calling for similar, albeit smaller, direct payments to help families deal with the crisis. Still, Furman full-throatedly supported Kennedy's bill, calling the checks "one of the most important aspects of protecting families from the economic fallout that is inevitable" in the wake of the pandemic.
"At a time like this, you don't want to be picking and choosing who gets this assistance," Furman said, emphasizing the administrative simplicity of universal payments.
COVID-19 Virtual Town Hall with Jason Furman https://t.co/fOWgwH7Rpr

— Joe Kennedy III (@joekennedy) March 18, 2020
The Harvard professor said that one of the lessons of the 2008 financial crisis was how "everyone is affected" by the ripple effects of an economic slowdown.
Some economists have argued that direct cash payments would be best targeted for after the pandemic has passed, when social distancing rules are rescinded and people can actually go out and stimulate the economy. They also say that higher-earners will likely choose to save — rather than spend — the money and that the government should focused on helping the most vulnerable.
But Furman says continued direct payments can do both: provide flexible protection to lower-income families in the short run and help the economy rebound in the long run.
"You could potentially leave tens of millions of families across the country — millions in Massachusetts — behind, if you try to get too fancy," he said.
Kennedy says he wants direct cash payments to be a "centerpiece" of a broad economic relief package passed by Congress, which will likely also include assistance for hard-hit travel and hospitality industries.
"We need to talk about all the triple-deckers in Dorchester," he said during his press conference Tuesday. "The renters there need to pay their rent, but the landlord — the owner — that lives in that first-floor apartment, he needs that rent check, too. So you need to keep cash flowing through the system."
Kennedy acknowledged the need to provide help to small businesses and sectors disproportionately hit by the "economic devastation" of the pandemic, such as restaurants and airlines. But he emphasized that Congress should prioritize assistance to families before bailing out any specific industries.
"We have to center American families first," Kennedy said.
<hr>
<h2>Your 60-second guide to social distancing during the coronavirus outbreak</h2>