Policy
As restaurants rely on takeout orders, Boston officials look at limiting commission rates delivery companies charge
Delivery service expenses during the coronavirus pandemic are "absolutely crippling" many local restaurants, City Councilor Matt O'Malley said.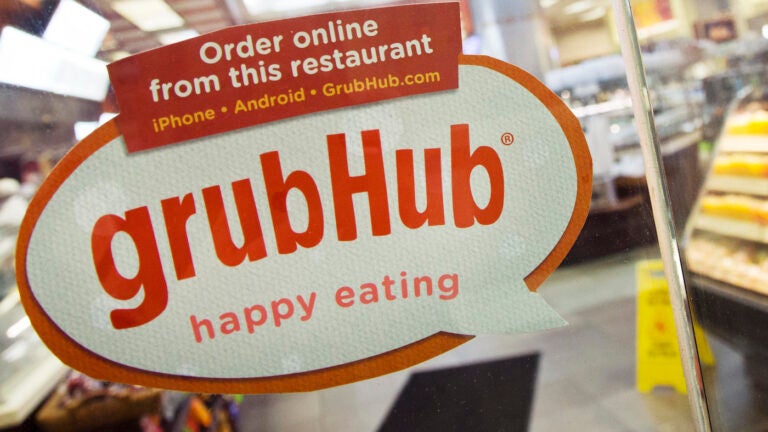 Restaurants around Boston, like anywhere else in Massachusetts these days, are reliant on takeout and delivery orders to remain afloat in the COVID-19 pandemic.
And with many struggling to keep the lights on, city policymakers are looking to relieve some of the financial obligations local eateries face.
A trio of Boston city councilors is looking to lower the costs — potentially through an imposing a cap — that restaurants pay third-party delivery companies, such as Grubhub, DoorDash, Uber Eats, and Postmates, as they remain heavily dependent on delivery orders to reach customers.
"I understand third-party delivery companies have financial needs themselves that need to be met — they also need to pay their workers and their workers obviously have to pay for fuel, maintenance, and repairs," Councilor Michael Flaherty said during a council meeting Wednesday.
But, "at a time where many of our restaurants are struggling and fearing that they won't reopen, exorbitant commission fees on each and every order quite frankly feels a little exploitative," he added.
At today's Boston City Council meeting, @mfflaherty , @EdforBoston, & I introduced a hearing order on capping third party delivery fees incurred by restaurants during the pandemic.

Here's why this is important: A long, wonky thread:

1/X pic.twitter.com/ubEAPMbwrL

— Matt O'Malley (@MattOMalley) April 29, 2020
Placing limits on what delivery services can charge establishments has already taken hold in San Francisco, where an emergency order capped fees at 15 percent earlier this month. The New York City Council took up the matter this week, considering a 10 percent cap, and the mayor of Baltimore recently asked companies to look at limiting what they charge to 15 percent.
Sponsors of the hearing order introduced Wednesday, including councilors Ed Flynn and Matt O'Malley, say the measure is needed since "there are currently only a few third-party delivery companies that dominate the marketplace, making it difficult for restaurants to negotiate a different commission fee structure because they lack negotiating power," according to the filing.
Commissions and delivery charges can vary, often between 10 and 30 percent per order, depending on the company, officials said.
According to O'Malley, the hardest hit by the charges now are restaurants who relied mainly on sit-down service before the pandemic and the state's stay-at-home advisory took hold.
High fees and commissions may make financial sense when deliveries only made up a small portion of orders, but that model is not sustainable during the current crisis, O'Malley said.
"It is absolutely crippling many of these restaurants now," he said.
But opponents of a rate cap say the measure would impact the third-party delivery services' ability to cater to their clients — cutbacks restaurants would also feel.
Services offered by the companies are less expensive for restaurants than if the establishments had to hire their own delivery staff, industry sources say.
Bringing more employees on board means paying for wages, maintenance, and background checks, as well as other expenses — all aspects handled by what companies charge restaurants, they say.
Without the third-party delivery companies, meanwhile, large chain restaurants with the cash flow to acquire couriers would continue business as usual, while small mom-and-pop eateries would pay a heavier price, they argue.
"Restaurants have the option to choose different services at different commission levels. With Uber Eats, restaurants can choose to pay a lower commission and pay for full-time delivery people themselves," a spokesman for Uber Eats said in a statement. "Many restaurants don't have the resources to do that and they choose to have Uber Eats cover all the costs and logistics of delivery. We want to work with the council on a proposal that will benefit restaurants as well as delivery people, however a commission cap would shift the costs back onto small, local restaurants who can afford it the least."
At Postmates, commissions are privately negotiated between the company and each business, so rates are different at each establishment.
"Commissions are not 'fees,' they are the main source of revenue for our company and they are how we pay for the services that we provide to businesses and our customers," Postmates told Boston.com in a statement. "Arbitrarily setting on-demand delivery prices has real consequences that undermine our ability to operate, fund relief efforts and benefit programs for merchants, couriers and customers, and kills the whole industry's ability to provide the services restaurants need to stay open during this national emergency."
Several companies have already announced financial relief efforts during the coronavirus health crisis. Last month, Grubhub announced it would suspend collecting up to $100 million in marketing commission payments from independent restaurants across the country, although the company drew criticism since the program would require repayment from the restaurants.
Uber Eats said in March it would waive delivery fees for over 100,000 businesses.
And DoorDash unveiled a similar initiative last month, cutting commission rates by 50 percent for eligible local restaurants on DoorDash and Caviar through the end of May — an estimated $100 million in total commission relief and marketing investments that will benefit over 300 Boston restaurants, according to a company spokesperson.
"We're disappointed that, in the midst of this crisis and when food delivery is more essential than ever, the city is considering an arbitrary, one-size-fits-all cap that does not reflect the needs of the Boston businesses and workers it is intended to help," the spokesperson said in a statement Thursday. "We urge the city's leaders to bring all stakeholders together to craft the kind of meaningful solutions local restaurants deserve."
Flaherty is hoping the city can do just that. Maybe a hearing will not even be needed, he said.
"I'm thinking the folks in the delivery world could get on the phone with the folks in the restaurant world and come to terms with something that just makes sense where there's a shared responsibility … and demonstrate a willingness to get through COVID-19," he said.