Policy
Mass. lawmakers are readying for a police certification system. Here's what would make it strong, according to experts.
"We need to have a standardized system across this commonwealth so that wherever I am pulled over, I am treated the same."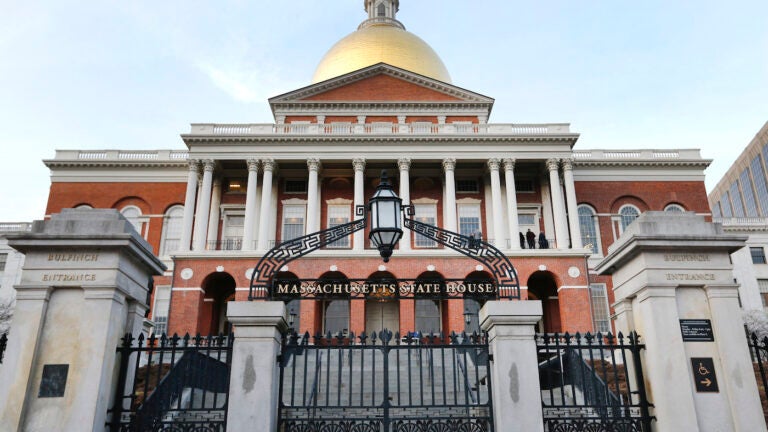 With a bill from Gov. Charlie Baker that could arrive this week, state lawmakers behind the push for a system to certify police officers in Massachusetts say they anticipate having a law on the books by mid-July.
The initiative — creating a "Peace Officer Standards and Training," or POST, system — is one branch of widespread policing legislation expected to surface on Beacon Hill in the coming weeks, as officials work to provide more accountability and transparency in law enforcement.
As lawmakers await Baker to unveil his bill on creating a POST system, state Rep. Russell Holmes, a Boston Democrat, said Tuesday the effort to create uniform training requirements and a certification process for officers — with the ability to de-certify violators — is gaining broad support.
Speaking on a panel of experts, activists, and lawmakers hosted by the American Civil Liberties Union of Massachusetts, NAACP, and the state's Black and Latino Legislative Caucus, Holmes and others detailed how such a system is long overdue for Massachusetts, one of only four states that does not already have one.
According to a memo released by state Auditor Suzanne Bump's office last week, the commonwealth has one of the highest hourly requirements for in-service police training in the country, or 40 hours annually, but there is no state-run mechanism to enforce training requirements.
A study by Bump's office last year estimated that as many as 30 local departments may not be meeting the state's current training standards.
"I represent the blackest representative district in this commonwealth and … we want great police," Holmes said, while speaking to the need for de-escalation and anti-bias training for officers. "That's simply what my community is demanding. … We need to have a standardized system across this commonwealth so that wherever I am pulled over, I am treated the same."
Peace Officer Standards and Training (POST) – A Legislative Briefing

A strong POST system provides the ability to de-certify police and increase transparency and accountability. Hear from experts and advocates who will discuss the gold standard for POST legislation, and how it should be applied in the Commonwealth.The ACLU of Massachusetts, the New England Area Conference NAACP, and the Massachusetts Black & Latino Legislative Caucus will convene experts to discuss POST systems and other police accountability tools.

Posted by ACLU of Massachusetts on Tuesday, June 16, 2020
Holmes has been working alongside Falmouth Republican state Rep. David Vieira since 2014 in the push to institute statewide standards under a POST system, through a bill to create a commission to study and make recommendations for establishing a system that would eventually form the legislation needed to create it.
But the governor is apparently long past the point of convening commissions and gathering recommendations on the issue. Those close to Baker say the Swampscott Republican has been crafting a bill of his own to create the system through a working group he established last year.
Holmes, who was working with Baker on the bill, said Tuesday he hopes Baker will release the proposal Wednesday.
"The Black and Latino caucus has reached out to the police unions, has worked with them to create a relationship," Vieira said. "The meeting that I was at yesterday, the relationship that was building was something that I never thought I'd see when we started this. And are there agreements? Yes. Are there disagreements? Yes. But we have to have a relationship going forward to make this work."
As the public awaits the exact details of the bill, activists and experts Tuesday outlined the tenants of a strong POST system on a video conference call moderated by Rahsaan Hall, racial justice director of the ACLU of Massachusetts.
Roger Goldman, Callis Family professor of law emeritus at the Saint Louis University School of Law and a leading expert on police licensing and revocation laws in the nation, said POST systems should be thought of the same way as how any other state-licensed profession operates.
"Cosmetologists, lawyers, doctors, you name it, this is not a new concept, and I can't think of any profession or occupation in the state that doesn't have a system for removing a licensee for serious misconduct," he said. "So this is not rocket science."
Goldman said a major component of a successful system is the ability for the state to de-certify officers, with a comprehensive definition of what constitutes the grounds for de-certification. In a third of states that have de-certification processes, a conviction is needed to de-certify an officer, he said.
Additionally, Goldman said the system should apply to both local and state police and should contain a mechanism to ensure municipal departments are reporting to the POST system, perhaps by withholding funding for those that do not.
"You see particularly small departments that don't have a lot of money, they may be tempted to keep someone and not report because they really can't afford anybody other than officers who should be de-certified," he said.
Dan Zivkovich, former executive director of the Massachusetts Municipal Police Training Committee, pointed to three main goals of a strong system.
One was to ensure that only qualified people take on the job, which means setting minimum hiring standards, he said.
According to Goldman, some states are putting pressure on departments to carry out background checks on job applicants. He pointed to how Timothy Loehmann, the police officer who fatally shot 12-year-old Tamir Rice in Cleveland in 2014, was hired by the city department even after he was dismissed by the Independence Police Department in Ohio after being deemed unfit to serve.
Sophia Hall, senior attorney at Lawyers for Civil Rights, also sees opportunity for diversification in departments in law enforcement standards. Longstanding, systemic employment problems range from who is hired to who is disciplined and terminated, she said.
"Boston has failed at every step of the way to keep pace with the rich diversity that this city represents," she said. "Our police departments across the board are just not representative of that diversity, and the higher up you go in terms of leadership or to specialized units, the more stark that disparity becomes."
Zivkovich said POST should also aim to provide officers with supervisor training and training for "every assignment that they may have."
"It's not just hours, it's also topics," he said.
Lisa Thurau, executive director of Strategies for Youth, which works to improve interactions between police and minors, highlighted that in 2017, not one POST system in the United States had standards to guide law enforcement about how to work with kids and teens.
"It's important to take the example of youth … to see how POSTs can completely exclude an entire part of the populous when it's developing its standards and training," she said.
Several experts and lawmakers also stressed the importance of having a system that will allow for input from both police and the public.
"The seats have to be at the table for law enforcement and the community," Vieira said. "And I think what we will see moving forward will include that."
Overall, many said the POST system is far from a "silver bullet" solution to the systemic changes and reform needed within law enforcement. Amid the unrest following the death of George Floyd, the Black man killed in police custody in Minneapolis last month, the Massachusetts Black and Latino Legislative Caucus released a 10-point list of policy changes to address institutional racism in policing, including new limits on use of force.
Last week, House Speaker Robert DeLeo and caucus chairman state Rep. Carlos González said lawmakers will put forth a policing legislation aimed at establishing statewide policies and procedures for police conduct and will also seek to ban the use of chokeholds and to require officers to intervene when a fellow officer improperly or illegally uses force.
Jamarhl Crawford, founder of the Mass Police Reform advocacy group, said he is happy to see the POST effort advance, but there is still more work to do. He highlighted the need for civilian boards to review complaints against police officers and for a standing, statewide commission on policing to continually examine the profession.
"I am just eager to see this ball get past the touchdown line and then for us to figure out all the other things that we need to continue on," he said.