Policy
What to know about Michelle Wu's 'Green New Deal & Just Recovery' for Boston
"This is most fundamentally about the fact that no particular policy program or office or individual can do this."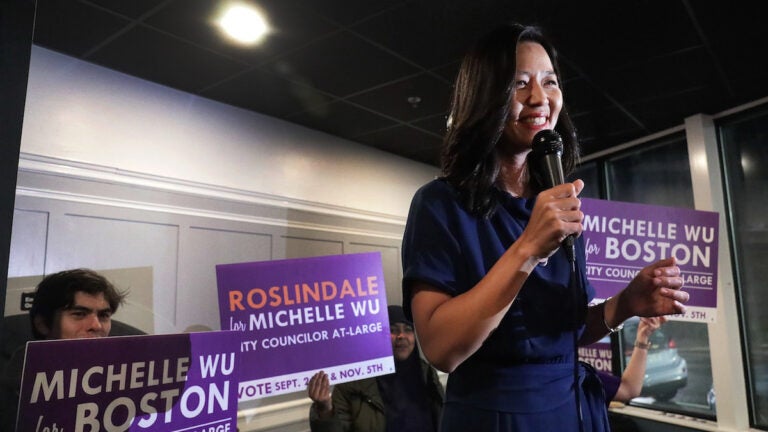 Boston City Councilor Michelle Wu recently laid out a vision to bring the sweeping call for a Green New Deal heralded by Washington lawmakers to Boston through a tailored, detailed-oriented slate of potential policies.
The city councilor-at-large put forth "Planning for a Boston Green New Deal & Just Recovery," a 49-page report geared towards combatting the ramifications of climate change and its intersecting issues, ranging from affordable housing and economic opportunity to transportation and racial justice.
Wu's report also highlights a need to eliminate the disparities exacerbated by the effects of the coronavirus pandemic, which have hit low-income residents and communities of color disproportionately harder than others — the same areas that will bear the brunt of climate-induced problems. The city must have a recovery plan that prioritizes equity, the document says.
There is, even at the local level, much that can be done, Wu said.
"This is most fundamentally about the fact that no particular policy program or office or individual can do this," Wu said Wednesday, while introducing the initiative in a virtual council meeting. "It's really about a mass public conversation and community mobilization and prioritization of what projects should happen, where, when, what the details are."
Every city needs a local Green New Deal. Here's our plan for a #BostonGND & #JustRecovery: https://t.co/ivIM7NHV1e pic.twitter.com/9TLqtPOm0w

— Michelle Wu 吳弭 (@wutrain) August 17, 2020
In the report, the Roslindale councilor makes a renewed plea for officials to meet the urgency of the matter at hand. Boston could see as many as 40 days with temperatures above 90 degrees per year by 2030, and as many of those days as an entire summer by 2070. Fifty years from now, sea level rise could hit over three feet, and over seven feet by 2100.
As the region works towards recovery from COVID-19, Wu says the "business as usual" level of pollution and carbon emissions won't cut it.
"As Boston faces the most dire public health emergency in a generation, we've seen the scale of collective action possible when mobilizing for a crisis … Unlike the sudden shock of coronavirus, climate change and systemic inequities are slow, relentless crises," the report reads.
According to Wu, the document, released last week, comes after her office collected input from local groups and activists for nearly a year and a half.
In April 2019, Wu led the charge to have the City Council back the federal Green New Deal, a House and Senate resolution introduced by Democrats Sen. Ed Markey, of Massachusetts, and Rep. Alexandria Ocasio-Cortez, of New York.
"A global pandemic has shone a light on what Black communities knew all along," Mela Bush Miles, of Alternatives for Community & Environment, a Roxbury-based environmental justice nonprofit, said in a statement. "Disparities in health care, employment, transportation, and education wreak havoc on Black lives. We MUST deal with the public health crisis of racism. We need a citywide Green New Deal and just recovery to unearth the root causes of these disparities and to proactively plan a just and sustainable future for our city."
Here are a few takeaways from the report:
City policies can 'deliver changes with scale and immediacy,' the report says.
In making the case for Boston officials to hone in on a city-centric Green New Deal, Wu's report says "the lack of federal government direction" has shifted the responsibility of action to local government during the pandemic.
But at the city level, lawmakers still have the ability to effect change through budgets, zoning and land use policies, procurement and contracting, taxation, and municipal assets, among other areas, the report notes.
Municipalities are positioned to be more "nimble, responsive, and collaborative than state and federal institutions," the report reads.
"Cities are centers of creativity, vibrancy, diversity, culture, knowledge, wealth, and innovation. America's cities are home to nearly half the population and generate almost 60 percent of our economic activity," the document reads. "Yet economic inequality is higher in urban areas, and soaring housing costs continue to destabilize communities. The concentration of buildings and industry in urban centers means that city policies can deliver changes with scale and immediacy. As such, cities have tremendous power on the front lines of the climate crisis and pandemic to create impact."
The Hub should go carbon neutral by 2040.
Wu's report says Boston must accelerate its decarbonization efforts, adding that eliminating carbon emissions is "the baseline for protecting against the most destructive impacts of climate change."
With that, the proposal offers the city should reach total carbon neutrality — meaning sources have no net emissions because emissions are balanced with other efforts to remove carbon, like planting trees — by 2040, a decade earlier than the goal set by the city's current Climate Plan, updated by Mayor Marty Walsh in October.
Furthermore, Wu says the city should have 100 percent sustainable electricity by 2035 and net-zero municipal buildings by 2024.
"The City of Boston's 2019 Climate Action Plan set a goal of reaching carbon neutrality by 2050, with an interim goal of a 50 percent emissions reduction by 2030," the report reads. "Although this is sooner than the goal set in 2004 for an 80 percent emissions reduction by 2050, it has become increasingly clear that even reaching net-zero by 2050 will mean no more than a coin flip's chance of staying within habitable temperature thresholds. Cities must embody the spirit of an urgent, action-oriented drive to decarbonize our society and economy."
The report also pitches a policy for the city to leverage its bond rating to issue "Green Municipal Bonds" geared at speeding up solar energy and energy efficiency measures for public amenities such as parking lots, schools, police and fire stations, and community centers. The state's Property Assessed Clean Energy, or PACE, program can help ease the cost for private property owners to convert to renewable energy or to install energy-efficient upgrades, if Boston decided to opt-in.
City officials should help build a green workforce by ensuring those jobs are local and have good wages, benefits and protections, and are accessible to all, the report says. An "Urban Climate Corps" can increase employment opportunities in the sector for young residents and those who face employment barriers.
"Our public investments should reflect values of long-term prosperity and sustainability, and we should use municipal power to shift investments away from harmful industries to companies that help create a more climate-just city," the report reads, regarding a priority to divest/reinvest in a "climate-just future." "Boston must divest from corporations that profit off racial oppression, violence, and climate change."
Boston should seek right to counsel for residents facing eviction.
Residents facing eviction from rental homes in Boston should have a free right to counsel during court proceedings, according to the report. The city would need a home rule petition to allow for it.
"Establishing legal representation for renters would protect against unwarranted or potentially illegal evictions," Wu's report reads. "Such programs have been shown to double the number of families who retain occupancy while saving public dollars overall — for every dollar invested in a full Right to Counsel, Massachusetts would save $2.40 in shelter, healthcare and foster care costs for residents facing homelessness."
To reign in housing costs, the document calls for de-commodifying housing in Boston through city support for the creation of cooperatively-owned housing.
The report recommends expanding the city's Department of Neighborhood Development to "include a portfolio of cooperative services, such as providing seed grants and low-interest loans, offering technical and legal advice on formation and management, and connecting cooperatives with knowledgeable building and sustainability experts."
"Cooperatively-owned housing brings the costs, management, and capital investments of housing under collective control with the potential for greater stability, affordability, and resiliency," the report says. "Nonprofit- and resident-owned cooperatives have a long history of creating greater social support and civic engagement, reducing carbon footprints, and strengthening housing stability and safety."
Wu's plans also highlight creating affordable green overlay districts and community benefits agreements to bring private development in line with equity and climate resiliency goals.
City Hall needs to consider its role in perpetuating disparities.
Changing structural disparities also means taking a look at changing City Hall, according to the plan.
"To truly address structural injustices, we need to start with the structure of city government," the report says. "A comprehensive Justice Audit would analyze internal municipal processes, hiring, decision-making, leadership, budgets, and communications to identify where public dollars are actually exacerbating disparities."
The goal is to use the audit's findings to help create a "justice framework" centered on shaping future decision making, the document says.
"This citywide framework should set a clear tone and expectations for what does and does not orient outcomes towards justice, rather than requesting each department review their own operations," the report reads. "Such an approach would grant real power to the City's Equity and Inclusion Office to take corrective action, culminating in the passage of a local justice framework ordinance after the completion of the justice audit and an open discussion with the public on what values and principles should be included."
Wu, squaring her pitch for structural change with Boston's longstanding reputation as being set in its ways, drew from the city's "civic trail blazing" history as home to the first public school, park, and library in the country, in explaining how the Hub can embrace climate action to The New Yorker last week.
"I've found that when we push to reimagine what's possible for the public good — such as fare-free public transportation — these ideas can be embraced by a broad coalition as a point of civic pride," Wu said. "So I'm hopeful and determined for Boston to meet the moment as a leader on climate justice."
Read the full report:
Get Boston.com's browser alerts:
Enable breaking news notifications straight to your internet browser.