Policy
'I want this thing to land': Rep. Russell Holmes is ready to start screaming again over police reform bill
"Enough talk. It is now time to get this thing done immediately."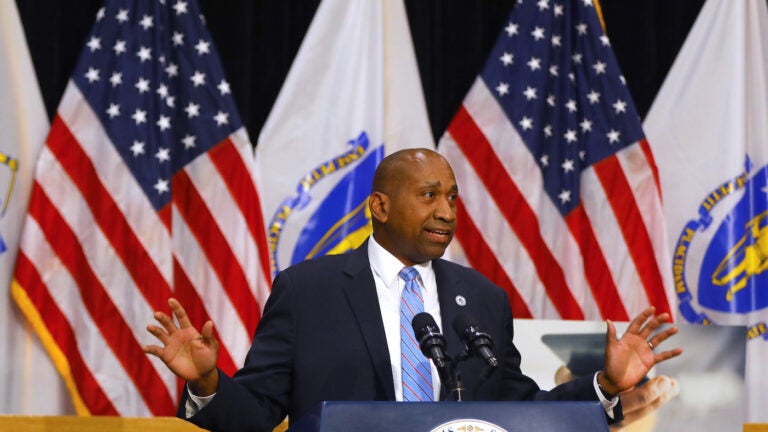 While the annual emptying of the Massachusetts State House amid the hazy, waning days of summer has left the capitol halls quiet, Mattapan state Rep. Russell Holmes expects to make noise this week.
Holmes, the ardent advocate for the pending police accountability legislation who pushed to lock down a policy by August, told Boston.com recently he intends to push just as hard to get a bill out of conference committee and onto Gov. Charlie Baker's desk once lawmakers return after Labor Day.
"I will be screaming as loud as I was at the end of July," he said.
Democrats vociferously called for law enforcement reform following the death of George Floyd, the Black man killed in Minneapolis police custody in May, that spurred nationwide calls for racial justice and a dismantling of longstanding systemic racism and police brutality.
To the frustration of law enforcement leaders, the state Senate, in July, passed the "Reform, Shift + Build Act," which would put in place an officer certification process while also placing restrictions on the use of chokeholds and tear gas.
The House subsequently passed its own bill through a 93-66 vote on July 24, offering similar policies: the creation of a police certification system, the prohibition of chokeholds, and rolling back the use of no-knock warrants.
But lawmakers have been working to navigate how each addresses qualified immunity for police, the legal measure that protects officers from civil lawsuits — a sticking point facing lawmakers from police unions.
The House proposal would remove immunity for officers who are decertified under the proposed system, while also setting up a legislative committee to study qualified immunity and report back by March with further recommendations.
The Senate bill seeks to keep the immunity for police, so long as, lawmakers say, "a public official, including law enforcement, is acting in accordance with the law."
Labor organizations have offered the language would thereby also apply to public employees. Senate President Karen Spilka's office, in July, said the bill does not impact or limit existing indemnification protections for public officials.
Police reform remains among the five major pieces of legislation locked in private conference committee talks, where a half-dozen lawmakers were working to hammer out a final version they could send to Baker.
Meanwhile, as elected officials dispatched from their Beacon Hill offices and the committee worked to build consensus, the shooting of Jacob Blake, a Black man now paralyzed after he was shot by a Kenosha, Wisconsin, police officer last month, has renewed the urgency of the persistent calls for reform in the nation's law enforcement ranks.
Holmes knows the "enormous amount of fire and pressure" now on lawmakers. The state must do something, he said.
"Even the folks who have been nervous about that qualified immunity piece are saying we got to go and get some of this stuff done," said Holmes, the former chairman of the Massachusetts Black & Latino Legislative Caucus.
Late last month, Holmes, who speaks often with his fellow caucus members, two of whom — Sen. Sonia Chang-Díaz and Rep. Carlos González — serve on the conference committee, told The Boston Globe the committee was at first meeting daily, "up until a few weeks ago."
Holmes, in an interview last week, said he is "at the point" where he is telling committee members to reach agreement on the aspects of the legislation that already have clear consensus.
The State Police Association of Massachusetts — which represents over 2,000 troopers and sergeants — has said it supports certain parts of the legislation, such as the certification program and the standardization of police training, according to the Globe.
"I want this thing to land. It should just land … Enough talk," said Holmes, who has pushed for a police licensing system for years. "It is now time to get this thing done immediately."
Holmes offers that lawmakers should instead take time now to further debate qualified immunity, then hit the ground running on it early next year, separately.
"Release the rest of this bill," he said. "Give us until January next year to figure out what to do with qualified immunity."
Members of the committee — who also include Reps. Claire Cronin and Timothy Whelan and Sens. William Brownsberger and Bruce Tarr — either did not return request for comment or declined interviews with the Globe, as per tradition of not publicly talking about negotiations.
Democrats Cronin and Brownsberger told the newspaper officials were working "diligently and engaging in productive conversations," while Republican Whelan said the committee is "trying to reach a consensus."
Holmes thinks lawmakers will get something finalized soon.
"Come next week, the game is on," he said last week. "We are back."
Get Boston.com's browser alerts:
Enable breaking news notifications straight to your internet browser.