Policy
Here's what you need to know about the coming abortion rights debate in Massachusetts
"We are very concerned that Massachusetts' women's reproductive rights are under threat at the national level."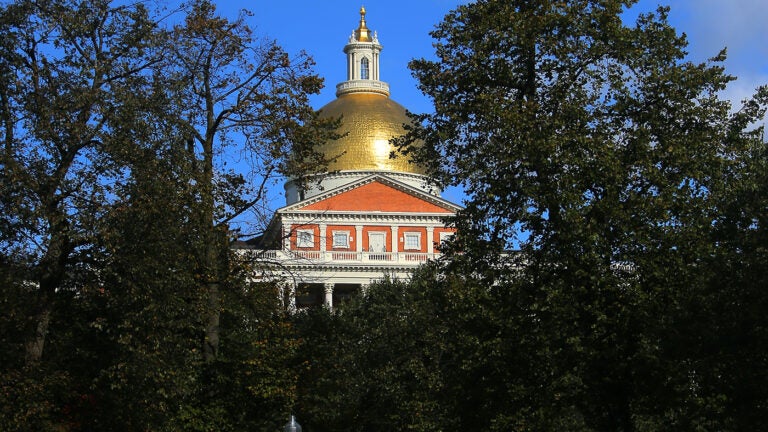 Massachusetts legislative leaders say they are planning to seek expansions and protections of abortion rights — action following the shift towards a conservative-leaning U.S. Supreme Court that's raised questions on the future of abortion access nationally.
"We are very concerned that Massachusetts' women's reproductive rights are under threat at the national level," House Speaker Robert DeLeo and Senate President Karen Spilka said in a joint statement last week, The Boston Globe reports. "We are therefore committed to debate measures in the House and Senate this session that would remove barriers to women's reproductive health options and protect the concepts enshrined in Roe v. Wade."
The announcement came a week after Judge Amy Coney Barrett's confirmation to the U.S. Supreme Court solidified a conservative majority. Her appointment has fueled fears on the left that the court's landmark 1973 ruling Roe v. Wade — which legalized abortion —  could be in jeopardy.
Now, state legislative leaders say they're planning to take up the issue as soon as this week, as lawmakers work to hammer out the details of a proposed $46 billion state budget.
Here's what you should know:
Current law and the ROE Act
In Massachusetts, the Supreme Judicial Court has determined abortion is protected under the state constitution.
Over the past year and a half, legislators had been looking over the ROE Act, which would spell out abortion rights in state law and expand access beyond existing restrictions, CommonWealth magazine reports.
The ROE Act would roll back current requirements that mandate minors must receive consent for an abortion from either a parent or judge, according to the outlet.
Additionally, the act would allow abortions after 24 weeks of pregnancy in situations where a fetus is diagnosed with a fatal birth defect, CommonWealth reports. At the moment, state law only allows abortions after that time if the mother's life is at risk.
The bill also seeks to make certain that abortions are covered for low-income people who are not eligible for MassHealth.
The joint Judiciary Committee held a hearing on the proposal in June 2019, but action behind the bill didn't pan out, according to the Globe. 
Some lawmakers have wrestled with the component of the law that removes an age requirement, thereby, in practice, allowing a girl as young as 12 years old to have an abortion without informing her parents.
Speaker Pro Tempore Patricia A. Haddad, a lead sponsor of the bill, said last year she understood those concerns, pointing to the fact she has three granddaughters of her own, according to the Globe.
"I'd lose my mind if one of them turned up pregnant and went off and had an abortion without a family member or somebody there with her," Haddad said at the time.
However, the proposal — backed by NARAL Pro-Choice Massachusetts, the American Civil Liberties Union, and the Planned Parenthood Advocacy Fund of Massachusetts —  is geared toward teenagers who don't have familial support, she said, according to the Globe.
"Most people, I think, try to make sure that their girls are supported and feel like they can always turn to a parent," she said. "But this is for a small percentage of people who don't have that."
Anti-abortion activists have been steadfast in their opposition to the bill. The Massachusetts Republican Party criticized lawmakers who back the measure as supporting "infanticide."
"We are not going to let this proud cradle of liberty become a shameful cradle of death," activist Bernadette Lyons, wife of MassGOP chairman Jim Lyons, said during a State House rally against the bill in 2019.
Massachusetts Citizens for Life has said the bill "endangers women's health and radically reduces Massachusetts' standards of medical care," according to CommonWealth.
Republican Gov. Charlie Baker has expressed worries of his own about the bill, specifically the provisions that remove the need for parental or judicial consent for minors and abortions after 24 weeks of pregnancy in certain cases.
"I do have concerns about eliminating the parental notification requirement that currently exists in state law," Baker said last year, when the bill was taken up by the committee, according to Mass Live. "And … the language here matters a lot, which is why this conversation is important, with respect to changing the terms and conditions associated with late-term abortions in Massachusetts."
Massachusetts voters appear to be split.
A Suffolk University/Boston Globe poll published in June 2019 found that 46 percent of respondents said they supported eliminating the consent requirement for minors, while 41.3 percent said they were opposed. The poll's margin of error was 4 percent.
The coming budget process — and a key amendment
Speaker DeLeo said Monday the House will take up abortion access this week as part of its $46 billion state budget proposal process, slated to begin Tuesday, GBH reports.
The Mass. House won't wait until after the budget to vote on abortion access – they'll take it up DURING the budget process, says @SpeakerDeLeo. Rep. Cronin's amendment is very similar to the ROE Act and has his blessing for a vote this week. #MApoli

— Mike Deehan (@deehan) November 9, 2020
The issue will come up in one of 777 amendments to the budget by Judiciary Committee Chairwoman Claire Cronin, the news station reports.
Cronin's amendment is similar but not the same as the ROE Act.
While the amendment would allow for abortions after 24 weeks in instances where the fetus is diagnosed with a fatal birth defect, the proposal does not waive the consent requirement for minors, CommonWealth reports. Instead, the filing seeks to lower the age of consent from 18 to 16, and teens under the age of 16 must get permission from a parent or guardian.
Cronin's measure would also mandate the state Department of Public Health to collect data on abortions, such as where, when, and how the procedure is performed, the gestational age when abortions are performed, and the ages of patients, according to CommonWealth.
Furthermore, the amendment does not mandate health insurance coverage for abortions for low-income residents, unlike the ROE Act.
DeLeo has expressed support for taking up the amendment.
In a statement, he wrote that "it is urgent that the House take up an immediate measure to remove barriers to women's reproductive health options and protect the concepts enshrined in Roe v. Wade" in state law.
"I'm grateful to Chair Cronin for filing a thoughtful amendment that would accomplish those goals, in an expeditious manner, and look forward to bringing it before the House this week," he added.
The ROE Act Coalition — which includes NARAL Pro-Choice Massachusetts, Planned Parenthood Advocacy, and the ACLU of Massachusetts — said Monday they are grateful that Cronin is "working to protect reproductive freedom," CommonWealth reports.
Jim Lyons blasted the amendment Monday, saying in a statement that Democrats are "using their failure to pass a timely budget as a means to ram through this legislation without a single public hearing on the amendment," the Globe reports.
DeLeo had previously said the budget would not include significant policy riders, he noted.
"The Democrats just woke up from a four-month legislative nap and decided the height of an emergency health pandemic is a good time to do something like this," Lyons said. "Their priorities are nothing short of ghoulish."
But Cronin maintained her proposal was born out of 18 months of discussion, with input from residents around the commonwealth, according to the newspaper.
"The death of Justice Ginsburg, coupled with the recent Supreme Court appointment, contributed to a renewed and significant push for legislative action to ensure that women continue to have access to safe reproductive health care in Massachusetts," Cronin said. "This amendment addresses the concerns of our members."
Get Boston.com's browser alerts:
Enable breaking news notifications straight to your internet browser.