Policy
Boston's City Council passed 3 police reform measures. Here's what to know about them.
"We've been having the same conversation around police accountability and transparency for decades in the City of Boston, and it's time for that to change."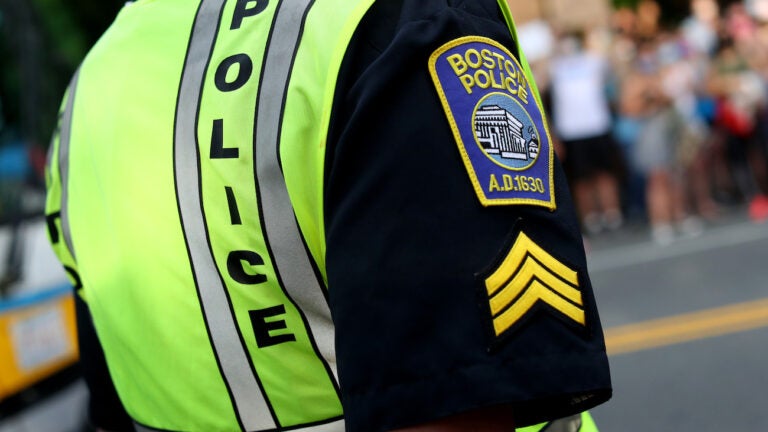 Ending a year marked by widespread calls to address systemic racism in law enforcement, the Boston City Council passed three measures Wednesday aimed at reforming the city's Police Department, including the creation of an independent office with subpoena power to investigate cases of alleged police misconduct.
In a 12-1 vote, councilors approved an ordinance to launch the Office of Police Accountability and Transparency — an agency that would house both a Civilian Review Board and an Internal Affairs Oversight Panel to oversee and probe complaints against police.
The measure married two proposals filed earlier this year: one filed in July by councilors Andrea Campbell, Julia Mejia, and Ricardo Arroyo which sought to primarily create the CRB, and another sponsored by Mayor Marty Walsh and filed last month based on recommendations made by the Boston Police Reform Task Force.
"There was a lot of back and forth, a lot of conversation," Campbell, who is also running for mayor in next year's election, told councilors before the vote. "But in the end, we have a proposal that is extremely strong and we should all be proud of.
"Passing this ordinance would be a win for the city — a major step towards eliminating racial disparities in policing while creating greater transparency, accountability, and justice in our system," she added.
Walsh will review the language voted on by the council, Samantha Ormsby, a spokesperson for the mayor, told Boston.com in a statement Tuesday. He could still veto the ordinance, in which case the council could override it with a two-thirds majority.
The council also voted 8-5 on Wednesday to pass an ordinance restricting how police use crowd control projectiles such as tear gas, pepper spray, and rubber bullets.
The proposal, sponsored by Arroyo and Campbell after police used such tactics against crowds in Boston in May, was met with concerns by Police Commissioner William Gross, who reportedly wrote to councilors on Tuesday expressing the law would be "highly inflexible" and hard to use on the ground.
Arroyo, who said police had not previously been forthcoming with specific ideas for the measure since councilors first filed a draft in June, said the final version was a compromise considering he and others wanted an outright ban on those police tactics.
"If we thought that there was an appetite, a good faith appetite, in the department to offer up productive amendments, we would have delayed this," Campbell said. "We wouldn't even be discussing it right now."
The ordinance will need to be signed by Walsh to take effect.
Additionally, councilors unanimously passed a home rule petition that would give Boston's high school graduates preference for employment as Boston Police officers. The measure would also strengthen the department's residency requirement by prioritizing prospective employees who have lived in the city for at least three years before their civil service exam instead of the current one-year rule.
The proposal, sponsored by Walsh in an effort to help diversify the department's rank and file, requires approval from state lawmakers to take hold.
Here's what to know about the three measures:
Police accountability and transparency
The ordinance passed Wednesday to establish OPAT codifies into law two executive orders signed by Walsh this fall to form the CRB and the Internal Affairs Oversight Panel, or IAOP.
OPAT, as a whole, would be allowed to investigate police misconduct complaints, to review current and proposed department policies, and provide oversight to the force's internal affairs review process, according to the ordinance.
OPAT will have a three-member commission, each of them appointed by the mayor, which will include the executive director of OPAT, the chairperson of the CRB, and the chairperson of the IAOP.
The CRB would include nine members, three of whom will be appointed by the mayor based on nominations from the City Council and the remainder from a pool of applicants recommended by civil rights advocacy groups, neighborhood associations, and youth organizations, among others, the law says.
The IAOP's five members would also be appointed by the mayor from an applicant pool — "preferably licensed attorneys, with experience in civil rights advocacy, youth advocacy, and those with past experience and knowledge of law enforcement," according to the ordinance.
The OPAT Commission would be given subpoena authority in its investigations, and will meet with the mayor and City Council and hold community meetings on a semi-annual basis under the law. OPAT staff will also have the power to conduct investigations and present findings or recommendations for actions against officers.
The CRB would also be able to review and make recommendations about department policies and instances where an officer who is Black, indigenous, or a person of color is disciplined or fired.
While the CRB will submit findings and recommendations for action to police officials, the ability to discipline officers still rests with the police commissioner, who will have the final say.
The law, however, requires the commissioner to explain his or her decision when they do not follow the recommendations.
Arroyo said the measure is "in the strongest form that we could get from all of the multiple ideas."
"I think what has emerged from that is something that's very good for the city, very good for our communities, and frankly, very good for the Boston Police Department, in as much as it creates trust and allows for a framework in which local residents and local constituents understand that there is accountability and there are other eyes on the decisions that are made at BPD," Arroyo said.
Mejia acknowledged that creating the CRB "is an incredibly low bar, but it's one that we find ourselves tripping over and over again."
"We can't let the politics of politics stand in the way of the work that needs to get done," she said. "We've been having the same conversation around police accountability and transparency for decades in the City of Boston, and it's time for that to change."
Although councilors noted the final ordinance was a collaborative effort between them and the Walsh administration, it was not immediately clear Wednesday what Walsh made of the draft that passed the council.
"Mayor Walsh will review the final language once voted on by the Boston City Council," Ormsby, the mayor's spokesperson, said in a statement Tuesday. "Our goal is to achieve historic change in Boston by creating a national model for dismantling systemic racism in every facet of one's life."
Ormsby added that the creation of the city's first-ever CRB and the new IAOP "reflects the incredibly hard work and shared goals of the Boston Police Reform Task Force, community members who continue to advocate for change, and police reform experts who helped craft these recommendations."
Restrictions on police use of projectiles such as tear gas and rubber bullets
Under the ordinance passed Wednesday, Boston police would be restricted to when they can deploy so-called "chemical crowd control projectiles," including tear gas and pepper spray, and "kinetic impact projectiles," such as rubber bullets.
The ordinance bars law enforcement from using those projectiles against people involved in a protest, demonstration, or gathering of more than 10 unless a supervisor on the scene authorizes their use after witnessing violence or property destruction "and determine(s) that no reasonable methods of de-escalation will be successful," according to Arroyo's office
The supervisor, as long as there are nearby exits available, must then provide the crowd two separate warnings, two minutes apart, over a loudspeaker before firing the projectiles.
"This is a way to protect our residents who have demonstrated or are demonstrating and are raising their voice on whatever issue they may be doing that for," Arroyo said. "These are indiscriminate weapons. They are not able to target one individual … and in that instance, it's only right that we give the public the ability to protect themselves, and to exit that scenario, if it should arise."
Gross reportedly wrote to the council on Tuesday, stating, in part, that the ordinance "sets an impossibly high burden to operationalize in real time, making it ill-suited to restore peace during episodes of crowd violence."
"The preamble alone fails to accurately reflect how crowd control is accomplished in Boston," the commissioner wrote.
Arroyo and Campbell said police did not offer specific amendments to the proposal.
"There's a whole host of advocates who don't believe that this goes far enough," Arroyo said. "And the reality is, this was a compromise. We asked repeatedly at all of these sessions for something, give us some edit, give us some written something. It never arrived."
Hiring preferences for Boston police
The home rule petition passed by the council and sponsored by the mayor was born out of recommendations from the city's Police Reform Task Force to help increase diversity within the department.
The measure, which will need approval from the state Legislature, would create a civil service hiring preference for graduates of Boston high schools in the department. Additionally, the proposal gives preference to people who have resided in the city for the previous three years — instead of one year — before they take their civil service exam.
The proposal passed unanimously.
"I firmly believe that city police officers and city firefighters do a better job when they're more familiar with our communities, when they speak the languages of our neighborhoods, and that they look like the face of the city," said Councilor Michael Flaherty.
Get Boston.com's browser alerts:
Enable breaking news notifications straight to your internet browser.