Policy
Ayanna Pressley, Elizabeth Warren renew efforts to pass Anti-Racism in Public Health bill
"COVID-19 has exacerbated decades of disparities in health outcomes for Black and Brown people."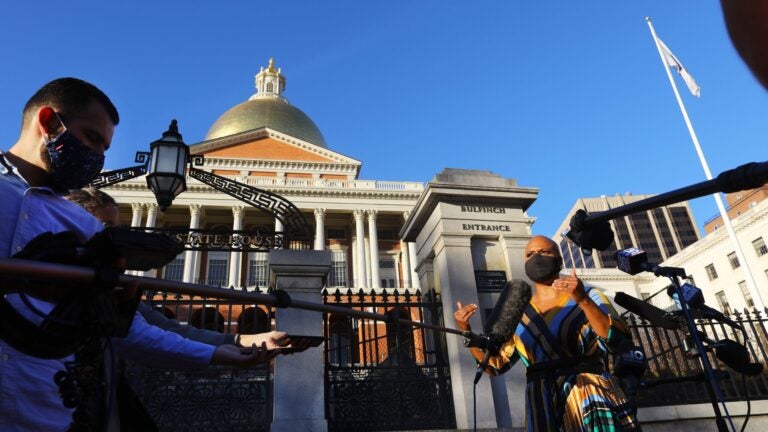 Massachusetts Senator Elizabeth Warren and Congresswoman Ayanna Pressley on Monday renewed a bill that would tackle glaring disparities in racial equity while declaring structural racism a public health crisis. 
The Anti-Racism in Public Health Act, which lawmakers originally introduced in September 2020, would require the federal government to begin developing race-conscious public health approaches through two programs within the Centers for Disease Control and Prevention.
"It's clear that COVID-19 has exacerbated decades of disparities in health outcomes for Black and Brown people," Warren said in a statement. 
Alongside California Congresswoman Barbara Lee, Warren and Pressley said they're pushing the bill again as the pandemic continues to lay bare centuries of structural racism, which has led to Black and Latinx people being nearly three times more likely than white people to contract COVID-19 and one to two times more likely to die from the illness. 
A January study from the Kaiser Family Foundation discovered that only 17 states were publicly reporting vaccination data by race and ethnicity, including Massachusetts. Yet based on that data, the report found that "the share of vaccinations among Black people is smaller than their share of cases in all 16 reporting states and smaller than their share of deaths in 15 states."
In the Bay State alone the foundation's vaccinations tracker counted that 59% of those who have received the vaccine so far are white, 4% are Black, 5% are Latinx, and 5% are Asian. 
While noting that it's still early to draw any major conclusions as vaccines are not yet broadly available, the report raised "early warning flags about potential racial disparities in access to and uptake of the vaccine." 
The three lawmakers said in a release that the federal government's "failure to adequately collect and publish race and ethnicity data on COVID-19 testing, hospitalizations, deaths, and vaccinations" demonstrates a clear need for the expanded research their bill would ignite. 
"Structural racism is a public health crisis that continues to ravage Black, Brown and indigenous communities, deny us access to quality health care, and exacerbate the longstanding racial disparities in health outcomes," Congresswoman Pressley said. "To confront and dismantle the racist systems and practices that create these inequities, we need robust, comprehensive research on the public health impacts of structural racism and policy solutions to bring an end to these disparities once and for all."
Another issue their legislation would tackle is examining police brutality and violence against Black people from a public health perspective. 
Structural racism in the United States, the bill explains, has left Black men up to three and a half times more likely to be killed by police than white men, "and 1 in every 1,000 Black men will die as a result of police violence." 
To address these racial disparities, the act aims to establish two programs within the CDC: a "National Center for Anti-Racism," and a law enforcement violence prevention program within the center's National Center for Injury Prevention.
If instituted, the center would push forward on a myriad of goals, from educating people about the public health impacts of structural racism and anti-racist public health interventions, to conducting research, collecting data, awarding grants, and providing leadership to address those impacts. 
It would also officially declare racism a public health crisis, setting a more urgent tone so that race is not an afterthought when it comes to health interventions, but a primary consideration in policy decisions.
The act calls on the center to create at least three regional locations that also focus on anti-racism and educating the public, while also consulting with other centers at the CDC to ensure that training and policies are anti-racist. 
As for combatting police violence, lawmakers said the second office within the CDC would work with local agencies to collect and analyze research about the health impacts of police violence and how to best develop public health policies that eliminate deaths, injury, trauma, and stress caused by law enforcement. 
The program would aim to "disrupt processes in policing that preserve and reinforce racism and racial disparities in public health," according to the bill, as well as "study alternatives to law enforcement response as a method of reducing police violence."
Warren and Pressley's legislation is co-sponsored by more than three dozen lawmakers. 
"Congress must pass our bill, which is exactly the type of bold, responsive legislation we have a mandate to deliver," Pressley said. "Our communities deserve nothing less."