New Hampshire Republican Voters Are a Jovial Bunch
Republican voters in New Hampshire have a much sunnier outlook on their potential presidential candidates than voters in Iowa.
In two new polls out today, NBC/Marist gauged the favorability and unfavorability ratings of potential 2016 GOP presidential candidates by asking New Hampshire and Iowa Republican voters their opinions. The responses generally follow along similar lines: New Jersey Governor Chris Christie has high unfavorability ratings, Kentucky Senator Rand Paul scores the highest net rating, and Wisconsin Governor Scott Walker is the least well known. In the broad sense, Iowa and New Hampshire responses stick to the same trends.
But most interestingly was the difference between the net ratings among Iowa and New Hampshire voters. Almost every candidate scored a higher net favorability rating in New Hampshire (red) than in Iowa (blue).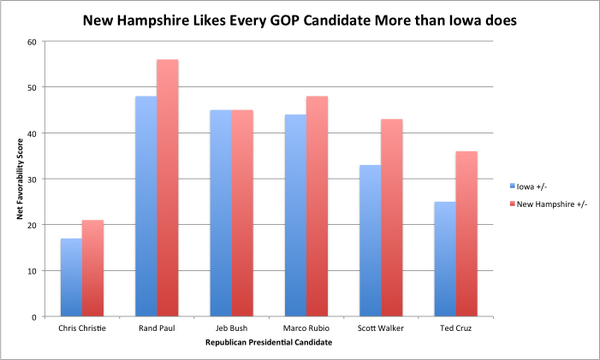 On average, candidates had a net favorability rating 6.2 percentage points higher in New Hampshire. You can see that difference at its most stark for Texas Senator Ted Cruz and Gov. Walker. In Iowa, Cruz had a net favorable/unfavorable rating of +25; in New Hampshire, +36. Walker saw a similar New Hampshirite bump. In Iowa, he was rated +33. In New Hampshire, +43. Only former Florida Governor Jeb Bush didn't see any difference; he was net rated the same in both states.
Both New Hampshire and Iowa hold their presidential primaries early in the election season, and the two are often used as a barometer of presidential chances. The poll was taken from July 7-13, and has a margin of error of about 5 percentage points.