Politics
Charlie Baker's Ads Star His Family Members (and His Dog)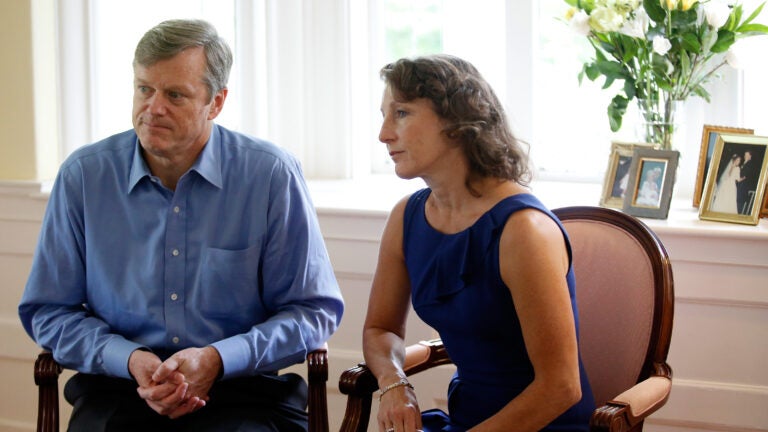 Republican gubernatorial candidate Charlie Baker has spent most of this election cycle reintroducing himself to voters, many of whom seem to have forgotten him since he ran against Deval Patrick back in 2010. This time around, however, he's not just introducing himself—he's bringing his entire family into it, too.
And there's one thing his wife, his daughter, his brother, and, presumably, his dog—all of whom are featured in one or another Baker's political ads—want you to know: They really want you to vote for their beloved Charlie.
There's his wife, Lauren, explaining how Charlie is "uniquely prepared to govern.'' Meanwhile, Charlie stares—wordlessly, fondly—at his wife.
Click again, and Lauren explains how Charlie led Harvard Pilgrim out of financial trouble during his time as CEO.
Concentrating on a candidate's family life isn't the most radical political strategy (see: Steve Grossman's mom), but Baker's campaign has gone pretty far in promoting the messages of his kin.
Nowhere is that strategy more clear than on Baker's YouTube page, where video after video has Baker sitting at home as a family member takes center stage.
His daughter Caroline took a turn in the spotlight with a splash as the star of a 30-second TV spot. Sitting on a house porch next to her dad, Caroline throws some typical "skeptical daughter'' lines at her old man.
[fragment number=0]
"Governor, dad? That's a bit optimistic,'' she says. "You're totally pro-choice and bipartisan.'' Just a regular father-daughter talk here!
In a seemingly less-scripted video, his brother Alex discusses Charlie's response when he came out of the closet. "At a point in my life when I needed you–'' Alex says. "I was there,'' Charlie responds.
Even Lucy has been a part of the campaign, dating back to Baker's campaign launch event in September 2013.
[fragment number=1]
His ad titled "Ken'' is perhaps the best example of the family focus. In the two-and-a-half minute scene, Baker's wife Lauren tells the story of a time her husband helped an ex-con named Ken get back on his feet. Charlie again looks on quietly and pets Lucy.
The strategy has even rubbed off on Baker's running mate, Lieutenant Governor candidate Karyn Polito, who connected her and Baker's families in an ad last week.
"Like me, Charlie values family,'' Polito says as photos of her and Baker's families appear on screen. "It's all about our kids, all about their future, and that's what parents care about.''