Politics
Hey Massachusetts, Why Didn't You Vote Today?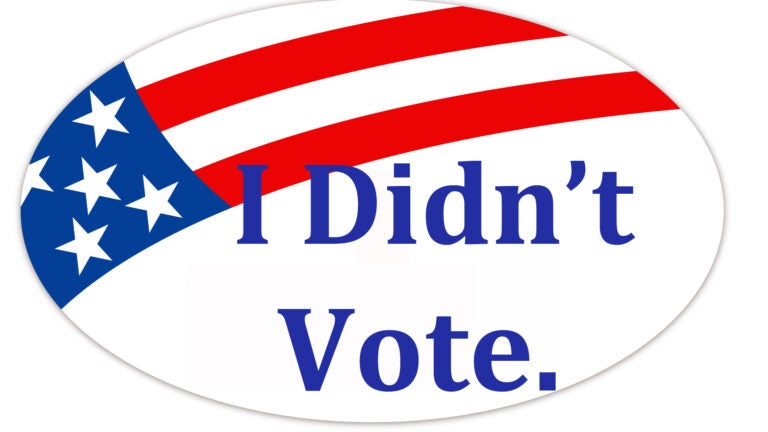 The polls have closed! As of 6 p.m., just 34.30 percent of registered voters in Boston had cast their ballots, which means more than 250,000 people hadn't made it to the polls. Statewide voter turnout numbers aren't in yet, but Secretary of State William Galvin predicted 2.3 million Massachusetts voters to cast votes in today's election.
Even if Galvin's prediction held, that's only 56 percent of registered voters. What about the other 44 percent? After all, it's not raining.
In 1990, the the U.S. Government Accountability Office conducted a survey to diagnose the enduring problem of turnout. Stressing civic duty was ineffective: people know they should vote. So if we all know it's important, what's the hold up?
∙ "It takes too long!'' When you've already spent hours glued to presale tickets for Taylor Swift's World Tour, you simply can't afford to take ten additional minutes to vote for your government leaders.
∙ "I can't get there.'' The General Assembly thought it solved this one when the first absentee ballots appeared back in 1864, but then again Civil War soldiers didn't have Netflix to distract them from signing up for one, so…
∙ "I don't like the candidates.'' If none of the candidates appeal to you, just do as Kenneth Parcell from NBC's "30 Rock'' and write in the name of your choice.
"My vote won't make a difference.'' While this can sometimes feel like the case, many of this year's races have been tight. Your ballot may have counted for more than you think.
Click here for election results, updated live.
And if you're among the non-participating 47 percent, tell us why you didn't vote today:
[fragment number=0]