Politics
Midterm Election Results for Massachusetts (and a Few Other Places)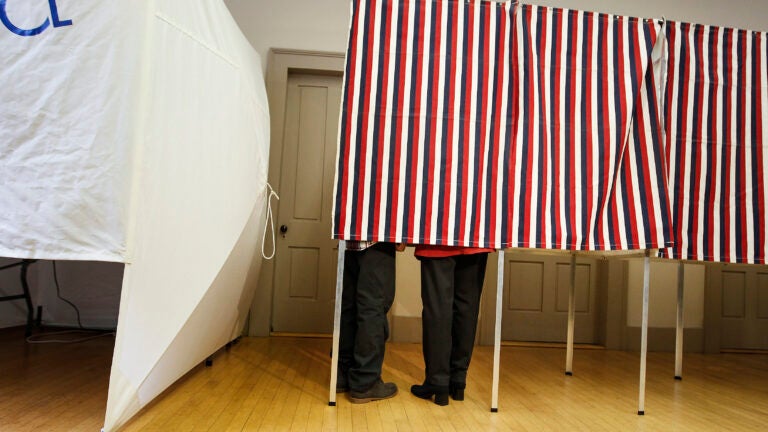 We're following Charlie Baker's win over Martha Coakley in the Mass. governor's race, Sen. Jeanne Shaheen's reelection over Scott Brown to become New Hampshire's US Senator, and the other big results from Tuesday night's election.
The latest:
In his first press conference as governor-elect, Baker spoke of his plans for the transition team and of his hopes for the Baker administration on Wednesday afternoon.
"We're really looking forward to rolling up our sleeves and getting to work,'' Baker said. "We certainly plan to lead as representatives of 100 percent of the state.''
Earlier in the day, Coakley thanked supporters and cited Baker for his "graciousness'' in a concession speech to supporters on Wednesday. "I feel like we both won,'' Coakley said. "We both raised issues important to Massachusetts.'' She also encouraged her supporters to work with the Baker administration over the next four years.
"I told him I'm going to hold him to his campaign promises because I have his cell phone number now,'' she said.
Baker becomes the first Republican to be elected governor of the Commonwealth since Mitt Romney in 2002.
The vote remained tight through the night, but multiple news sources projected Baker as the winner late Tuesday. The Coakley campaign did not concede on Tuesday night or address supporters at her campaign event, and decided to wait until the morning to confirm the vote tally.
In New Hampshire, Republican Scott Brown conceded to Democrat Jeanne Shaheen in the US Senate race.
In the Maine governor's race, Republican Paul LePage reclaimed his seat and was elected to a second term.
In the race for Massachusetts's 6th Congressional District, Democrat Seth Moulton was elected over Republican Richard Tisei.
Democrat Maura Healey has been elected attorney general of Massachusetts.
Governor (Massachusetts)
Democrat Martha Coakley called Republican Charlie Baker this morning to concede the race for Massachusetts governor. Baker becomes the first Republican to be governor of the Commonwealth since Mitt Romney in 2002.
Coakley, the attorney general, began the campaign several percentage points ahead of former health care CEO Baker, but Baker stormed to a slight lead in recent pre-election polls. Both candidates previously lost elections in 2010, when Baker ran unsuccessfully for governor and Coakley lost in her race for the US Senate.
The three independent candidates, former health care executive Evan Falchuk, venture capitalist Jeff McCormick, and minister Scott Lively, have placed well behind the two front-runners in polls.
You can read more about each candidate's positions and background here.
US Senate (New Hampshire)
Dem. Jeanne Shaheen vs. Rep. Scott Brown
About two hours after the AP called the race for Shaheen, Brown conceded to the Democrat in the Senate race. Shaheen, the incumbent, was previously governor of New Hampshire and was elected to the Senate in 2008. Brown was previously the US Senator for Massachusetts from 2010 to 2012, and established residence in New Hampshire late in 2013.
(Earlier, Boston.com prematurely published results from the race. We apologize for any confusion.)
Governor (Maine)
Dem. Mike Michaud vs. Rep. Paul LePage vs. Ind. Eliot Cutler
LePage was projected to win the election just before midnight, according to the Bangor Daily News. LePage, the incumbent, who took office in 2011. Recentpolls have shown a tight race between LePage and Michaud, a six-term congressman.
Mayor of Providence (Rhode Island)
Dem. Jorge Elorza vs. Rep. Daniel Harrop vs. Ind. Vincent "Buddy'' Cianci
Elorza has beaten Cianci and Harrop. Cianci has spent two previous stints as Providence mayor, and both terms were cut short after he was convicted of a felony.
US Senate (MA)
Dem. Ed Markey vs. Rep. Brian Herr
Ed Markey will retain his seat as US Senator for Massachusetts, the AP projected.
Markey, the incumbent, was elected in a special election in 2013 to take over for Secretary of State John Kerry. Brian Herr is a businessman and Chairman of the Board of Selectman in Hopkinton.
6th Congressional District (MA)
Dem. Seth Moulton vs. Rep. Richard Tisei
Moulton was elected over Tisei. Moulton, a former Marine who was twice awarded for heroism in battles in Iraq, unseated longtime representative John Tierney in the Democratic primaries. Tisei, who has extensive experience as a state senator, unsuccessfully ran for Congress two years ago. Tisei unsuccessfully ran as a Lieutenant Governor alongside Charlie Baker in 2010.
Treasurer (MA)
Dem. Deb Goldberg vs. Rep. Mike Heffernan
Goldberg was elected Treasurer at 10:36 Tuesday night. She was previously a member of the Brookline Board of Selectman, while Heffernan has worked extensively in financial services. The current treasurer, Democrat Steve Grossman, ran unsuccessfully to become the Democratic gubernatorial nominee.
Secretary of State (MA)
Dem. William F. Galvin vs. Rep. David D'Arcangelo
Galvin has won reelection as Mass. Secretary of State. Galvin, the incumbent, has held the position since 1995.
State Auditor (MA)
Dem. Suzanne Bump vs. Rep. Patricia Saint Aubin
Bump was reelected as state auditor over Saint Aubin. She was first elected auditor in 2010.
State Senate, First Hampden & Hampshire District (MA)
Dem. Eric Lesser vs. Rep. Debra Boronski
Lesser was elected over Boronski. Lesser is a former White House aide, and Boronski is the president of the Massachusetts Chamber of Commerce.
State Senate, Worcester & Norfolk District (MA)
Dem. Richard Moore vs. Rep. Ryan Fattman
Fattman defeated Moore, the incumbent, who had been a state senator since 1996.