Politics
Trump says 'only a deviant' would misinterpret his 'blood' comment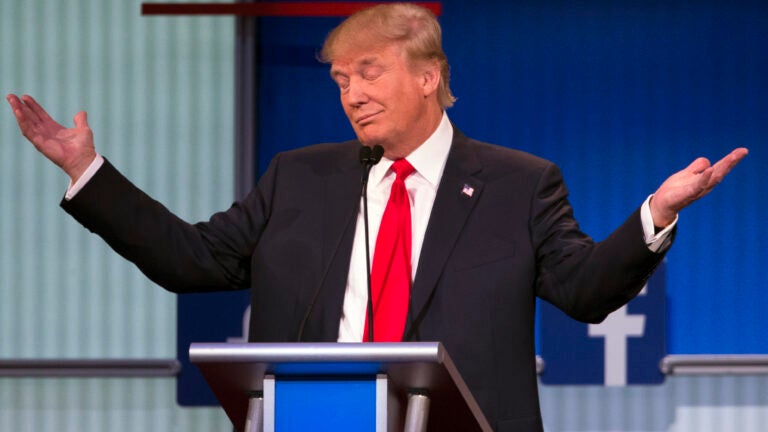 If you found Donald Trump's most recent comments inappropriate, you should get your mind out of the gutter.
That's according to The Donald himself.
During the GOP debate on Fox News Thursday night, Trump decided to add Megyn Kelly to his growing list of enemies. When the Fox News anchor and debate moderator confronted him about hateful comments he's spouted toward women, he retaliated, aiming spiteful remarks back in her direction.
On Friday night, he continued on the attack, telling CNN Tonight host Don Lemon that "you could see the blood coming out of her eyes, blood coming out of her wherever.''
As Twitter once again went into shock from a Trump comment, he quickly tried to clarify his remark, and emphasized again the lack of time that he and the United States have to be "politically correct'' on the path to making America great again.
[fragment number=0]
[fragment number=1][fragment number=2]
Trump followed up these tweets with a statement Saturday saying that "only a deviant'' would think he was referring to anything but her nose.
Usually when Trump takes a shot at other candidates and public figures, his ratings soar. But this time around, at least one person is holding him responsible.
Erick Erickson, the editor-in-chief of the conservative blog RedState.com, released a statement Saturday saying that he has decided to revoke Trump's invite to the RedState Gathering, a conservative event in Atlanta on Saturday.
"I think there is no way to otherwise interpret Mr. Trump's comment. In an attempted clarification, Mr. Trump's team tells me he meant 'whatever', not 'where ever,''' Erickson wrote. "His comment was inappropriate. It is unfortunate to have to disinvite him. But I just don't want someone on stage who gets a hostile question from a lady and his first inclination is to imply it was hormonal. It just was wrong.''
He has invited Kelly to attend in Trump's place.
Erickson is no stranger to controversial comments. In the past, he has referred to Michelle Obama as a "Marxist harpy wife'' and called former Supreme Court Justice David Souter "a goat f—— child molester,'' something Trump pointed out in his Saturday statement.
Still, Erickson believes he's a better breed than Trump, noting that he's apologized for out-of-line comments while in true Trump fashion, The Donald has continuously refused to take back any of his words.
[fragment number=3]
[fragment number=4]
Erickson isn't the only conservative who thinks Trump went too far. Rival candidates took to Twitter Saturday to voice their support for Kelly.
[fragment number=5]
[fragment number=6][fragment number=7]
[fragment number=8]
While not everyone is happy that Trump won't be making his way to the Atlanta gathering, Erickson is sticking to his decision. If Trump wants to play, he's going to have to follow someone else's rules for once.
[fragment number=9]
Watch Trump's comments from Friday night here:
[fragment number=10]
[fragment number=11]
Related gallery: 2016 presidential candidates
[bdc-gallery id="140212″]