Politics
Why Donald Trump is attacking Mark Zuckerberg on immigration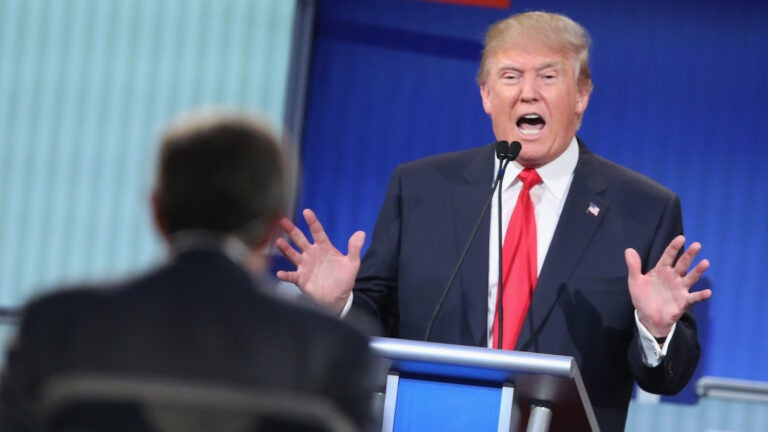 Everlasting gift to political media and Republican presidential candidate Donald Trump has found a new target: Facebook founder Mark Zuckerberg.
In Trump's first policy paper — yes, an actual policy paper — the real estate mogul criticizes Zuckerberg and GOP rival Sen. Marco Rubio for their support for more open immigration.
Zuckerberg, through his immigration reform lobbying group Fwd.Us, and Rubio have both supported increasing the cap on H-1B visas, which allow U.S. employers to recruit and temporarily employ foreign workers.
But in the paper, Trump said he wants to increase the minimum wage paid to H-1B workers to force U.S. companies to hire domestically and to increase diverse hiring in Silicon Valley. He also took a jab at Zuckerberg and Rubio:
Raising the prevailing wage paid to H-1Bs will force companies to give these coveted entry-level jobs to the existing domestic pool of unemployed native and immigrant workers in the U.S., instead of flying in cheaper workers from overseas. This will improve the number of black, Hispanic and female workers in Silicon Valley who have been passed over in favor of the H-1B program. Mark Zuckerberg's personal Senator, Marco Rubio, has a bill to triple H-1Bs that would decimate women and minorities.
Rubio is a co-sponsor of a Senate bill, the Immigration Innovation "I-Squared'' Act of 2015, which proposes to increase the annual H-1B visa cap from 65,000 to 115,00, or up to 195,00 "depending upon market conditions and existing demand.''
In his immigration paper, however, Trump argues that only half of American college graduates with science, technology, engineering, and math degrees find degrees in their field. He also refered to a 2013 study by the Economic Policy Institute — a nonprofit labor think tank that advocates for low- and middle-income workers — that found two-thirds of new college-educated IT job holders under the age of 30 were hired through the H-1B guestworker program.
Surprisingly, Trump's skepticism of the H-1B program is shared by fellow presidential candidate and self-described democratic socialist Bernie Sanders, who has said guestworker programs have been used by companies to attract cheap unskilled labor — though he has acknowledged that areas of the high-tech industry needs foreign labor.
Trump appeared to specify his position on the H-1B guestworker program to that degree Tuesday afternoon on Twitter.
[fragment number=0]
[fragment number=1]
[fragment number=2]
Facebook declined to comment on this story and Fwd.Us did not immediately respond to requests for comment.
In a Washington Post op-ed, Zuckerberg argued that increasing current annual caps on H-1B visas would create more American jobs in return:
To lead the world in this new economy, we need the most talented and hardest-working people. We need to train and attract the best.

Given all this, why do we kick out the more than 40 percent of math and science graduate students who are not U.S. citizens after educating them? Why do we offer so few H-1B visas for talented specialists that the supply runs out within days of becoming available each year, even though we know each of these jobs will create two or three more American jobs in return?
Zuckerberg's argument is backed by the American Immigration Council, which stated high-skill foreign workers "complement their native-born peers; they do not substitute for them,'' citing lower-than-average unemployment in the occupations H-1B visas are routinely requested.
The nonprofit immigration advocacy group also said the guestworker program contributes to the multiplier effect, in which "the impact and success of innovative industries'' produce more local jobs in other industries.
But the Economic Policy Institute disputes those claims. They cite an eight-year academic study published in 2015, which compares employers who applied and received H-1B visas and those who applied but did not receive them. The authors concluded that "H-1Bs replace other workers to some extent, are paid less than alternative workers, and increase the firm's profits.''
So maybe Donald Trump has actually done his homework.
Here's who's running for president in 2016
[bdc-gallery id="140212″]