Politics
Joe Biden and Elizabeth Warren met for private talks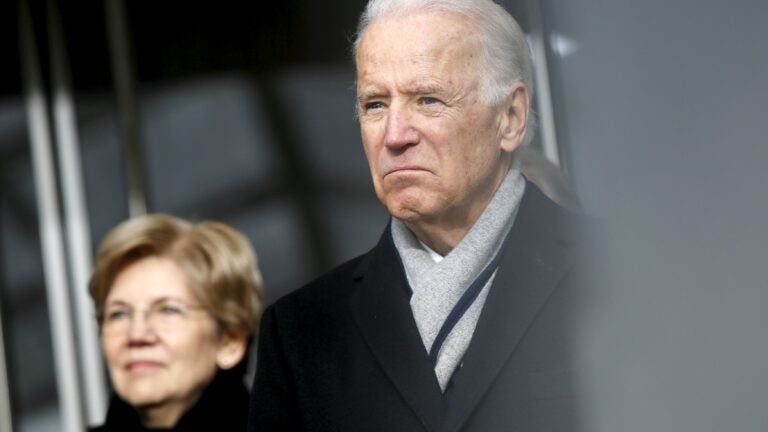 It increasingly seems like Joe Biden believes a third time's the charm.
The vice president, reportedly considering a 2016 run for president, privately met for lunch Saturday with Sen. Elizabeth Warren at his residence on the U.S. Naval Observatory grounds in Washington D.C., CNN first reported.
The two, perhaps the most in-demand non-candidates for the Democratic nomination, discussed economic policy for about two hours. The Massachusetts senator reportedly met with Biden at the vice president's request.
A Democrat brief on the meeting told The New York Times that Biden and Warren discussed "what the country is trying to tell us'' via a presidential primary that has seen anti-establishment candidates Bernie Sanders and Donald Trump, respectively, launch serious challenges for their parties' nomination.
Warren has declined to publicly endorse a candidate for president.
"I don't think anybody's been anointed,'' Warren told WBZ in an interview Friday.
"People want to hear about the issues, they want to hear about change,'' she said. "The government has been seized by those with money and power and it's time for change…I think that's what we're seeing.''
With Hillary Clinton's run struggling to gain momentum, Biden has reportedly begun reaching out to supporters and advisors to discuss a possible campaign strategy. According to the Times, the "Draft Biden'' group has switched focus from fundraising to hiring field organizers.
Warren, seen as one of the most outspoken progressive voices in the Democratic Party, met with Clinton in private in February, about two months before the former Secretary of State announced her presidential campaign.
However, Clinton has been plagued by negative favorability ratings and low public trust, according to polls. If Biden were to launch a campaign, polls show he would poach the majority of his support from current Clinton supporters. Just one example, as the Times pointed out: Former South Dakota Sen. Tom Daschle—who has donated the maximum amount legally allowed to Clinton's campaign—has "indicated that he would reassess his position'' if Biden were to run.
Meet the 2016 presidential candidates
[bdc-gallery id="140212″]