Politics
How an accidental Boston Globe headline defined Jimmy Carter's legacy
"Mush from the Wimp''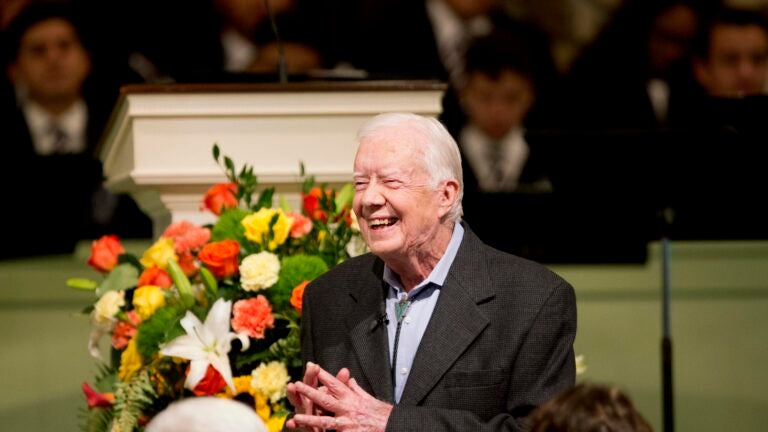 After Jimmy Carter announced last week that cancer had spread to his brain, a wave of politicians and admirers praised the former president for his courage and strength.
Those adjectives bestowed on Carter are, of course, different from the regular criticism of his presidency as weak and ineffective.
One of those criticisms — the "wimp'' factor — was solidified by a 1980 headline in The Boston Globe that accidentally made its way into the newspaper and became one of the most well-known headlines of all time.
On March 14, 1980, Globe editor Kirk Scharfenberg wrote an editorial about what he felt was a "wishy-washy'' economics speech by Carter. The talk left him feeling "not much impressed,'' Scharfenberg later recounted. However, the resulting editorial bowed to the "kinder collegial notions that govern editorial pages,'' he wrote.
In what he called an "in-house joke,'' Scharfenberg slapped a headline on the story that was not meant to be published: "Mush from the Wimp.'' That essentially called the content of his speech "mush'' and Carter a "wimp.''
Unfortunately for Scharfenberg, that joke headline was printed on 161,000 copies of the paper the next day.
The headline was changed in later issues of the paper to "All Must Share the Burden.'' In addition, the Globeissued an apology saying the original headline was "inappropriate and not intended for publication.'' But at that point the damage had been done.
The "wimp'' criticism did more than just stick with Carter; it helped define the political discourse. In 1982, The New York Times declared "wimp'' to be "the political pejorative of choice'' for the era thanks to the Globe's accident.
"Before long, there was hardly a bar on the campaign trail that didn't resound to the word. Frequently it was said that George [H.W.] Bush was a wimp — or, horrors, a preppy wimp. And now, the wimp factor is evident in campaigns around the country,'' the Times wrote. "By now, wimp seems to have transcended politics.''
Though the original wimp was Carter, the elder Bush was a frequent target for "wimp'' criticisms, as a 1987 Newsweek cover story explained.
"What's come to be known as the vice president's 'wimp factor' is a problem, concedes Bush pollster Robert Teeter, 'because it is written and talked about so much,''' Newsweek wrote.
Newsweek was particularly fond of the wimp criticism, and has used it a number of headlines over the years, New York magazine's Jonathan Chait points out.
In the 2012 election, for example, Newsweek again went to the wimp criticism for Mitt Romney. "Is he just too insecure to be President?'' the cover story asked.
It remains a potent label for politicians today. The New York Post labeled President Obama's speech in Berlin in 2013 "Mush from the Wimp.'' More recently, The Wall Street Journal's editorial board said Hillary Clinton was "wimping out'' on trade policy.
Some criticisms never change.
Gallery: Old advertisements in the Globe
[bdc-gallery id="115351″]