Politics
Second straight poll shows Bernie Sanders leading in New Hampshire
But can the Vermont senator take those results nationally?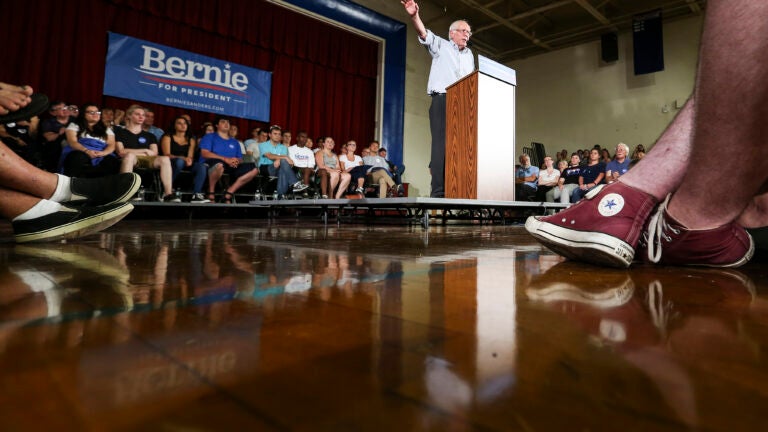 In just over two months, Bernie Sanders has risen from a more-than-30-point underdog in the polls to leading Hillary Clinton in New Hampshire.
Sanders is leading Clinton 42 percent to 35 percent among Democratic primary voters in the state, according to a poll released Monday by Public Policy Polling.
It's the second time in less than two weeks a poll showed Sanders ahead in the Granite State.
"Two polls in a row gives a little more credence to the idea that things are deadlocked, essentially neck and neck,'' Danta Scala, University of New Hampshire professor of political science, told Boston.com. For the first time, Sanders is also leading Clinton by a slim margin according to the latest polling average by Real Clear Politics.
But the bigger surprise is in the details, said Wayne Lesperance, professor of political science at New England College.
Not only does Sanders lead Clinton among men, 44 percent to 30 percent, but he also leads among women, 41 percent to 38 percent (but within the 5.1 percent margin of error).
"If that's right, that's stunning,'' Lesperance told Boston.com, "because Hillary Clinton is running a historical campaign to become the first female president. That Sanders is leading among women would be shocking.''
There is also a deep generational divide.
"Clinton is ahead 51/34 with seniors, but Sanders has a 45/29 advantage with everyone under the age of 65,'' said the poll press release.
Yet, despite the surge in New Hampshire, polls in virtually every other state have been a bucket of cold water on the Sanders campaign.
RCP's polling averages show Sanders trailing Clinton nationally by 24 percentage points. He's also down in early voting states: in Iowa by 27 points (a Suffolk poll Tuesday showed Clinton up by 34) and in South Carolina by 56 points. Sanders also trails Clinton by more than 25 points in Florida, Ohio, and Pennsylvania, according to a Quinnipiac University poll released last week.
One reason for the drastic difference in New Hampshire versus elsewhere is geography, according to Scala.
"Sanders has something of a home court or backyard advantage,'' said Scala, who added that New Hampshire Democrats have a history of backing progressive, anti-establishment candidates.
The Sanders campaign also credited their so-called homecourt advantage.
"People in New Hampshire already know him better than people in other states because he's their next door neighbor,'' Sanders campaign spokesman Michael Briggs told Boston.com. "There are television and radio stations and newspapers that reach audiences in both New Hampshire and Vermont, so he starts off with a little more familiarity in New England than in other parts of the country.''
The Clinton campaign did not immediately respond to requests for comment.
"Granite Staters really appreciate retail politics and that's been happening a lot with the Sanders campaign, more so than Clinton,'' Lesperance said, noting the difference in the two candidates' campaign styles.
"The more people get to know him the better they like him,'' said Briggs. "He's gaining ground and drawing the biggest crowds for any presidential candidate all over the country.''
Politico recently reported the Sanders campaign was attempting to use the their massive rallies to organize the frenzied crowds into a national into a grassroots political machine that could rival Clinton on the national level.
"It is sort of a reverse way of building a campaign, but it makes sense,'' Lesperance said. "They drive these huge crowds, and encourage these people to become donors, become volunteers.''
Scala is less optmistic of Sanders's chances outside New Hampshire, noting that Democratic primary voters become "less progressive and more racially diverse.'' Lesperance also said the self-described democratic socialist would be a "tough sell in the South.''
"Democratic primaries are full of candidates that did well in New Hampshire and hit a wall after that,'' Scala said.
In 2000, Bill Bradley campaigned to the left of Al Gore, coming closest in New Hampshire, but eventually losing every state primary. In 2004, Howard Dean, the liberal alternative to John Kerry, also got closest in New Hampshire, but ultimately dropped out mid-way through the primaries.
Of course, Scala did note one "unusual candidate'' who, after narrowly losing to Clinton in New Hampshire, was able to unite a coaltion of progressives and black voters.
That candidate, of course, was Barack Obama.
2016 presidential candidates
[bdc-gallery id="140212″]