Politics
John Kerry isn't a joke to Donald Trump, he's just a bicyclist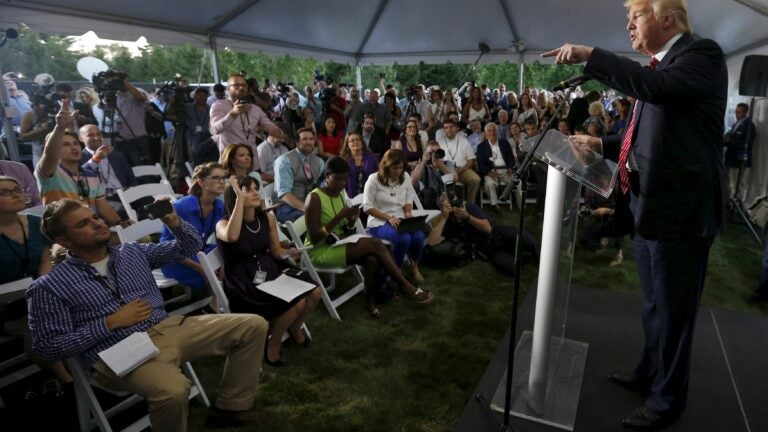 Donald Trump still isn't over the fact that John Kerry rides a bike.
At a fundraiser hosted by car dealer Ernie Boch Jr. Friday, the Republican presidential frontrunner enthusiastically addressed a crowd of cheering supporters. Right as he was in the middle of listing his many grievances with U.S. foreign policy, someone in the audience interrupted, yelling "John Kerry's a joke!''
"He just said John Kerry's a joke,'' said Trump, addressing his supporters after stopping mid-sentence. "No, he's a bicyclist.''
When Trump announced his campaign for the presidency, he attacked Secretary of State Kerry for crashing his bike and breaking a leg in the middle of negotiations with Iran. At the time, Trump promised America that he "will never be in a bicycle race.''
The fundraiser at Boch's home in Norwood was expecting 1,000 guests who would pay $100-a-head. Some pro-choice protestors showed up outside of the private event as well.
"He's 73 years old, and he goes into a bicycle race—the helmet, the whole thing,'' Trump said Friday night. "He's negotiating a very important deal. He falls. He breaks his leg, and he's gone. He walks in the next day on crutches, they say, 'What the hell happened to you?' The Iranians can't believe what's going on.''
But Kerry wasn't in a race—he was just riding his bike. And hey, at least he was wearing his helmet.