Politics
Mitt Romney is going after Donald Trump again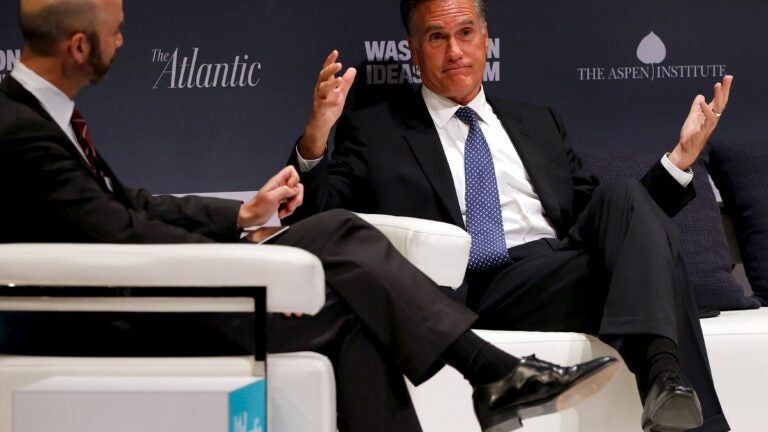 Former presidential runner-up Mitt Romney criticized Donald Trump's position on ISIS and expressed doubt on Wednesday that the leading Republican candidate will be elected president.
"I will support the Republican nominee. I don't think that's going to be Donald Trump,'' Romney said with a smile at The Atlantic's Washington Ideas Forum, according to Politico. "My party has historically nominated someone who's a mainstream conservative.''
Romney pointed to Trump's comments about ISIS on 60 Minutes, in which he suggested the U.S. should let ISIS fight in Bashar al-Assad in Syria unimpeded.
"I thought that was both absurd and dangerous, and I just don't think that kind of proposal is likely to lead him to become our nominee,'' Romney said.
Romney and Trump have repeatedly criticized each other over the summer as Trump's outspoken comments have helped him surge to a lead in Republican polls. Trump said Romney "choked'' during his 2012 race, while Romney rushed to rip Trump for his comments on Mexican-Americans and on Sen. John McCain.
Romney, who was one of those mainstream conservatives when nominated in 2012, named a few other candidates he thought would be more appropriate: Chris Christie, John Kasich, Marco Rubio, Jeb Bush, Lindsey Graham, and perhaps Carly Fiorina, he said.
"Each of them has staked out territory which is not extreme,'' Romney said.
Romney's remarks came just a day after his wife Ann diplomatically handled a question about whether Trump was "good for politics'' in comments to Yahoo's Katie Couric.
"More people are listening, I think more people are becoming engaged, more people are paying attention than ever before,'' she said. "That, I would say, would be a good thing.''
Gallery: 10 things you didn't know about Donald Trump
[bdc-gallery id="112586″]