Politics
Donald Trump accuses 'arrogant' questioner at the No Labels event in New Hampshire of being a Jeb Bush plant
However, Bush's campaign and the young woman deny the accusation.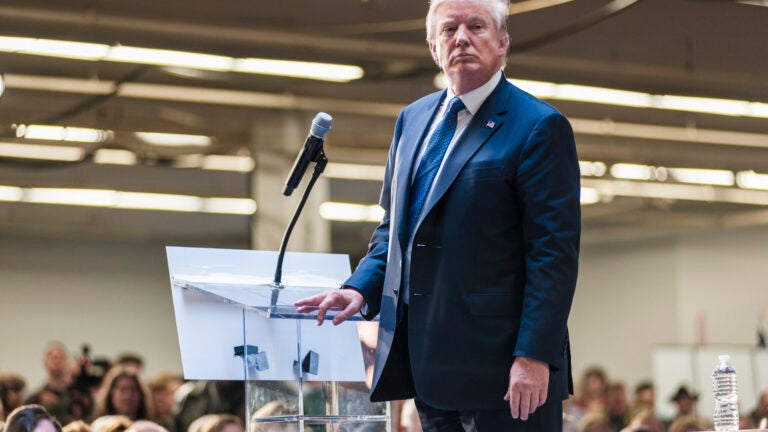 [fragment number=0][fragment number=1]
Donald Trump took some flack Monday from questioners at the No Labels Problem Solver Convention in Manchester, New Hampshire.
"So, maybe I'm wrong, maybe you can prove me wrong, but I don't think you're a friend to women,'' asked Lauren Batchelder, a freshman at Manchester's St. Anselm College.
Before she could finish her question, Trump jumped in to defend himself, stating he respects women, has employed them in his real estate ventures, and that his mother was "one of the great people of the world, maybe the greatest, ever.''
When Batchelder was given the opportunity to finish her question, she asked if Trump were president, "will a women make the same as a man, and will I get to choose what I do with my body?''
"You're gonna make the same if you do as good a job,'' Trump replied. "And I happen to be pro-life.''
Of course, the story doesn't end there.
Trump's followers on Twitter began asking Monday afternoon if Batchelder was planted.
It turns out that, according to her LinkedIn profile, Batchelder is an intern for Jeb Bush's campaign, a fact which was pointed out by Trump campaign advisor Dan Scavino.
[fragment number=2][fragment number=3]
Trump also took to Twitter to call out Bush.
[fragment number=4]
For her part, Batchelder denied she was planted by the Bush campaign.
"Also @realDonaldTrump I wasn't planted. Women can think for themselves. Sometimes…'' shetweeted Monday night from her now-deleted Twitter account, which also included a series of anti-Trump tweets.
Bush's communications director Tim Miller confirmed that Batchelder was a campaign volunteer, but said she was not a paid staffer, nor did the campaign have anything to do with her participation in the event.
[fragment number=5]
[fragment number=6]