Politics
Curt Schilling says he didn't even watch the Democratic debate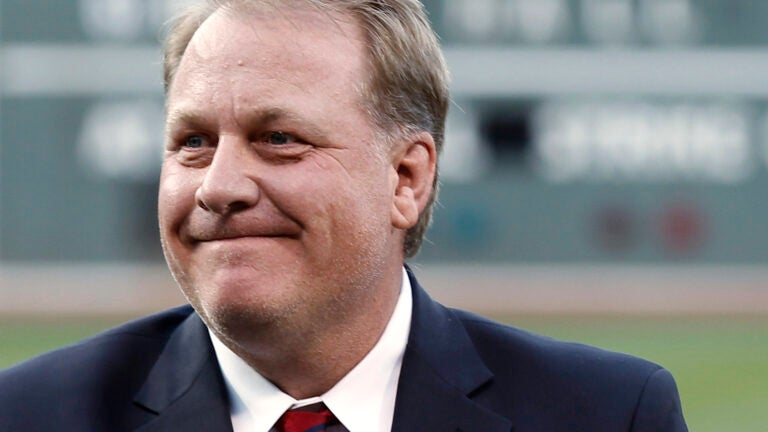 Curt Schilling wasn't even watching the Democratic presidential candidates last night when he tweeted at Donald Trump that "ISIS'' was winning the debate, he said in an interview on the Dennis & Callahan Show on Wednesday morning.
[fragment number=0]
"First of all, I didn't see one minute of the debate,'' Schilling said when asked about the tweet. "I was watching the [MLB] game. I thought, 'I know who's up there. I know what they're saying. I know who's going to win.'''
The ISIS tweet came on the heels of another recent controversial tweet about Muslim extremism, in which the former Red Sox pitcher compared the percentage of Muslims who are extremists to the percentage of Germans who were Nazis in 1940. ESPN suspended Schilling for the rest of the baseball season for that "unacceptable'' tweet.
Schilling told the radio hosts he couldn't believe people took Tuesday night's "ISIS'' tweet seriously.
"Somehow, I have no idea how – people were saying, 'Oh my God, I can't believe you support ISIS.' Swear to God. I was like, wait, what?'' he said. "I thought it was a joke, but then they started getting liberal and vile so I figured it wasn't.''
The hosts then began to talk about the big loser of last night's debate, Lincoln Chafee.
"I know this will come as a big surprise, Curt, but Lincoln Chafee: He's a moron,'' host Gerry Callahan said.
"And in other news, the sun did come up this morning,'' Schilling responded.
Photos: The Green Monster through the years.
[bdc-gallery id="462880″]