Politics
Lincoln Chafee's no-good very bad night, in two quotes
"No.''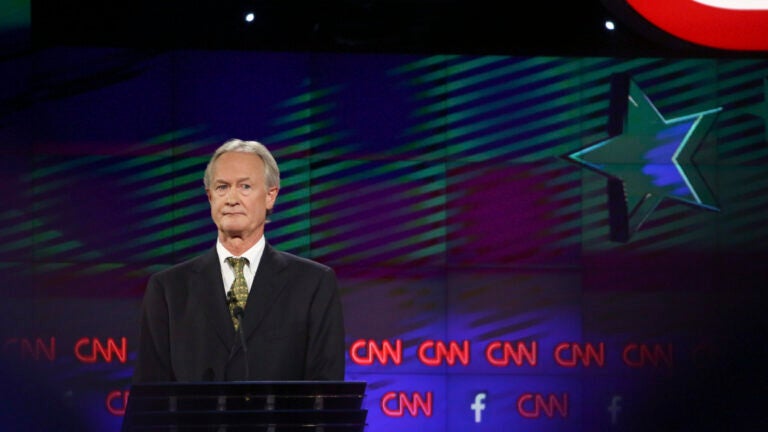 We already knew Lincoln Chafee was nobody's choice for president – literally, nobody – but the former Rhode Island governor and senator managed to underperform even that low bar in last night's Democratic debate. Let's sum up Chafee's awful debate performance in two quotes that don't reflect well on him.
The first flub came when CNN's Anderson Cooper asked Chafee why he voted in 1999 to repeal the Glass-Steagall Act, the law that established a separation between commercial and investment banking. Chafee's rambling response was, basically, he didn't know what he was doing.
No, really.
[fragment number=0]
"Glass-Steagall was my very first vote,'' Chafee said. "I had just arrived. My dad had died in office. I was appointed to the office. It was my very first vote–''
"Are you saying you didn't know what you were voting for?'' Cooper asked.
"I just arrived at Senate. I think we get some take-overs,'' Chafee said.
"What does that say about you that you were casting a vote about something you weren't sure about?'' Cooper asked.
"I think you're being a little rough,'' Chafee said.
The other no-good very bad moment of Chafee's night came during discussion of Hillary Clinton's private email server and whether it was a legitimate scandal.
[fragment number=1]
Chafee agreed with his past statements saying the emails were a "huge issue'' and said they showed Clinton had a credibility issue.
Cooper then asked Clinton if she wanted to respond.
"No,'' she said, to laughter and applause.
Translation: Chafee's criticism is not even worth responding to. Ouch.
Gallery: The 2016 presidential candidates
[bdc-gallery id="140212″]