Politics
The Lincoln Chafee frog scandal that undermines his one strong debate moment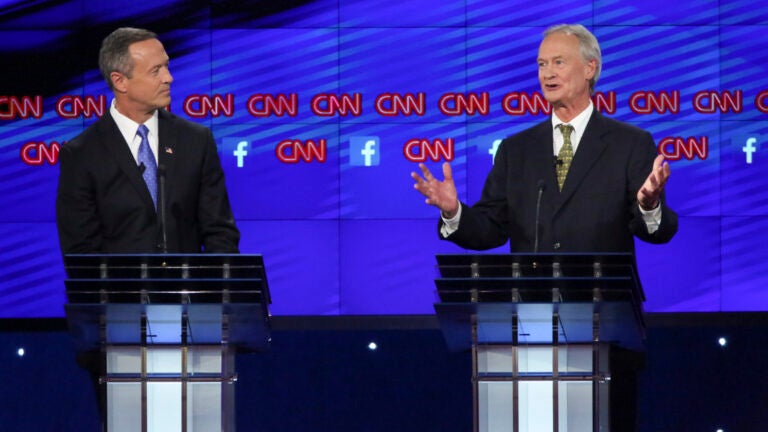 Before things went downhill Tuesday night for Lincoln Chafee, he started off the debate with a nice, little jab at Hillary Clinton.
"I'm very proud that over my almost 30 years of public service, I have had no scandals,'' said the former Rhode Island senator and governor.
[fragment number=0]
Well…
On Wednesday, The Daily Beast dug up the bizarre mini-scandal of when Chafee — during his seven-year tenure as mayor of Warwick, Rhode Island in the 1990s — used taxpayer money to buy pet frogs for his office and toboggans for a Christmas party.
The Providence Journalreported during Chafee's 2000 Senate race that the former mayor came under fire for his use of a $6,000 discretionary account (out of the city's $204 million budget).
A summary of the controversial spending, via The Daily Beast:
Chafee's aides wrote out $350 checks from that account in 1993 and 1994 to secure seats at the Providence Newspaper Guild Follies, an annual event for members of newspaper unions.

Chafee also spent thousands on flowers and bought 10 toboggans for a Christmas party for children of the city's unionized workers.

But beyond the charitable, albeit controversial, use of this mayoral "discretionary fund,'' Chafee also spent at least $40 a month to maintain a fish tank in his office. And he once added to the amphibious ambiance by purchasing four frogs at the seemingly low price of $1.99 each.
The Providence Journal, which apparently has an ongoing feud with Rhode Island's first presidential candidate, republished the original 2000 article online Wednesday afternoon.
The article included an exchange between Chafee and his Senate opponent, Rep. Robert Weygand, on a radio show at the time.
"Pet frogs, toboggans for children of his friends and theater tickets . . . at the same time you raised taxes five times on the property owners in the city of Warwick?'' Weygand, a Democrat, lambasted Chafee.
"Having an aquarium with fish and frogs in it was very, very popular with the children'' that visited City Hall with their parents, Chafee defended himself, accusing his challenger of leaking the information to the media.
After news of the alleged misuse public money broke, Chafee's poll numbers dropped six points. He later won anyway.
The Chafee campaign did not immediately respond for comment on the frogs.