Politics
Donald Trump says don't raise minimum wage, but Massachusetts lawmakers disagree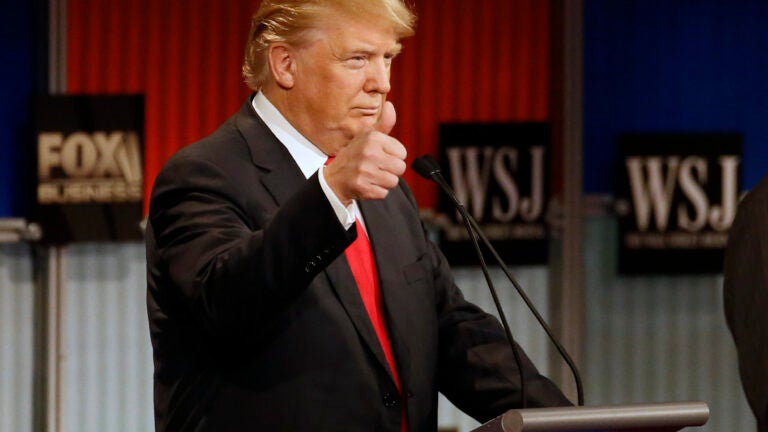 The Fox Business Republican Debate kicked off Tuesday night with a question about raising the minimum wage, as protesters across the country call for the floor to be raised to $15-an-hour.
Donald Trump was the first candidate to answer.
[fragment number=0][fragment number=1]
"Taxes too high, wages too high,'' said Trump, arguing it would damage the United States' ability to compete internationally.
"We're not going to be able to compete against the world,'' he said. "I hate to say it, but we have to leave it the way it is. People have to go out, they have to work really hard, and they have to get into that upper stratum. But we cannot do this if we are going to compete with the rest of the world, we just can't do it.''
Fellow GOP candidates Ben Carson and Marco Rubio agreed, saying that raising the minimum wage increases unemployment — though academic research on the topic is much more of a mixed bag.
Meanwhile in Massachusetts, the state legislature's Labor and Workforce Development Committee approved a bill Tuesday to raise the state minimum wage for companies with over 200 employees to $15-per-hour by 2018. However, it still needs to make it by the state House, Senate, and the desk of Gov. Charlie Baker before it becomes law.
The so-called "Fight for $15'' has been backed by many liberal labor advocates, including Sen. Elizabeth Warren and presidential candidates Bernie Sanders and Martin O'Malley. Across the country Tuesday, including outside the Massachusetts State House, workers rallied, demanding a $15 hourly minimum wage.
Last summer, Gov. Deval Patrick approved a bill to raise the minimum wage to $11-per-hour by 2017.