Politics
Donald Trump repeats old diss that Mitt Romney 'choked like a dog' in 2012
Trump is fond of the "like a dog'' simile.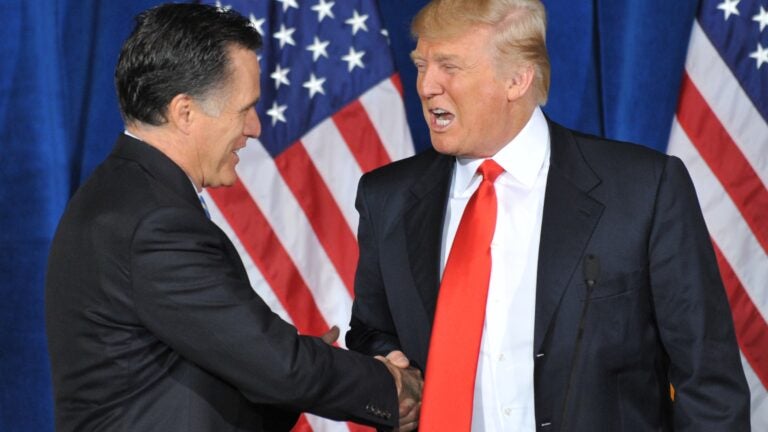 The simile of "like a dog'' has a few uses. You can work like a dog. You can lie like a dog. You can be like a dog with a bone, or like a dog with two tails.
Donald Trump, though, continues to use his own "like a dog'' references.
Trump repeated his oft-stated criticism of Mitt Romney on Wednesday, saying the former presidential nominee "choked like a dog'' in the 2012 election.
[fragment number=0]
"If you look at Romney, now Romney choked, OK? He choked like a dog,'' Trump said on MSNBC's Morning Joe. "He should have won that. That was an election that should have been won. He choked.''
Trump previously said Romney "choked like a dog'' and was a "disaster'' back in January. He explained more of that reasoning on MSNBC on Wednesday.
"But frankly, had he energized the base, because the base didn't go out and vote — you understand that. Which is shocking, because they're not fans of Obama and he, for some reason, they didn't do it. Had they gone out and voted, the people that sat back and didn't get up and vote – which is hard to believe – he would have won the election.''
Trump has repeatedly used the "like a dog'' formulation to emphasize any verb, no matter its relation to our canine friends.
He has criticized his competitor Marco Rubio because he "sweats like a dog.'' Dogs don't sweat very much, and instead pant to deal with heat.
Trump twice has called for the jobs of media talking heads by using "fired like a dog.''
[fragment number=1]
[fragment number=2]
The "bizarre'' phrase confounded Vox writer Andrew Prokop, he wrote in October. "Can dogs be fired? Does Donald Trump fire his dogs due to poor performance? Is it because they don't love him enough?'' he wrote.
It doesn't stop there. Trump has also said Reverend Jeremiah Wright was "dumped like a dog'' by President Obama.
[fragment number=3]
And in his most memorable and significant tweet, Trump slammed one member of that memorable real-life Twilight relationship.
[fragment number=4]
That Donald sure can tweet like a dog.
Gallery: Scenes from Donald Trump's rally at Ernie Boch's house
[bdc-gallery id="122074″]