Politics
Donald Trump says if elected he would look 'very, very carefully' at Roe v. Wade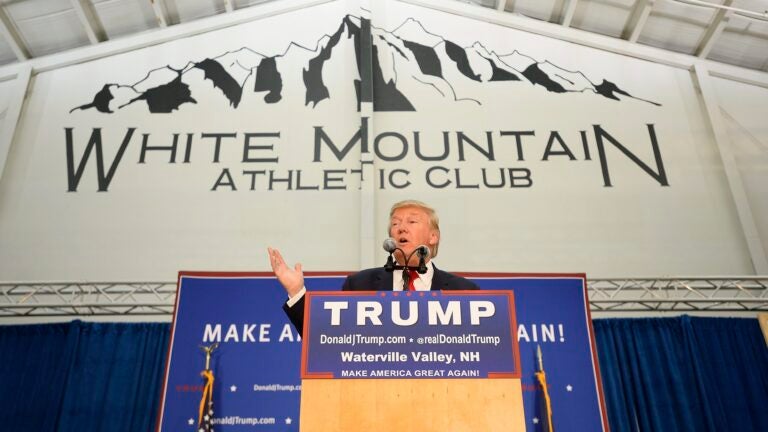 After completing his usual stump speech at a rally Tuesday evening, Donald Trump took the opportunity granted by the relatively small crowd in the New Hampshire ski town Waterville Valley to take some questions.
One audience member, who said his name was Dennis Wagner, of Littleton, said he was concerned about the "civil decay'' in society.
"We can see it; it's very prevalent with this Planned Parenthood,'' said Wagner, who then referenced Kermit Gosnell, a former doctor convicted of murdering three infants born alive during attempted abortions.
"With that horror and that carnage in mind, and you can see how when a bill is enacted as the Roe v. Wade thing, all of these things tend to decay, decay, decay and just devolve in this butchering we see now. Will you try to re–''
"Defund,'' Trump interjected, referring to Planned Parenthood.
"Defund that, and repeal Roe vs. Wade?'' finished Wagner.
"The answer is yes, defund,'' Trump said. "The other, you're gonna need a lot of Supreme Court justices, but we're gonna be looking at that very, very carefully, but you need a lot of Supreme Court judges. But defund yes, we're going to be doing a lot of that.''
Trump, who wrote he was pro-choice as recently as 1999, stands with every other 2016 GOP presidential hopeful in his support for defunding Planned Parenthood. Several candidates, including Marco Rubio, Ted Cruz, and Rand Paul, also support repealing or finding a work-around to Roe v. Wade, the landmark 1973 Supreme Court case that ruled the right to privacy extends to a woman's decision to have an abortion.