Politics
Ben of Ben & Jerry's has an idea for a Bernie Sanders-inspired flavor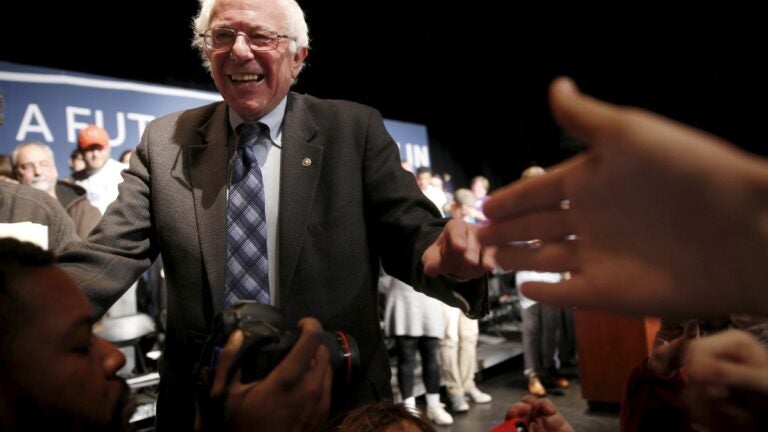 A co-founder of Vermont-based ice cream company Ben & Jerry's came up with a pretty sweet idea in support of presidential candidate Bernie Sanders.
Standing outside the site of the Donald Trump rally in Burlington last Thursday, Ben Cohen told MSNBC that he's been working as a flavor developer for years, and he's finally thought of something that could represent the former Burlington mayor: "Bernie's Yearning.''
"When you open up the pint, there's this big disc of chocolate covering the entire top, and below it is just plain mint ice cream,'' Cohen said, proudly wielding a "Bernie 2016'' sign just steps from the Flynn Center, where Trump later made an appearance. "The disc of chocolate represents the 90 percent of wealth that's gone to the top 10 percent over the last 10 years. The way you eat it is that you take your spoon and you whack that big chocolate disc into a bunch of little pieces and you mix it around, and there you have it, Bernie's Yearning.''
Cohen clarified that for now, the idea is just his own and the company isn't about to start turning out pints in favor of the Vermont senator. When asked about a Sanders-related flavor last year, Cohen told Business Insider that he and co-founder Jerry Greenfield lost the authority to make new flavors on their own when the company was sold in 2000 to Unilever, an international consumer goods conglomerate, and that while the company often takes a stance on issues, it doesn't tend to do so in terms of favoring politicians.
Both Cohen and Greenfield have been vocal about their support for Sanders, stopping by the formal kickoff to his presidential campaign in May with free ice cream and endorsing the senator's presidential campaign in August.
Still, the company has featured politicians in the past — President Barack Obama became the first to inspire a flavor after winning the 2008 election. The flavor was dubbed "Yes Pecan,'' a play on Obama's campaign slogan "Yes We Can,'' and included "amber waves of buttery ice cream'' and "non-partisan pecans.''
Watch MSNBC's interview with Cohen:
[fragment number=0]