Politics
Donald Trump's constant Tom Brady name-dropping hits Iowa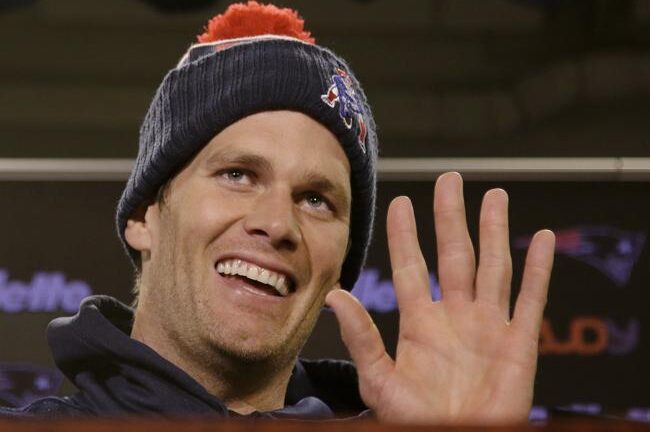 Donald Trump calls it the "Tom Brady Effect.''
That's the name for what the Republican presidential candidate says is Tom Brady's effect on his poll numbers.
And his name-dropping of the star Patriots quarterback is now moving from New England and going to Iowa. On Wednesday afternoon, Trump cited Brady's praise on Iowa's KXEL's On Press Row radio show.
"I'm a friend of Tom Brady, very good friend, and he was so nice to me,'' Trump said, according to BuzzFeed. "Because he said, you saw what he said a couple weeks ago. He called, he said Trump is the greatest winner. When you get that, and then all of sudden in Massachusetts, I saw that cause Tom is New England, Massachusetts, and all of a sudden in Massachusetts we got poll numbers that were 52 percent.''
"I said, that's the Tom Brady effect,'' Trump said. "When he says great things about you in Massachusetts, you know, that's pretty much about as good as you can get. He's an amazing guy, great athlete, great quarterback. It will be interesting to see the playoffs now.''
An Emerson poll in October of Massachusetts Republican voters had Trump at 48 percent. And a poll from Suffolk University/The Boston Globe in November put Trump's Bay State support at 32 percent.
A spokesperson for Trump did not respond to a request to clarify which poll he was referring to that showed 52 percent support.
Wherever that number came from, it's four points higher than what Trump said last month.
"In Massachusetts, I'm at 48 percent,'' Trump said in December. "You know why? Tom Brady said Trump's the greatest. He says it to anyone who asks him.''
Brady was spotted with a Trump hat in his locker in September, and said "it would be great'' if he became president.
"Can I just stay out of this debate?'' Brady said in December on WEEI. "Donald is a good friend of mine. I have known him for a long time. I support all my friends.''
Trump could have a hard time getting Iowa to root for Brady. In light of the Deflategate allegations, he doesn't have quite the sterling reputation in the heartland.
[fragment number=0]
(h/t BuzzFeed)