Politics
Ben & Jerry's co-founder actually made a Bernie Sanders ice cream flavor
It's called 'Bernie's Yearning.'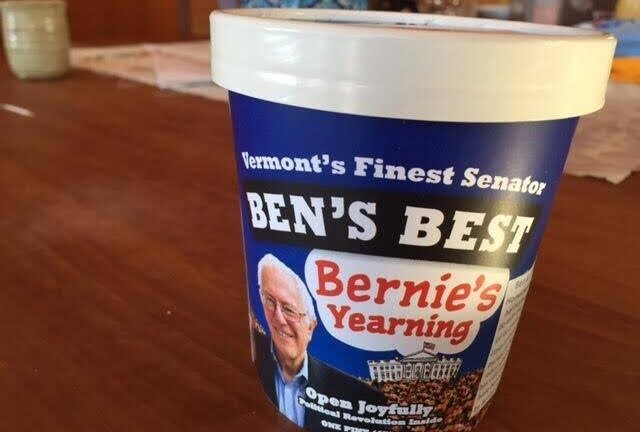 The co-founder of Ben & Jerry's is hoping a spoon full of ice cream helps the revolution go down.
About two weeks ago, Ben Cohen told MSNBC that he had an idea for a Bernie Sanders flavor pint that he called "Bernie's Yearning.''
Cohen, the Vermont native and longtime Sanders fan, then took the next step and actually made 40 pints of it in his kitchen, he said in a website post announcing the flavor.
[fragment number=0]
The pint has a thick disc of solid chocolate on top of plain mint ice cream. That's ice cream symbolism for the message of economic inequality that Sanders, the U.S. senator from Vermont, pitches in his race for the Democratic presidential nomination.
"The chocolate disc represents the huge majority of economic gains that have gone to the top 1% since the end of the recession. Beneath it, the rest of us,'' reads a note on the back of the pint.
"Open joyfully,'' the pint says. "Political revolution inside.''
The pint label also has a set of "instructions'' for eating:
1. Take back of spoon and whack huge chocolate disc into lots of pieces.

2. Let the ice cream soften up a bit, mix the pieces around–and there you have it, Bernie's Yearning.

3. Dig in, and share it with your fellow Americans.
Cohen's website is careful to say that the flavor was created by Cohen personally and is not affiliated with the Ben & Jerry's brand.
Of the 40 pints created, Cohen donated 25 to the Bernie campaign. Others will be given away in a contest.