Politics
Marco Rubio is tested as rivals sense vulnerabilities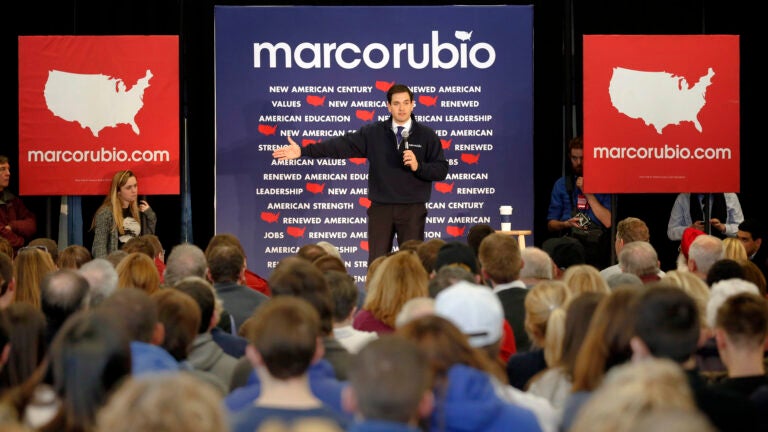 LONDONDERRY, N.H. — Sen. Marco Rubio Sunday confronted what may have been the most challenging moment of his presidential campaign as he tried to put to rest questions about his sure-footedness as a candidate and readiness for the presidency.
As his rivals seized on images of the Florida senator mechanically repeating himself in Saturday night's Republican debate, Rubio defiantly told voters here that he would continue hammering at President Barack Obama's leadership. It was a critique he made again and again during the debate, inviting vicious ridicule from Gov. Chris Christie of New Jersey.
"I'm going to say it again,'' Rubio said in front of a crowd of about 1,000 people who packed a high school cafeteria here, one of his largest New Hampshire audiences. "Barack Obama is the first president, at least in my lifetime, who wants to change the country. Change the country — not fix it. Not fix its problems. He wants to make it a different kind of country.''
Yet other Republicans who have staked their candidacies on New Hampshire almost gleefully sought to capitalize on Rubio's seeming malfunction in the debate. Jeb Bush, the former Florida governor, who has resented Rubio's glide path as he has struggled, called his rival "totally scripted and kind of robotic.''
And Christie gloated: "I told you he wouldn't be ready.''
Rubio had appeared to be on the upswing after an unexpectedly strong third-place showing in Iowa, and his advisers have hoped for a second-place finish in the New Hampshire primary Tuesday to put him in the strongest possible position heading into South Carolina.
But after his glaring display of vulnerability — in which he seemed to confirm, before millions of viewers, the most pointed critiques of his candidacy — the question was not whether he had harmed his campaign but by how much.
And it risked prolonging the primary fight: If Rubio does not fare well here, Bush and Christie will have ample justification to forge ahead to South Carolina instead of dropping out, as Rubio's supporters have urged them to do.
Rubio's advisers privately conceded that it had been a difficult night for their candidate. But they were hoping to benefit from some fortuitous timing: With the Super Bowl late Sunday and just one more day until voters in New Hampshire head to the polls, they argued, there was little opportunity for his rivals to inflict irreversible damage.
Yet news coverage was merciless: The New Hampshire Union Leader said Rubio had been "rocked'' by Christie. "Choke!'' blared the front page of The Boston Herald.
And critics in both parties quickly compared Rubio's repetitiousness to the gravest debate lapses of modern presidential campaign history, from Rick Perry's "Oops'' in 2012 all the way back to Dan Quayle's stepping into Lloyd Bentsen's "You're no Jack Kennedy'' buzz saw in 1988.
Conservative writer David Frum called the moment "a display of panic at a moment of certainty.'' In a series of Twitter posts Sunday, Frum, a former speechwriter for George W. Bush, wrote: "The big question about Rubio is: Can this untested novice cope with the demands of the presidency?''
With just one day until the primary here, the danger for Rubio was that he may have frittered away a crucial bloc of voters who were either leaning his way or up for grabs.
New Hampshire primary voters are famous for their tendency to decide late, swinging campaigns in the final days before the election. Hillary Clinton, her candidacy on the line, won here in 2008 partly because of Obama's patronizing suggestion at a similarly timed debate that she was "likable enough.'' And surveys of New Hampshire Republican primary voters late last week indicated that fully one-third of voters were still trying to make up their minds.
Rubio's problems Saturday began when Christie questioned his depth and experience. Rubio reflexively rattled off the same talking point about Obama's desire to fundamentally alter America.
"And let's dispel once and for all with this fiction that Barack Obama doesn't know what he's doing. He knows exactly what he's doing,'' Rubio said. He then proceeded to repeat almost the same phrasing three times.
The pivot from his own experience to Obama's flaws has been Rubio's ready answer to comparisons with rivals like Christie and Bush, who have been the governors of large states.
For Rubio, who has been called a Republican Obama in praise and in scorn, articulating the ways his experience as a 44-year-old first-term senator differs from Obama's in 2008 has been a constant struggle: No political association is more fraught or double-edged. While he embraces what he believes are their shared assets — youth, charisma and the potential to unify his party — he disavows the ideology that Republican primary voters find so toxic.
Rubio and his advisers recognized long ago that if the election were fought as a résumé contest, he would lose to more experienced rivals, whether Bush or Clinton. So they have tweaked his answer to the derisive Obama comparisons several times.
At first, Rubio would point to his lengthy résumé as both a state legislator and speaker of the Florida House of Representatives. Then he began dismissing the notion that leadership skills had anything to do with length of time in office.
"It's clear that the issue with him is not that he didn't have executive experience,'' Rubio often says of Obama. "It's that his ideas do not work.''
During the debate Saturday, Rubio tried a version of that answer but got trapped in a rhetorical cul-de-sac trying to explain the difference between competency and bad ideas.
While Rubio, who has been running second in many polls lately, was on the defensive Sunday, Donald Trump, who holds a wide lead in most surveys, was almost muted in reflecting on the debate. Sounding relieved, Trump said on CNN that he was "very, very happy the debate is over with'' and acknowledged that it had put him under "a lot of pressure.'' He did not join in delighting in Rubio's stumbles.
But Christie worked hard to disrupt Rubio's neat narrative that he could quickly emerge as a consensus choice of Republicans across the ideological spectrum to defeat Trump and Sen. Ted Cruz of Texas.
"There could be four or five tickets now out of New Hampshire, because the race is so unsettled now,'' Christie said on CNN. "You can't trust Sen. Rubio to be the nominee of this party.''
Others piled on. The sometimes tongue-tied Bush gave Rubio a backhanded compliment, then the back of his hand: "I envy people who have message discipline to say the same things over and over again,'' he told hundreds of voters in Salem, New Hampshire. "Sometimes it doesn't work out.''
Rubio and his advisers pushed back Sunday against suggestions that his momentum might dissipate, saying his strategy would remain unchanged and boasting repeatedly of strong overnight fundraising.
"I don't think anything happened last night that is going to fundamentally change the trajectory of this race,'' said Todd Harris, a senior Rubio adviser. "The governors are all on either life support or borrowed time.''
Harris added that the campaign raised more than $600,000 Saturday night. "Chris Christie had one singular goal heading into the debate, which was to leave a body on the floor,'' he said. "He took his best shot, and he utterly failed. Not only did we survive, but we had our best fundraising night of any debate.''
A handful of voters interviewed at Rubio's Londonderry appearance seemed unaware of or indifferent to his tough night.
"Missed it,'' said Mark Nemecek, 61, of Derry, New Hampshire, an undecided voter who was there with his wife. "It was Saturday night movie night, you know.''
Andrea Almquist, 57, a nurse from Londonderry, said she was still deciding between Rubio and Cruz. "That did work against him,'' she said of the debate. But she nodded along as Rubio spoke of strengthening the military and said "amen'' when he said Americans' rights come from God, not from the government.
"I really like what I heard today,'' she said afterward. "I'm really close. Really.''