Politics
An immigrant wrote a song for Trump and is blasting it around Manchester
Paul Worrall wrote a song called "Let's Make America Great Again.''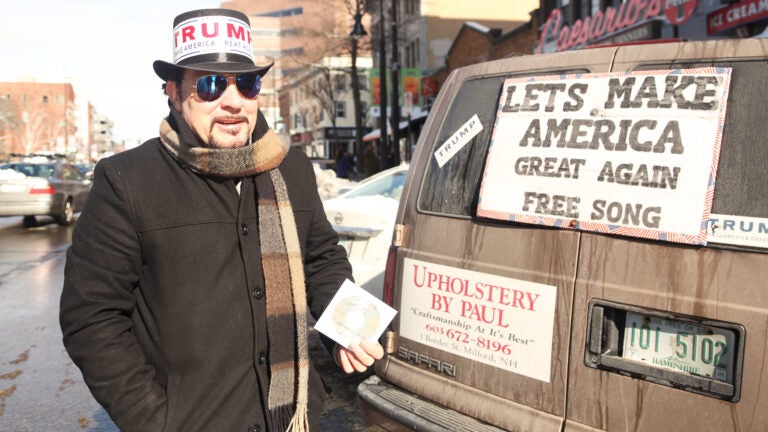 Wearing aviators, a top hat and a scarf wrapped around his neck, Paul Worrall cruised down Elm Street in Manchester with the windows rolled down and a song blasting from the sound system. When the song reached the chorus, Worrall started pumping his fist in the air.
"Let's make America great again!'' played repeatedly as Worrall made a sharp turn into a parking spot.
"It took me six months to make it,'' Worrall said after opening the door to the van. "I wrote it for the acoustic guitar. That's my friend on drums, and that's me singing.''
As the country tune played, people walking past swiveled their heads around to try to find its source. A few smirked. Some nodded their heads.
"Free CD!'' Worrall said.
No one took one.
"I've played this back at bars in Milford where I live and people love it,'' he said. "It gets everybody pumping their fists.''
Worrall immigrated to the U.S. from England 20 years ago. He now lives in Milford, New Hampshire, where he owns his own upholstery business. He was driving a van around the city that contained a few scattered leaves, a mug emblazoned with the British flag and a blue tarp.
But he hasn't been working the past two days—at least not as an upholsterer. He's canvassing the streets to make sure everyone knows Trump is the one who will fix America's problems.
"He's going to put the guts back into glory," Worrall said.
While Worrall didn't mention any specific policies that made him stand behind Trump, he did comment on Trump's immigration stance.
"Look, I'm an immigrant,'' he said. "This country was built on immigrants. But I want them to come here legally like I did. Who's paying their immigration fees?''
Worrall saw Trump when he spoke in Keene, but hopes to see him in Manchester. He has a free CD especially for him.
[bdc-gallery id="611023″]