Politics
Protesters storm press area at Democratic presidential debate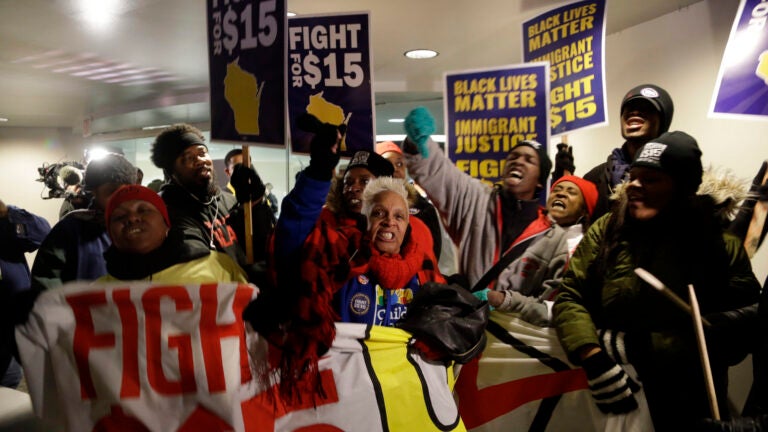 Things heated up at the Democratic presidential debate Thursday night at the University of Wisconsin-Milwaukee — a full hour before the actual event even started.
Protesters holding signs that read "Fight for $15,'' "Black Lives Matter,'' and "Immigrant Justice'' marched into the press filing center at just before 7 p.m local time, chanting "If you want our vote, come get our vote.''
[fragment number=0]
[fragment number=1]
The blue-and-yellow signs they wielded matched those repeatedly used by Fight for $15 Wisconsin, a local affiliate of the national group backed by the Services Employees International Union, which advocates for raising the minimum wage to $15 dollars an hour.
[fragment number=2]
Fight for $15 Wisconsin had scheduled a rally in a Milwaukee park a few blocks away from the debate site to call on Bernie Sanders and Hillary Clinton to support a $15-dollar minimum wage. An hour before the debate began, they marched to the university's campus.
[fragment number=3]
"Let them know that the movement for racial and economic justice cannot just be a talking point; we expect to see serious commitment and action!'' the group wrote on Facebook.
As part of the Vermont senator's platform, Sanders has endorsed raising the federal minimum wage incrementally over the "next several years.'' Clinton also supports raising the federal minimum wage to $12 and supports raising it to $15 through state and local efforts.
The SEIU endorsed Clinton in November.
Fight for $15 also marched on the Republican presidential debate in November. Asked on stage at that debate, none of the Republican candidates said they supported raising the minimum wage to $15 an hour — though Ohio Gov. John Kasich and retired neurosurgeon Ben Carson have signaled they support smaller increases.
[fragment number=4]
Debate ends with tense exchange over Obama.
http://brightcove.vo.llnwd.net/v1/unsecured/media/245991542/201602/3457/245991542_4751485961001_4751242498001.mp4?pubId=245991542&videoId=4751242498001
Sanders and Clinton get heated in first debate after the New Hampshire Primary.