Politics
Obama criticizes GOP field, particularly Trump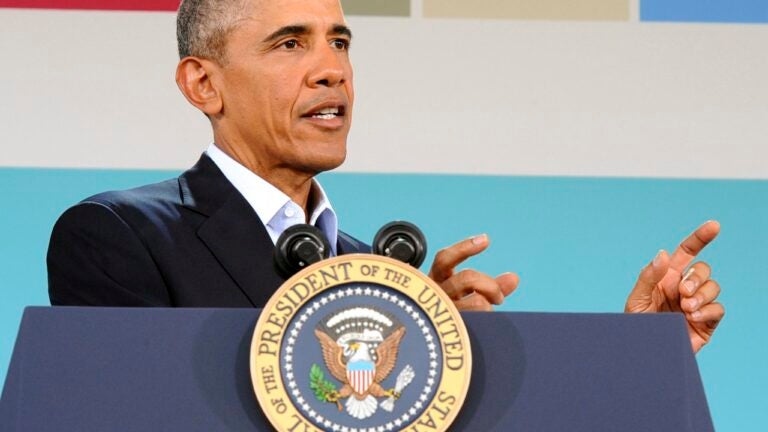 President Barack Obama on Tuesday offered an extended critique of the Republicans running to replace him, describing them as "troubling'' to people around the world and singling out Donald J. Trump as someone who would not be a serious president.
Speaking at a news conference in California at the end of a two-day summit meeting with leaders from Southeast Asian nations, Obama criticized the positions taken by the Republican candidates on climate change, Muslims in America and immigration.
"There is not a single candidate in the Republican primary that thinks we should do anything about climate change, that thinks it's serious,'' Obama said. "Well that's a problem. The rest of the world looks at that and says, 'Well, how can that be?'''
The president said Trump was not the only Republican who raised concerns, but he singled out the real estate mogul as someone who would be singularly unprepared for the responsibilities of the Oval Office.
"Being president is a serious job,'' Obama said. "It's not hosting a talk show or a reality show. It's not promotion. It's not marketing. It's hard. And a lot of people count on us getting it right. And it's not a matter of pandering and doing whatever will get you in the news on a given day.''
He said Trump "says in more interesting ways what the other candidates are saying as well.''
"He may up the ante in anti-Muslim sentiment,'' Obama said, "but if you look at what the other candidates have said, that's pretty troubling, too.''
Without mentioning Sen. Marco Rubio of Florida by name, Obama noted that one of the candidates had once supported a bipartisan bill to overhaul immigration, but was now "running away from it as fast as he can.''
Later on Tuesday, in Beaufort, South Carolina, Trump said that he considered what Obama said about him to be a compliment. "That man has done such a bad job,'' Trump said, "and has set us back so far.''
When Obama was asked to weigh in on the Democratic presidential primary campaign between Hillary Clinton and Sen. Bernie Sanders, he demurred, saying that Democratic voters should be given the chance to choose between them.
"Bernie and Hillary agree on a lot of stuff and pretty much disagree across the board with everything the Republicans say,'' he said. "I know Hillary better than Bernie because she served in my administration, and she was an outstanding secretary of state.''
He said there were probably places where Clinton agreed with him more than Sanders, and places where Sanders might be closer to him than Clinton, though he hastened to add that he had not studied their positions closely.
"Ultimately, I will probably have an opinion on it,'' he conceded.
But Obama appeared eager to say that none of the Republicans were ready to lead. Without saying so directly, Obama suggested that Trump and the other Republicans would wilt under the pressures of the job he has held the last seven years.
He said that a president must "work with leaders around the world in a way that reflects the importance of the office, and gives people confidence that you know the facts and you know their names, and you know where they are on a map and you know something about their history.''
He added that his successor would have "the nuclear codes with them and can order 21-year-olds into a firefight and has to make sure that the banking system doesn't collapse and is often responsible for not just the United States of America but 20 other countries that are having big problems, are falling apart and are going to be looking for us to do something.''
Obama also made clear his reluctance to change course in Syria, where he said Russia had blundered into a "quagmire.''
He spoke more optimistically about Libya, saying that there was a recognition of the need for a coherent state. The United States, he said, would support efforts to put together a new government there.
"The good news in Libya is that they don't like outsiders coming in and telling them what to do,'' he said.