Politics
How a UMass professor became the center of a national debate over Bernie Sanders' plan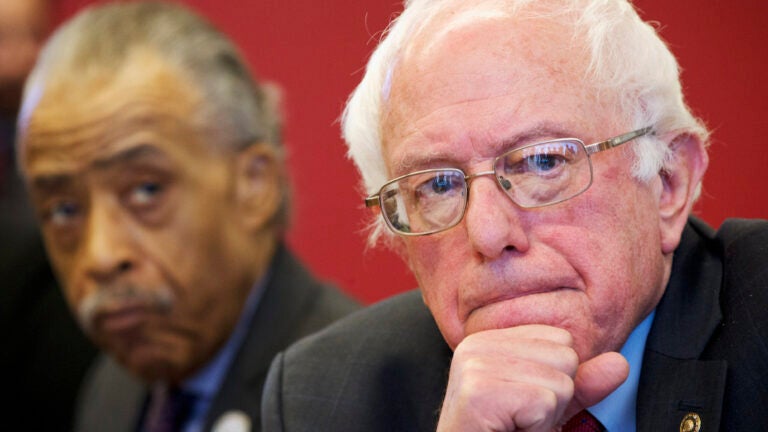 Gerald Friedman says he has makeup quizzes to write for his microeconomics class.
But those may have to wait.
At the moment, the UMass Amherst economics professor is more concerned with responding to the immense backlash to his recent analysis of Bernie Sanders' economic proposals from former members of Barack Obama and Bill Clinton's presidential administrations and other high-profile economists.
Friedman, who says he has no connection to the Sanders campaign, recently published a paper estimating the overall economic impact of the Vermont senator's proposals — factoring in the presidential candidate's spending programs, including health care, infrastructure, education, and retirement security; the progressive taxes proposed to pay for those programs; and wage law changes, such as raising the minimum wage and equal pay for equal work.
Among other findings, Friedman estimated Sanders' programs would increase economic growth from 2.1 percent to 5.3 percent and increase median household income by $22,000 by 2026.
But in an open letter addressed to Sanders and Friedman published Wednesday by former Council of Economic Advisor chairs (and widelypickedupinthe media) said the professor's findings were "extreme claims.''
"As much as we wish it were so, no credible economic research supports economic impacts of these magnitudes,'' wrote the group. "Making such promises runs against our party's best traditions of evidence-based policy making and undermines our reputation as the party of responsible arithmetic.''
However, Friedman says he used conventional Congressional Budget Office methods to do his analysis.
"Whatever results I get that seem optimistic or whatever come from my interpretation of the CBO,'' he said. "The criticism that 'Oh, Friedman used some weird stuff' is completely off-base.''
Friedman also noted that the letter addressed no specifics when it came to his methods or modeling.
"Tell me what I did wrong,'' he implored, adding that some of the letter's co-authors advocated for similar stimulus and infrastructure programs that Sanders has proposed.
According to Friedman, the multiplier effects of Sanders' public investments, such as infrastructure and education, coupled with the cost-savings of the candidate's proposed single-payer health care plan and other redistributive economic measures would invigorate high economic returns.
"There are no puppies; there are no rainbows,'' Friedman said. "It's Keynesian economics. Alan Kruger went to the same classes as me, Christy Romer was down the road at MIT. We all studied the same things and this is the only type of macroeconomics I know how to do.''
Kruger, Romer, Austan Goolsbee and Laura D'Andrea Tyson (the letter's authors) weren't the only ones critical of Friedman's work.
In a follow-up article Wednesday, New York Times columnist Paul Krugman called on Sanders to "disassociate himself from this kind of fantasy economics.''
The Nobel prize-winning economist noted that progressives mocked Republican candidate Jeb Bush for saying his plan would unleash 4 percent economic growth each year, juxtaposed with Friedman's estimates of 5.3 percent.
"The point is not that all of this is impossible,'' Krugman wrote, "but it's very unlikely — and these are numbers we would describe as deep voodoo if they came from a tax-cutting Republican.''
Referring to a Financial Timesblog post Wednesday, Friedman said that 5.3 percent growth would simply return to past growth path.
The article, written by Matthew Klein, found that an average of 5.3 percent growth from 2017 to 2026, as Friedman estimates, "implies American output will return to its previous trend just as Sanders would be finishing up his second term,'' rather than never fully recovering the losses of the 2008 financial crisis.
"In economic terms, when you're coming out of a recession and you have a lot of under-utilized resources, unemployed resources, you can grow very quickly,'' Friedman said, referring to growth trends after the Great Depression and in 1980s that peaked above 5 percent.
Friedman said he is willing to rerun his estimates, using the most pessimistic cases of multiplier effects and health-cost inflation — as others have suggested — but doesn't expect it to make a significant difference. He also said he plans to write a response to the backlash.
As for the election he's suddenly been injected into, Friedman says he's still hasn't made a decision who he will vote for and had offered to conduct similar analyses for Hillary Clinton's campaign, though he said they weren't interested.
Following the backlash this week, the professor said he called Sanders' policy director Warren Gunnels to check if things were OK amid the backlash.
"He said, 'We still like you,''' Friedman said with a laugh.