Politics
Race in Nevada, once Clinton firewall, is now hotly contested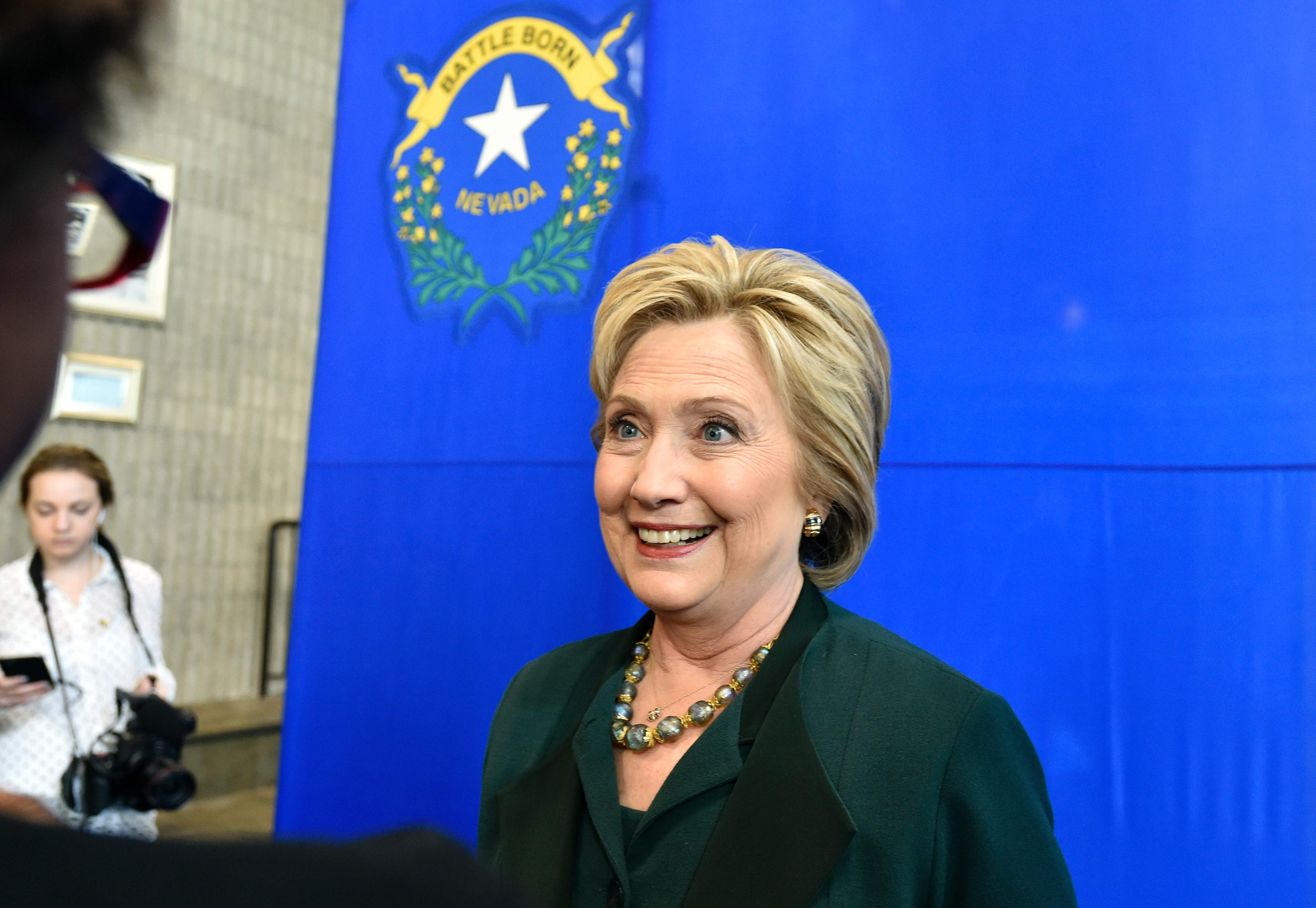 LAS VEGAS — In a storefront on this city's heavily Latino east side, the civil rights leader Dolores Huerta rallied a dozen volunteers for Hillary Clinton on Wednesday night, relating, in Spanish, a Mexican saying about people who go near a cactus only when it is bearing fruit.
"Bernie hasn't been around,'' Huerta said, referring to Sen. Bernie Sanders of Vermont, Clinton's opponent in Nevada's Democratic caucuses Saturday. "He came to see the Latinos when they had the fruit.''
Fifteen minutes away, the Mexican actor and game-show host Marco Antonio Regil stood in the backyard of a suburban home, urging on volunteers for Sanders and his vow to fight income inequality.
He recalled growing up in Tijuana, with its wide gap between the rich and the poor. "We cannot allow that extreme social disparity to happen in America,'' Regil said.
The dueling pep rallies pointed to how hotly contested the race here has become — particularly among Latino voters. Nevada was once supposed to be a firewall for Clinton, its large minority population primed to accelerate her drive to the Democratic nomination. But after her narrow victory in Iowa and crushing defeat in New Hampshire, it has turned into yet another tight and unpredictable contest, in which Sanders stands to gain more from a victory, and Clinton stands to lose more from a defeat.
A victory for Clinton would not be as remarkable a feat as it would be for Sanders, given her history in Nevada and months of hard preparatory work. But a loss could raise concerns among Democrats about her viability.
Clinton's aides have appeared to brace for the worst here, playing down expectations and shifting their attention to the South Carolina primary the following weekend and on the 11 states that hold contests on Super Tuesday, March 1.
But after Clinton led in polls here by more than 20 points a few months ago, the sharply altered outlook shows how her organizational muscle has encountered unexpectedly stiff resistance from a well-funded and increasingly popular opponent.
And the results Saturday, particularly among Nevada's Latino population, could be a harbinger of outcomes in states like Texas and Colorado, which both have contests March 1.
On Thursday night, Sanders and Clinton both tried to reaffirm their support for immigration reform at a bilingual town hall-style forum held by MSNBC and Telemundo.
In the coming days, Clinton will hold just one public rally per day, and will drop in on casinos to chat with employees. She plans to attend a rally in Houston on Saturday evening after the Nevada results come in. Few of her senior aides have entrenched themselves here as they did in Iowa and New Hampshire.
And Clinton's spokesman, Brian Fallon, even sought last week to portray Nevada's voters as predominantly white and liberal, much like Iowa's caucusgoers — suggesting this plays to Sanders' advantage.
But that ignores demographic facts: Nevada's population is nearly half minority, and Democratic caucusgoers in 2008 were 35 percent minority, exit polls showed.
"He must have been looking at one of my high school yearbooks, because things have changed dramatically,'' said Sen. Harry Reid, the Nevada Democrat who engineered the caucus system in 2008.
Indeed, Nevada's diversity — its population is nearly 28 percent Hispanic, 9 percent African-American and 8 percent Asian — was a major part of Reid's argument for making the state an early contest for the Democratic nomination.
Clinton showed force early on here. Robby Mook, her campaign manager, had served as state director in 2008 when she narrowly defeated Barack Obama in the popular vote in Nevada. Mook in turn brought on Emmy Ruiz, who led Obama's re-election efforts in Nevada in 2012, when he defeated Mitt Romney by nearly seven percentage points.
And Clinton unveiled her immigration plan, which she vowed would go further than Obama's had, at a high school in Las Vegas, with the children of undocumented immigrants sitting beside her.
By August, her campaign had 22 full-time staff members and had held more than 1,100 one-on-one meetings with Latinos, Native Americans, Asian-Americans and African-Americans.
Sanders did not have a single staff member in the state until October, and his state director unexpectedly quit a month later.
Joan Kato, who worked on Latino outreach for Obama in Nevada and other states in 2008, took over the Sanders operation in the state. But it was already looking like a lost cause.
That has not turned out to be the case.
Today, Sanders has 12 offices across the state, more than any other political candidate, with outposts in remote areas like Winnemucca, home to the Northern Paiute tribe, and Fernley, outside Reno. He has outspent Clinton on advertising in the state by nearly 2 to 1, and his campaign has sent out more multilingual door hangers and fliers than the Clinton campaign, according to Ralston Reports, a local website that tracks political spending.
"Did they build a firewall and leave it alone? Were they arrogant?'' Jon Ralston, the site's owner and a veteran Nevada political reporter, said of the Clinton campaign. "Call it whatever you want, but it's clear that a state that they never thought would be in play is now in play.''
The Clinton campaign has been effective in Nevada nonetheless, local officials say, securing high-level endorsements and the support of labor unions and reaching out to diverse constituencies.
"You can't just parachute in a month before the caucuses and have the kind of field organization she's got,'' said Rep. Dina Titus, a Nevada Democrat who has endorsed Clinton.
But Sanders' small-dollar donor base has allowed him to outspend Clinton here as her campaign poured resources into Iowa and, sensing a longer-than-expected nomination fight, began to ramp up in the states that vote in March.
Sanders' win in New Hampshire gave his populist economic message momentum in Nevada, where unemployment is at 7.1 percent, compared with 4.9 percent nationally.
"All the organization is good for is one or five points, but beyond that it is really about the public mood,'' said David F. Damore, associate professor of political science at the University of Nevada, Las Vegas.
Young voters, in particular, have gravitated to Sanders, Damore said. "You hear about the halcyon days of America and Bill Clinton, and they don't know anything about that.''
Clinton's supporters said Nevada remained Clinton country, and expressed hope that she would earn the support of its casino workers, many of them minorities and women. (Their union, the Culinary Workers, has avoided taking sides.)
But her advisers have also suggested that Republicans who want to weaken Clinton might take advantage of the state's same-day registration to caucus for Sanders, seeing him as more beatable in November.
Ross Miller, a former Nevada secretary of state who is also backing Clinton, expressed hope that Sanders' momentum could wind up helping her, by rousing more of her voters to show up on Saturday.
A lot of "supporters who assumed a while ago that Hillary Clinton would be the nominee and weren't going to participate,'' Miller said, are "now sounding the alarm.''
But Kato, the state director for Sanders, said she expected young voters, Latinos and first-time caucusgoers to participate in droves.
Then, she said acidly, Clinton's team might have to come with a new fallback plan.
"Are we going to start hearing that South Carolina isn't a black state anymore?'' Kato said.