Politics
Republicans speed across South Carolina as race tightens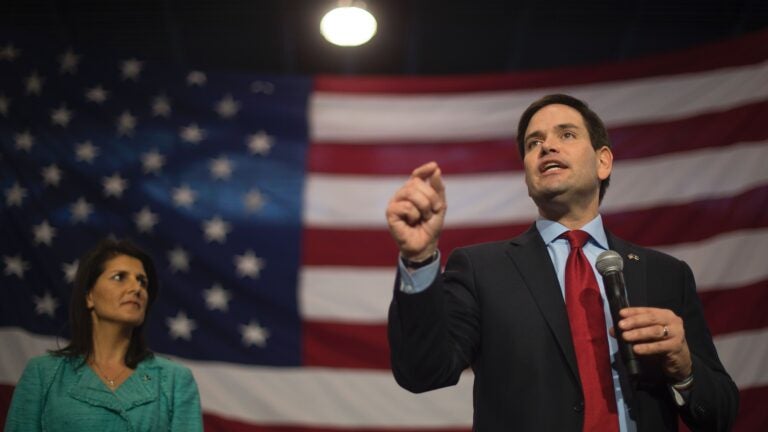 SPARTANBURG, S.C. — The Republican presidential candidates hurtled across South Carolina on Friday to make their final, frantic pitch one day before the state's primary, as polls showed the race tightening here after a volatile and often nasty week of campaigning.
The vote on Saturday, a critical test of organization and strength for much of the field, comes as the candidates are closing in on Donald J. Trump, who until now has held comfortable leads in the polls here. A new NBC/Wall Street Journal/Marist poll shows Trump just 5 points ahead, down from his 16-point lead in the state a month ago.
The poll had Sen. Ted Cruz of Texas in second with 23 percent, and Sen. Marco Rubio of Florida and Jeb Bush, the former governor of Florida, vying for third and fourth place, with 15 and 13 percent, respectively. Ben Carson, a retired pediatric neurosurgeon, and Gov. John Kasich of Ohio each had 9 percent.
As the Republican field winnows, nearly all the remaining contenders need to deliver strong performances. A big victory by Trump would give him a jolt of momentum that could add a sheen of inevitability to his candidacy heading into the crucial March 1 contests, when 12 states vote, many of them in the South.
Cruz, meanwhile, is eager to prove his appeal is broader than that of the previous two Iowa caucus winners, Mike Huckabee and Rick Santorum, who struggled to attract voters beyond their base of evangelical support.
In recent days, the Texas senator's rivalries with Trump and Rubio have turned particularly heated, producing a hail of negative advertising, semi-substantiated attacks, threatened litigation, accusations of doctored images and persistent charges of foul play among the three men.
"Twenty-one hours,'' Cruz told a crowd in Myrtle Beach, South Carolina, on Friday morning. "That's how long we've got until the polls open. Twenty-one hours.''
A strong performance by Rubio, who has been attracting large crowds and secured the endorsement of Gov. Nikki R. Haley of South Carolina despite stumbling badly in New Hampshire, could fully resuscitate his campaign as he seeks to become the preferred establishment alternative to Trump and Cruz.
Rubio began his own busy day with a morning rally in downtown Columbia, South Carolina, that drew several hundred people. In a show of force intended to underscore his message of ushering in a new generation of Republican stars, Rubio was flanked by the political leaders here who have endorsed him — a diverse lot that included Haley, an Indian-American; Tim Scott, a U.S. senator who is black; and Trey Gowdy, a popular congressman who is white.
"The new conservative movement looks like a Benetton commercial,'' Haley shouted to the crowd as she beckoned them all to join her and Rubio on the stage.
Rubio, who was scheduled to be in almost every corner of the state on his five-event day Friday — from Charleston to Hilton Head along the coast to Clemson on the Georgia border — cast himself as the candidate most attuned to the anxieties of regular Americans and the most capable of restoring the American dream.
"We have a chance to be the authors of the greatest chapter in the story of America, and that is why I'm asking you for your support tomorrow,'' he said, wrapping up his remarks.
The generational pitch was a sharp contrast to Bush's nostalgia-tinged push about 100 miles away. During his three-stop swing through the northwest part of the state, Bush was joined by his mother, Barbara Bush; one his sons (Jeb Jr. — or "2.0,'' as he's called); his wife, Columba; and two younger brothers, Neil and Marvin.
"You like Bushes?'' Sen. Lindsey Graham, a Bush supporter, asked the crowd here. "We've got a pile of Bushes.''
Bush is fighting for his political life, under increasing pressure from donors and supporters to drop out if he does not place in the top three, or finishes far behind Rubio.
The family matriarch urged voters to give her son a longer look.
"Jeb has been a great son, a great father, a great husband, married well, and is one of my four favorite sons,'' Bush, 90, said Friday morning. "He's steady, he's honest, he is modest, he's kind, he is good.''
In a string of final events and media appearances, Trump continued to try to tamp down two of his latest controversies: suggesting President George W. Bush's administration had "lied'' about weapons of mass destruction in Iraq and his feud with Pope Francis over his faith.
"He could have lied,'' Trump said of the former president in an interview with the "Today'' show Friday. "Maybe he did, maybe he didn't. I guess you'd have to ask him.''
Trump also rejected the comparison between the pope questioning his faith and Trump's own suggestion that Cruz is a hypocrite for, as he has put it, holding up the Bible while telling untruths.
In Myrtle Beach, Trump cited polls that showed him having the most support on the economy, national security and immigration. "The only thing I'm a little weak on,'' he said, "is my personality, but who the hell cares?''
Trump was holding three rallies on Friday in coastal communities — Myrtle Beach, Pawleys Island and Charleston — that are rich in moderate Republicans and independents.
Many voters say they remain torn over their options.
"I really want change,'' said Braxton Bailey, a retiree who was still undecided as of Friday morning when he attended Cruz's event. He planned to attend one of Trump's rallies later in the day.
"I'm to the point that I'm tired of lawyers,'' he said. "Maybe it's time for a businessman.''
Among the lower-polling candidates, every prospective vote, it seemed, was a reason to be grateful. After a town-hall-style forum in Columbia, Kasich appeared to take expectation management to the extreme.
"People thought we would get, you know, like, maybe two or three votes,'' he told reporters. "I think we're going to do better than that.''
After Kasich's second-place finish in New Hampshire, his team made clear it did not expect him to be a top performer in South Carolina. But he has still competed here, and the campaign hoped to deprive Bush of any kind of resurgence in the state — something about which Bush supporters have publicly complained. Kasich's campaign is counting on gaining donors, as well as supporters, if Bush leaves the race after South Carolina.
At the same time, his campaign has at times looked beyond the state. This week, Kasich made several campaign stops in Michigan, whose primary is on March 8. And on Saturday, as voters head to the polls in South Carolina, he plans to be in Vermont and Massachusetts, which hold their primaries on March 1.
"It's going to be cold again,'' he said of his next destinations. "Can't I stay here?''