Politics
Sanders supporters feel the Bern—but are readying for Hillary, too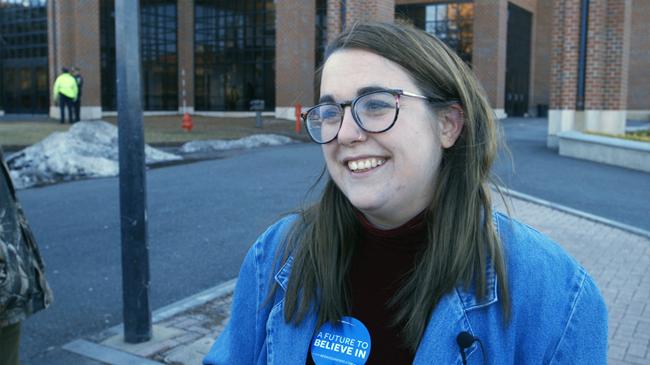 The reality of Hillary Clinton is pushing in on the idealism of Bernie Sanders supporters.
Olivia Arciprete, a student at the University of Massachusetts Amherst, was one of many pledged Sanders voters lined up to see him speak on campus Monday. And like others outside the Mullins Center, she said she was all about Sanders and his "underdog'' message.
But she would be on board with President Hillary Clinton, too, should it come to that.
"I'm not going to leave the country if Hillary is president,'' Arciprete said. "She's not my number one choice. She's not ideal. But I still do … side with her on a lot of major issues.''
Arciprete was not unusual in that grudging willingness to support the Vermont senator's key Democratic rival. A few days after Clinton took a decisive victory in Nevada, a number of Sanders supporters were forced to consider the likelihood that Clinton would win the Democratic nomination.
Clinton is heavily favored in most of the 11 states set to vote next Tuesday. In Massachusetts, though, recent polls have shown her slightly behind or tied with Sanders. But should she prevail in the long run, voters in Amherst said they were willing to be ready for her.
Malcolm Pradia, a 27-year-old social worker, said he's hoping and planning that Sanders will win.
"But if he doesn't, of course I'd vote for Hillary over some of the other ideas,'' he said.
In any case, he said it's been "delightful'' to watch Sanders's rise over the past few months.
"I always say Hillary is the perfect presidential candidate for this system,'' he said. "I think that compared to Bernie she doesn't have the perspective that I have of really being able to dismantle the things that don't work. I think that she'll operate within the system that's imperfect, and do the best that she can, but I don't see her as a change agent.''
Matt Peña, a 20-year-old sophomore and political science major, said his concern with Clinton had to do with her unwillingness to release the transcripts of her paid speeches to Goldman Sachs.
"If they eventually swing, and she wins, that's going to be a big thing she's going to have to address in the public stage,'' he said.
Emily Engel, 32, was so passionate about Sanders that she created the "Lil Bernie'' doll, which, through the power of the Internet, has turned into a nice side business. She said she has some issues with Sanders, but she called Clinton a "corporate puppet'' and doubted her progressive credentials.
"I don't trust her,'' Engel said.
But would she vote for her?
"We'll cross that bridge when we come to it.''