Politics
5 things to watch at Thursday's Republican debate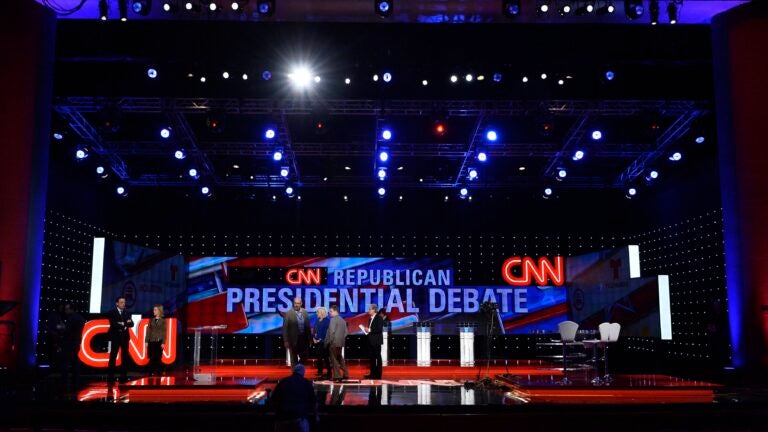 The five remaining Republican candidates for president will take the stage in Houston on Thursday night for a debate. The event will be the last major influencer ahead of March 1, when 11 states, including Massachusetts, hold primaries or caucuses for the presidency.
Here's a look at five major storylines to watch for during the debate.
Will Marco Rubio finally go after Donald Trump?
Jeb Bush was one of the few candidates willing to go toe-to-toe with the boisterous billionaire, but he has since dropped out of the race. At the most recent debate, Ted Cruz attacked Trump as a phony conservative, and Trump fired back by slamming Cruz as "the single biggest liar.''
Rubio, though, hasn't hit at Trump much yet. Rather than focus his criticism on the current frontrunner, Rubio joined his side and attacked Cruz for using dirty tricks. As Bloomberg Politics points out, that effectively gave Trump a shield from Cruz's attacks.
With Rubio's chances of winning the nomination slimming, he finally called out Trump by name on Wednesday night in a sharp about-face. He particularly focused on what he said was Trump's lack of foreign policy knowledge and Trump's comments on the Israeli-Palestinian conflict.
How far will he take those issues with Trump? When Trump inevitably fires back, how will Rubio respond? Look for those topics to come to the fore on Thursday night.
Who is Donald Trump's next victim?
Trump has already devoured Jeb Bush. He took a major chunk out of Cruz by repeatedly calling him a liar and questioning whether he is eligible to become president. And he previously brought Ben Carson down to Earth by talking about his "pathological temper.''
So who's up next? Will he make fun of Rubio's sweatiness again? Will he try to wipe John Kasich's smile right off his face? Will he make fun of CNN moderator Wolf Blitzer's glasses?
This all essentially boils down to one question: How will Trump handle not having a foil in Jeb?
Can Ted Cruz bounce back?
It has not been a good week for Cruz. In a dramatic move on Monday, the senator from Texas fired a top aide for posting a misleading video about Rubio. The firing was particularly damaging for Cruz because, although he has campaigned on a platform of trust, his rivals have criticized him as a liar who is engaged in dirty tricks.
That shake-up may have contributed to Cruz's third-place finish in the Nevada caucuses on Tuesday. Exit polls show he lost to Trump among evangelical Christians and "very conservative'' voters, which are the basis of Cruz's candidacy. He'll need a strong debate performance on Thursday to knock away at Trump's lead.
Why won't the main leaders release their tax returns?
None of the three leading candidates—Trump, Rubio, or Cruz—have released their tax returns this year. Every major presidential candidate in recent history has released them, and both Hillary Clinton and Bernie Sanders have already posted theirs to the public.
Trump's unwillingness to release his returns was the focus of criticism from Mitt Romney on Wednesday, who said, without presenting evidence, that there could be a "bombshell'' in those forms.
Still, Trump said he will not release them anytime soon and will "make a determination over the next couple of months'' if he will do so. The issue is particularly important for Trump, who constantly boasts of how rich he is.
Both Rubio and Cruz released tax returns for their recent U.S. Senate runs, but have not done so this campaign season. They're all likely to face questions as to why that is.
How many times will Ben Carson joke about being asked a question?
Republican voters across the country have rejected the neurosurgeon. Carson finished fourth in Iowa, eighth in New Hampshire, sixth (out of six) in South Carolina, and fourth in Nevada. Yet he still remains in the race.
Carson's sleepy debate performances haven't helped his cause. One of his recurring bits is that he jokinglythanks the moderators when they remember to ask him a question.
How many times will he joke about that on Thursday night? Once? Twice? Three or more? Tune in to find out.