Politics
Bernie Sanders supporters plan to march from State House to Dewey Square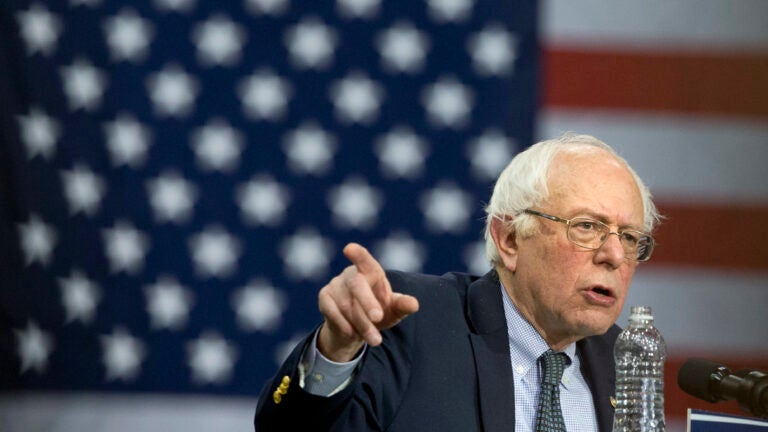 Up to 750 supporters of Bernie Sanders are expected to march through downtown Boston on Saturday in advance of Super Tuesday.
The march is a part of the larger Movement for Bernie, a national group unaffiliated with the Sanders campaign focused on drumming up grassroots support. Notably absent, however, is targeted outreach to the candidate's most vocal supporters: young people.
"This march is more about local struggles—local campaigning on local issues,'' said Elan Axelbank, a Movement for Bernie organizer.
Starting at 1 p.m. Saturday, Sanders supporters will march from the steps of the Massachusetts State House through downtown and the Financial District, and finish at Dewey Square.
Axelbank said speakers from the American Postal Workers Union, the Socialist Alternative, the Brookline Educators Union, and the Stop the West Roxbury Lateral Pipeline campaign will address the crowd. Local issues like the natural gas pipeline under construction in West Roxbury will be a talking point, as well as the possibility of MBTA fare increases this summer.
"We've marketed through social media way more than the last march,'' Axelbank said. "We've had a real focus on getting out into the community.''
In January, the group coordinated a march that was a part of another day of action with similar marches held in multiple cities. According to a statement from Movement for Bernie, 500 people came to that march, despite the blizzard. Axelbank said this time he expects 300 to 750.
Movement for Bernie was founded in 2015 after the Democratic National Committee suspended Sanders from a voter database. The party organization said the Sanders campaign improperly accessed confidential voter information from Hillary Clinton's campaign.
"We launched back in late December by Socialist Alternative,'' Axelbank said. "Our logic is that it's clear that the DNC and the establishment has an organized movement against Sanders. The Sanders movement needs an organized movement against the DNC.''