Politics
Why Sen. Elizabeth Warren hasn't endorsed a candidate yet
Both Sen. Bernie Sanders and Hillary Clinton have tried to claim the Massachusetts senator's non-endorsement as implicit support.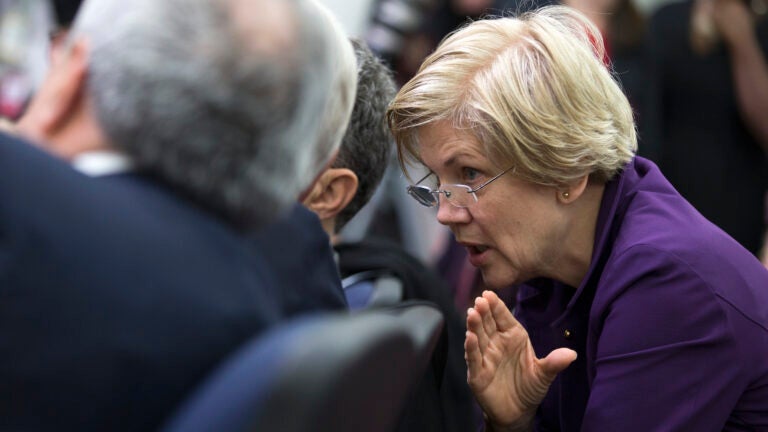 No, Sen. Elizabeth Warren still hasn't endorsed a candidate in the Democratic presidential primary.
But that hasn't stopped supporters of both Hillary Clinton and Sen. Bernie Sanders from spinning the Massachusetts senator's silence to their liking. In the absence of a stamp of approval for either candidate from the Senate's progressive prophet, other voices have filled the vacuum.
"It's probably more of an indictment of Bernie Sanders that she hasn't endorsed him, than it is an indictment of Hillary Clinton,'' Missouri Sen. Claire McCaskill, who has been a vocal supporter of the former secretary of state, recently said, pointing out than none of the Vermont senator's colleagues in the upper chamber had endorsed him.
But Sanders supporters take Warren's reticence as a head nod to the progressive base, from which the insurgent Democratic candidate draws much of his support.
"The fact that Sen. Warren hasn't endorsed in the race has been a signal to progressives that she is very open and conducive to a lot of the ideas that Sen. Sanders is talking about,'' Massachusetts state Sen. Jamie Eldridge, a Sanders backer, told Politico last week.
Eldridge also noted that Warren recently praised Sanders plan to "hold the big banks accountable,'' a policy area in which the two New England senators share much in common.
For Warren to endorse Clinton would betray her "anti-Wall Street crusade,'' Republican strategist Eric Fehrnstrom recently wrote in The Boston Globe.
But Warren has praised Clinton's Wall Street reform plan, even if the two differ in some areas.
Ultimately, Warren's non-endorsement likely comes down to the need to weigh her ideals with the political reality, said Maurice Cunningham, a political science professor at the University of Massachusetts Boston.
"Sen. Warren's positions are closer to those of Sen. Sanders,'' Cunningham said. "Politically though, Sanders is swimming against the tide of the entire party establishment.''
Jerold Duquette, a Central Connecticut State University political science professor, recently wrote that a Sanders endorsement before the Massachusetts primary on Tuesday would be a big political gamble with potentially serious downside.
Not only could it create "a deeper rift in the party with the potential to damage the nominee in the fall,'' Duquette wrote. "For Warren, it would be a foolish gambit that could easily complicate her efforts to be a force for progressive change in the U.S. Senate going forward.''
Cunningham agreed, noting Warren's ability to shape the race already by standing back and speaking up in favor of policies, rather than candidates.
"It isn't Sen. Warren's place to throw a life line to the Sanders campaign,'' he said, "and it just may be that being perceived as a constant outlier is no great help to Sen. Warren's work with her colleagues in the Senate.''
Conversely, Duquette notes that a Warren endorsement for Clinton later on in the primary, if the former secretary of state does secure the nomination, could work to reunite Democratic primary voters and bring Sanders' base back into the fold.
As a "close Warren associate'' recently told Bloomberg: "Her prime directive is not to damage the party's chances in November.''
Of course, Cunningham noted, no one but the senator herself really knows her reasoning.