Politics
At Boston precinct Obama won in 2008, Clinton voters out in full force
Eight years ago, Clinton had the fewest percentage of voters in Boston's Ward 12, precinct 3. Will this year be different?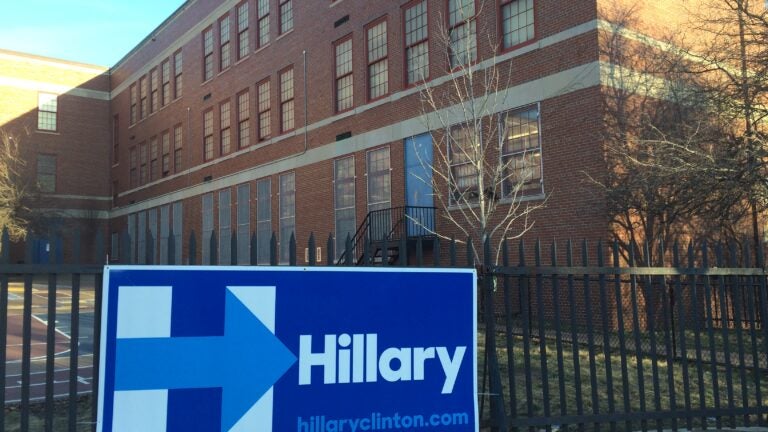 With her head down and arms swinging, Eva Boyce power-walked past local politicians standing outside her polling location at Higginson Lewis K-8 school in Roxbury.
"Do you have a minute to sign this petition for –'' one canvasser began.
"Nope, I'm on a mission,'' Boyce said. "I don't want to get distracted. I need to get in there and vote for Hillary.''
Eight years ago, voters like Boyce were a rare find in Boston's Ward 12, precinct 3, which is where Clinton had the fewest percentage of voters in all of Boston. Even though Clinton won the Massachusetts Democratic presidential primary in 2008, taking 56 percent of the vote, only 13 percent of the precinct's voters chose Clinton, while 85.5 percent chose Obama.
Boyce can't remember who she voted for in 2008. But this year, she couldn't be more excited to vote for Clinton. While standing in front of a large "Hillary'' sign hung up on the school's fence, she said it's time for the nation to vote for a candidate who has done the work and put in the time.
"Hillary has the experience,'' she said. "Bernie sounds good, but Hillary has held the positions and has worked hard to get where she is. I support her all the way.''
Boyce wasn't the only Clinton supporter casting her vote early Tuesday morning. Jess Pease, a Roxbury resident, is also voting for Clinton. Pease voted with a Green Party ballot in 2008, but now supports Clinton because, like Boyce, she believes she's the most qualified candidate.
"She's the most competent,'' Pease said. "And, frankly, I'm excited to be voting for a woman for president.''
But not every voter who stopped by the school felt the same way. James Massey was a self-proclaimed "Obama person'' in 2008. In this year's primary, he voted for Vermont Sen. Bernie Sanders. Massey did say that the more Clinton's opponents attacked her in the press, the more he became impressed with her political career.
"I didn't like the email stuff,'' he said. "But the more people went after her, the more I learned about her political credentials and the more impressed I became. But, for me, it's all about revolution, and Bernie is saying he's going to make that happen.''
Some voters took more indirect paths to support their preferred candidates. Desmond Pattz is an undeclared voter who took a Republican ballot specifically to vote against Donald Trump.
"The primary is an exercise of our civic rights,'' he said. "And civility is essential for society. Donald Trump would be bad for this country, which is why I used the power of being an undecided voter to take a Republican ballot.''
At this point, Pattz isn't sure who he'll vote for in the presidential election in November. Other voters in his ward seem a bit more certain.
As Pattz walked away from the school, a woman in a leopard print coat, who declined to be named because she was "already late to work,'' ran toward her car and pulled her keys out of her bag. Before getting in, she stopped, then turned around to face the voters standing outside the school.
"Hey,'' she yelled. "I hope y'all are voting for Hillary!''
Related gallery: Scenes from the Super Tuesday primaries
[bdc-gallery id="511162″]