Politics
Trump's Mass. appeal: One factor that explains the Republican frontrunner's popularity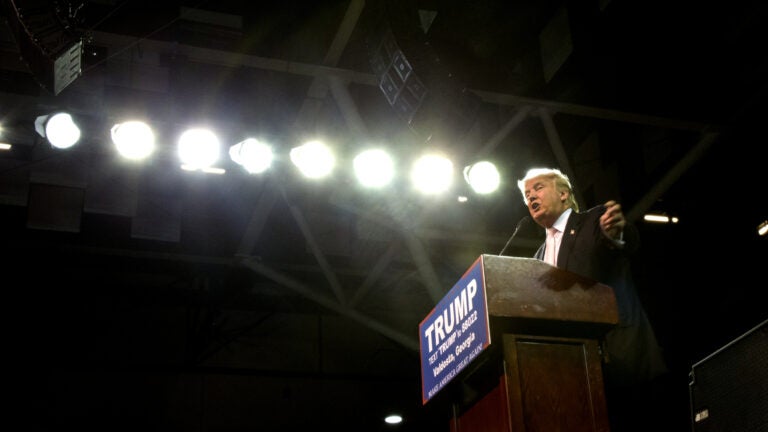 Excluding race, Donald Trump's popularity is broad amongst every category of Republican primary voters in Massachusetts.
According to a Suffolk poll released Saturday, the billionaire draws support relatively evenly from Western Massachusetts to Cape Cod, from men to women, from young to old, from independents to registered Republicans.
But there is one other category — within the Republican primary electorate, at least — that is most associated with support for Trump. Ironically, it's the same association Republicans generally disdain.
Union membership.
From nonunion to union households, Trump receives a double-digit bump — both in first-choice support and favorability.
And while union members are a relatively small percentage of the overall population (less than 17 percent in the Suffolk poll), Trump's disproportional popularity within that group explains his greater populist appeal.
"There is deep economic anxiety among our members and the people we're trying to organize that I believe Donald Trump's message is tapping into,'' Mary Kay Henry, president of the politically liberal Service Employees International Union, recently told The New York Times.
It's perhaps no coincidence that Trump is bringing his protectionist trade policy and alarmist immigration rhetoric to places like Worcester and Lowell — former hubs of manufacturing and industry where now median household and family incomes are below state average.
"Clearly you can sort of connect the dots,'' David Paleologos, director of the Suffolk University Political Research Center, told Boston.com.
Despite running for the Republican nomination, Trump is running to the left of many mainstream Democrats when it comes to the proposed Trans-Pacific Partnership, an international trade deal he opposes. Trump has also said he would support a 45 percent tariff on Chinese exports to the United States.
Ross Douhat, a conservative writer for the Times, wrote in December that Trump's immigration policy also taps into the same blue-collar economic fears.
"Freaking out over Trump-the-fascist is a good way for the political class to ignore the legitimate reasons he's gotten this far — the deep disaffection with the Republican Party's economic policies among working-class conservatives, the reasonable skepticism about the bipartisan consensus favoring ever more mass low-skilled immigration,'' Douhat wrote.
In his disaffection for Republican economic policies, it turns out Trump aligns himself to an extent with unions.
Among union-member households, Suffolk's poll found Trump got 54 percent of likely GOP primary voters. In second was Ohio Gov. John Kasich, with 16 percent. Among nonunion households, Trump's support falls to 41 percent, while Marco Rubio zooms up from 12 percent to 21 percent.
"That's a significant movement,'' Paleologos said. "These are working people, trying to save for a better future, save for retirement.''
Paleologos also noted that Trump's ideologically mish-mashed platform actually could help him among Massachusetts' less-conservative GOP primary voters. Trump's defenses of Social Security and Planned Parenthood — while other Republican candidates were cringing, he said — could strike a tone among Republicans in the liberal state.
Trump is hardly the first Republican candidate to appeal to Bay Staters on this level. Governors Mitt Romney and Charlie Baker and Sen. Scott Brown were all elected to statewide office, casting themselves as moderate Republicans.
And Brown set a precedent in the region for Trump, when he nearly won his 2014 New Hampshire Senate campaign running on a combination of his socially moderate stances and hardline immigration rhetoric.
Paleologos suggested that Brown, who endorsed Trump before the New Hampshire primary, may be helping to steer the New York billionaire's campaign through working-class regions of Massachusetts.
"These are people who are not loyal to any party and are fed up with the political establishment,'' Paleologos said of Trump's support base.
Another observer of this year's presidential campaigns, President Barack Obama, explained why Trump's proposals appeal to the blue-collar workers, via NPR:
When you combine that demographic change with all the economic stresses that people have been going through because of the financial crisis, because of technology, because of globalization, the fact that wages and incomes have been flatlining for some time, and that particularly blue-collar men have had a lot of trouble in this new economy, where they are no longer getting the same bargain that they got when they were going to a factory and able to support their families on a single paycheck, you combine those things and it means that there is going to be potential anger, frustration, fear.
However, Obama said that while those anxieties were "justified,'' he believed they were "misdirected'' on Trump's prescriptions.
Related gallery: Scenes from the Super Tuesday primaries
[bdc-gallery id="511162″]